John Key and Bill English don't see global stock rout or slowing Chinese economy leading to NZ recession; English says deficit next year possible; warns KiwiRail regularly costing NZ$200 mln/yr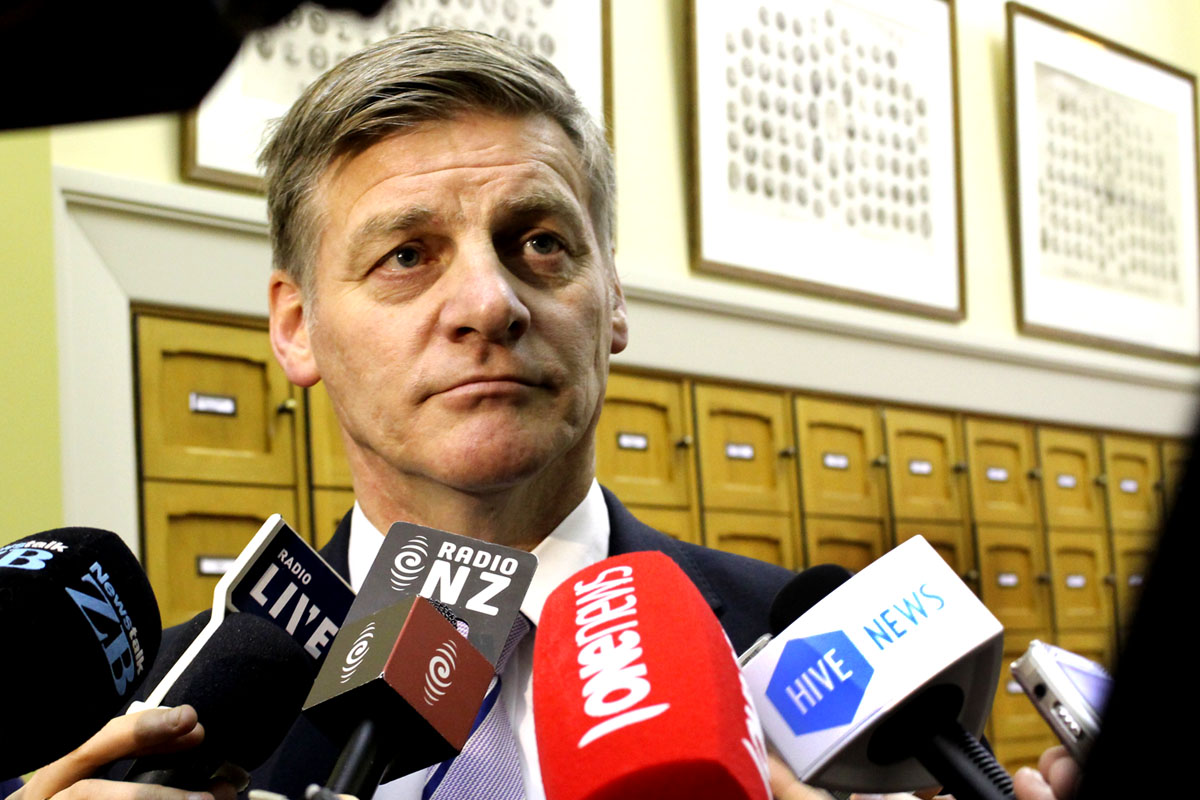 By Bernard Hickey
Prime Minister John Key and Finance Minister Bill English have downplayed the potential for last night's global stock market rout and growing signs of a hard landing in China to force New Zealand into recession.
Talking to reporters after Wall St fell another 4% on Monday night and Chinese stocks fell 9%, Key and English said the New Zealand economy was in much better shape than others, including Australia.
They said the Government had no plans yet to accelerate infrastructure spending or engineer a fiscal stimulus in response, although English said it was possible any global downturn could mean a Budget Deficit in 2015/16 was possible. They both said the Reserve Bank had room to cut interest rates if necessary and the Government could speed up spending if the economy worsened.
Key said the stock slump was a wake up call for those who thought markets only went in one direction.
"The good news about New Zealand is we are in a hell of a lot better shape than most other places," Key said.
"Our balance sheet is back in order, we've got ourselves back pretty much not spending more than we earn, households have been saving for the past five years. And the big drop in the exchange rate does have quite a bit impact," Key said, adding that a falling oil price was also good for consumers in New Zealand.
He did say falling stock markets may affect confidence.
'Plan A is the right strategy'
Key said the current's current strategy, or Plan A as he called it, was a good plan, although he would not rule out bringing forward some spending.
"In the end you can always bring forward some initiatives if you need to, spend a little bit more money. Certainly we are in a much better position to prime the pump if we had to do that now," he said, adding that interest rates could also be lowered if the situation worsened.
"We are one of the few countries in the world that have still interest rates at a reasonably high level. The government could drop those further or the government could spend more," he said.
Key said he had seen nothing to support claims of a recession in New Zealand.
"The general consensus view from economists is that the probability of recession might have gone up a little bit, but from very low levels, but overall the likelihood is that we will grow, but it will grow at slower rates than we would have anticipated," he said.
Key said New Zealand's food and tourism exports to China were less vulnerable to a downturn in China than Australia's exports of iron ore and coal, which were used more in construction than by Chinese consumers.
"On the consumer side we are still seeing some pretty strong of numbers. These things have a bit of a lead time about them, but the consensus that Bill had when he was in China was that the impacts of what's happening in the financial markets in China are much more likely to impact on the both the investing side and ultimately on the construction side," Key said.
"But consumer demand side for foods is very strong still," he said.
"Plan A is the right plan, and that is: have flexibility in the economy, live within your means, make sure New Zealand is externally focused. But, like anything in life, we have responded if we need to do that. If we needed to stimulate the economy more, we could theoretically do that. The Reserve Bank could do that. We do have options."
KiwiRail costing NZ$200 million a year
Elsewhere, English said the Government had pumped over NZ$1 billion of investment into KiwiRail, which had failed to make it profitable.
He said the Government was now regularly putting NZ$200 million a year into KiwiRail. He said the Government remained committed to KiwiRail because the public wanted to maintain that infrastructure.
"The original turnaround plan which included over a billion dollars investment from the Government hasn't generated the kind of income that was in that turnaround plan and that's posed ongoing challenges," English said.
"We're committed to KiwiRail, and KiwiRail is really committed to getting to the bottom of that business and it turns out to have taken a number of years of huge effort by the company to get to the bottom of the business, work out where it's costs really are and where it can be more efficient. But fundamentally rail in New Zealand struggles to make a profit," he said.
"If you want to have rail, it looks like it is going to cost a couple of hundred million dollars every year to have it. I think New Zealander's preferences are pretty clear. It wants the government to own a rail company and to have rail, as they regard the alternative as putting too many trucks on the road."
Little says National's approach 'mindless and dumb'
Meanwhile, Labour Leader Andrew Little said the Government's refusal to acknowledge the risks of a global slowdown and devise a 'Plan B' "mindless" and "dumb."
He called on the Government to launch a programme of house building in Auckland to "kill two birds with one stone."
"China is an important export market to us, and it's also very important to Australian which remains our largest export market, so the Prime Minister's claim that we have nothing to worry about with China is utterly mindless," Little said.
"I think the problem with John Key and his government is that they have talked down the serious economic headwinds we are facing. I think we do need to have an honest appraisal and good information about what exactly is happening," he said.
"This government isn't providing that. It's just constant spin and talking up things that aren't there. I think there is a case now for the government to bring forward some infrastructure spending. I think there is a huge piece of infrastructure that would kill two birds with one stone, and that's building more houses in Auckland."
Little said Auckland's house price rise was showing all the hallmarks of a property price bubble, "which is presumably why the Deputy Reserve Bank governor lies awake worrying about it."
He criticised Key's comments about Auckland housing.
"It's just more dumbness from the Prime Minister. We deserve better than that. We actually deserve a Prime Minister and a government that is open and honest with us about exactly what's happening."
(Updated with more comments from English, Little)