English says Government has room to loosen fiscal policy if hard landing in China increases risk of recession; also says RBNZ has much more room to cut given OCR is at 3%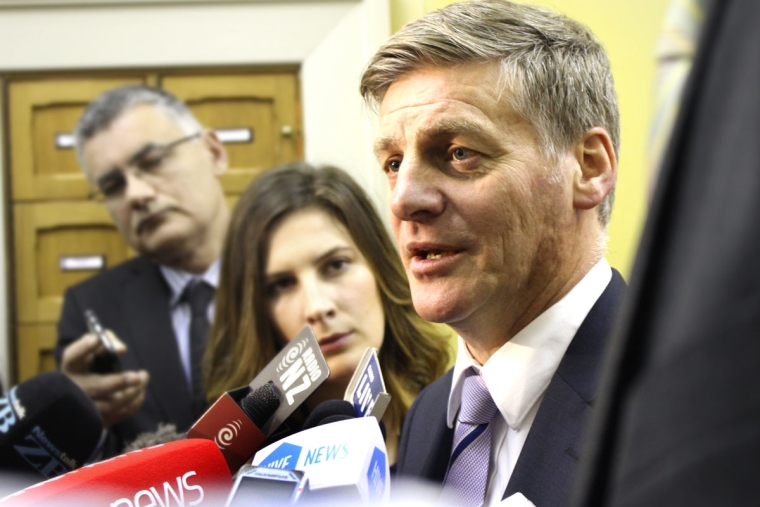 By Bernard Hickey
Finance Minister Bill English has given his strongest indication yet that the Government would loosen fiscal policy to prevent a recession if China's economic slowdown turned into a hard landing.
English said it was too early to say if China was experiencing a hard landing, but it was possible as China's local Governments grapple with crippling debts and the central Government in China tries to reorient the economy away from infrastructure investment and towards consumption and services.
English said the chances of a recession were still small and the Government was not ready to loosen the purse strings yet, but it did have the capacity if necessary.
"The possibility of a recession is small, but if we had a hard landing in China it would rise," English said in this interview on Morning Report.
"A harder landing for China is possible and it would affect our growth prospects if it occurred, but we're yet to see whether it happens," he said.
"If the outlook changes significantly then we've got room to make changes and more room than most other economies," he said, pointing to the OCR being at 3% while other economies such as Canada had official rates closer to 0%.
"And because the Government books are in reasonable order we have the opportunity there to take a more relaxed view of Government spending if the economy really turned down, but fluctuations in financial markets isn't enough to warrant changing the current strategy, but a hard landing in China might be."
English's comments were stronger than he made yesterday about the prospects for a 'Plan B' in response to a global slowdown.
They were also stronger than those of Prime Minister John Key yesterday, who said he was confident the automatic stabilisers of a lower exchange rate and lower interest rates would be enough to prevent recession.
See their comments yesterday here.
China eyes US$101 bln in new loans
English's comments came after another 7.6% fall in stocks in Shanghai and after the People's Bank of China cut its benchmark interest rate overnight by 0.25% to 4.6% and reduced its Reserve Ratio Requirement (RRR) for most banks by 50 basis points to 18%. ANZ Economists have said the RRR cut could inject 650 billion yuan or US$101 billion in new loans into the economy.
Various media in China reported the 'national team' of state-backed brokers and funds had stopped supporting the stock market, although China was continuing to prop up its currency. Jamil Anderlini in Beijing reported the 'national team' capitulated to stock market forces on Monday after spending US$200 billion and were letting the market fall, while the PBOC had spent US$200 billion to support the renminbi after its shock depreciation on August 11 and was continuing to do so at a rate of US$10 billion a day.
This would explain why China's stock market kept falling yesterday, but other markets around the Asia Pacific, Europe and the United States rebounded despite the Chinese fall. News of China's latest monetary policy easing also helped, although the Dow tumbled more than 200 points as it closed this morning.
There is also growing talk in the United States that the US Federal Reserve will not be able to start raising interest rates next month, as was once widely forecast. Former US Treasury Secretary Larry Summers and hedge fund maestro Ray Dalio even said the US Federal Reserve would have to restart Quantitative Easing or money printing.