Treasury reports Budget Deficit of NZ$889 mln in six months to December; NZ$92 mln more than expected; lower interest rates a factor; cash deficit also higher than expected; low inflation taking its toll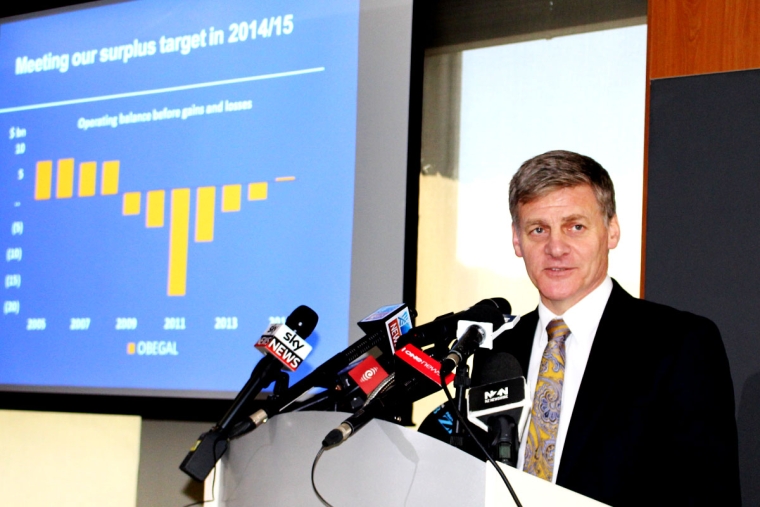 By Bernard Hickey
Low inflation and ever-lower interest rates are taking their toll on the Government's finances, as Finance Minister Bill English has warned.
Treasury reported the Government's Operating Balance before Gains and Losses (OBEGAL) was NZ$889 million in the six months to December 31, which was NZ$92 million worse than Treasury forecast in its December Half Yearly Update. It was also in line with th NZ$990 million deficit seen at the same time the previous year.
Core Crown revenue was NZ$171 million lower than forecast "with lower core Crown interest revenue being the main contributor to this variance," Treasury said.
Partly offsetting the lower-than-expected revenues, Core Crown expenses were NZ$142 million lower than forecast.
English warned this week that the 5-7% nominal GDP growth seen in previous economic expansions had made it relatively easy for the Government to grow its revenues and turn deficits into surpluses.
"But that's not happening. In a sense, government is having to learn how to deal with real dollars - that is, pay off the debt in the same or similar value as when it raised the debt," English told the Finance and Expendigure Committee (FEC) earlier this week.
Treasury said the core Crown residual cash deficit of NZ$7.0 billion was NZ$913 million higher than forecast. Net debt of NZ$66.9 billion or 27.5% of GDP was NZ$1.1 billion or 0.5% higher than forecast, although Treasury said a large portion of this variance was expected to reverse in January due to the timing of payments.
Treasury is forecasting an OBEGAL deficit of NZ$401 million for the full 2015/16 year. English relaxed the Government's surplus and debt targets in December, moving to a target of 'small deficits or surpluses' rather than a hard surplus target. He also relaxed the Government's net debt target to reducing net debt to below 20% by 2020 to 'around 20%' by 2020.
English has also signalled in December the Government would not bring in big spending cuts in response to any deterioration in the fiscal outlook. He repeated that again this week at the FEC.
"As was set put in the Budget Policy Statement, with the OBEGAL now broadly in balance in the immediate future we will not distinguish between forecasts of small negative and small positive balances. In particular we will not sharply reduce operating allowances in response to forecast weakening in the tax take, should that occur," he said.
English repeated his comments in a statement today after the latest accounts, saying Government would keep a tight rein on spending, but would not swing spending in reaction to a deficit.
"Although revenue is slightly under forecast, we are keeping a tight rein on what we can control - our spending," English said.
"We'll have to wait until the final accounts are published in October before we see the actual OBEGAL result for 2015/16 - but now that we are back near balance we will not react to small negative or small positive surplus forecasts," he said.