CBA's director of interest rate strategy says demography is destiny for interest rates, but immigration a fountain of youth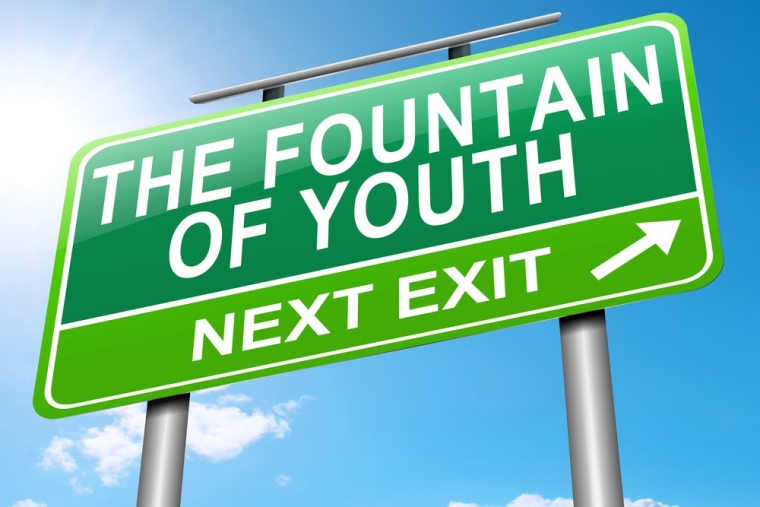 By Jarrod Kerr*

We are in the middle of a seismic shift.
The post‑war baby boom was the largest in human history. The baby boomers are now retiring. Their influence on interest rates is profound, and understated.
The three Ps of growth are in metamorphosis. The first P, population, is waning as fertility rates decline. The second P, participation, is declining as populations' age. The third P, productivity, is also being weighed down by ageing populations.
Fed researchers say demography explains ALL the decline in real interest rates. We think this fits with other work showing the US real neutral rate is near zero and that market pricing for the Fed to only slowly raise rates to 2% is not too aggressive.
We are not all created equal. There is one differentiator. Immigration is the fountain of youth. Interest rates in high migration nations like the US, Australia and New Zealand, should diverge further from old Europe and Japan.
The risks are evening up and we see room for Treasuries term premiums to lift and take 10yrs to 3.0%. But the demographic story tells us we shouldn't be looking for much more on a through‑the‑cycle view.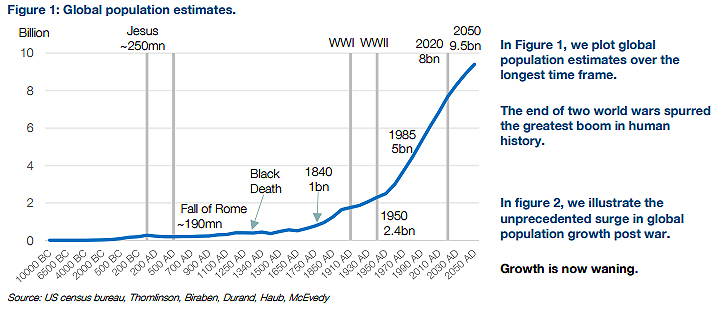 The end of two world wars spurred the greatest boom in human history.
We often hear of the impact of demographics. Demographic shifts influence just about everything we touch. We are in the middle of the largest demographic shift ever experienced. The seismic shift will keep a lid on potential growth and real yields. Yields can rise from here, off historic lows. But we are unlikely to see the levels once deemed "normal", prior to the great financial crisis.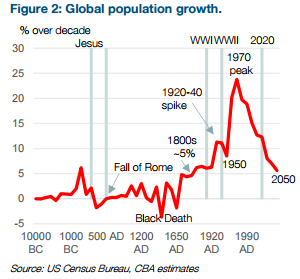 Interest rates experienced during the great inflation period of the 1970s and 80s are the anomaly – generated by the largest surge in population ever recorded. A population surge that boosted growth, put an enormous strain on resources, and caused inflation to spiral to levels no longer allowed.
Expansionary fiscal policy and regulated market structures, compounded by OPEC, no doubt contributed to higher interest rates. But, according to the US Fed, demographics explain ALL of the subsequent decline in real interest rates, and potential growth rates. That may be excessive, but it fits neatly with theories of a new normal that we think will keep interest rates and bond yields low. Notwithstanding some rise in term premiums to come.
The population boom like no other, drove the never before seen spike in interest rates
In Figure 3, we overlay global population growth with global interest rates back to 3000BC. What stands out is the baby boom, and the impact on interest rates. The peak in population growth is long behind us, so too is the peak in interest rates. We are now in a "new normal", with lower terminal rates. We are not all created equal, however. Australia is much younger than most. And fertility is not the source of Australia's youth. Immigration is the fountain of youth. Immigration policy influences the three Ps of potential growth, and suggests growth and interest rates will be higher in countries like the US, Australia and New Zealand.
Early interest rate settings ~3000BC were between 20‑40%. Interest rates declined as markets evolved, and averaged a much more civilised 5.5% between 500BC and 1910. Churches and Kings were known to control interest rates, from time to time. By 1950, following two world wars and a great depression, interest rates had fallen to the lowest levels ever scribed. A record low that was smashed 66 years later with the advent of negative interest rates. The 'great inflation' period of the 1970s and 80s stands out. The spike in population preceded the spike in rates.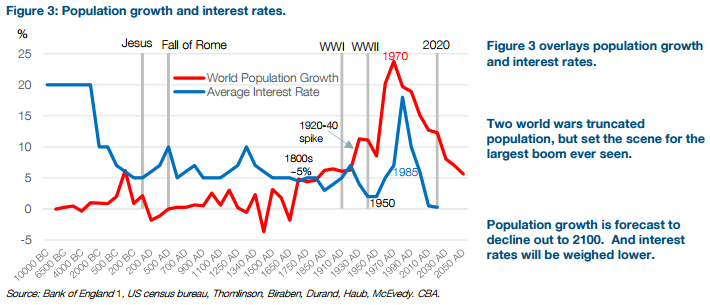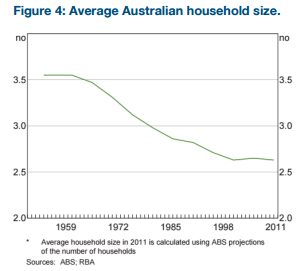 Global population jumped from ~2‑to‑2.5bn in 1945‑50, to ~4.5‑to‑5bn in 1980‑85. In just 35 years we more than doubled our population. The impact of the tsunami of baby boomers was profound. The surge in population induced the highest levels of interest rates in 5000 years. Interest rates peaked in the early‑80s. From 1985 to 2020, the subsequent 35 years, it is estimated our population will rise to ~7.7bn. That's another 2.7bn increase, but off a much higher 1985 base of 5bn. The rate of growth has halved from that experienced in the baby boom.
The decline in population growth has coincided with a 30 year decline in interest rates. Population growth will continue to slow for the next 35 years. From 2020 to 2055, the next 35 years, global population is forecast by the IMF to hit 9.5bn (+1.8bn). Population growth will halve again. Society has changed. Fertility rates have declined since the 1960s. Family sizes have declined (Figure 4). There has been a steady rise in childlessness, higher divorce rates, and later marriage. There has also been a healthy lift in female labour force participation. Reduced population means reduced pressure on resources and rates.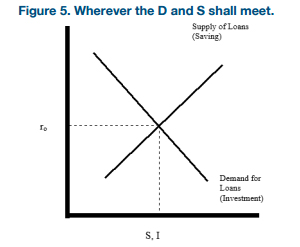 An interest rate is simply a price for credit. The two most beautiful lines that shall ever meet are supply and demand (Figure 5). The supply of credit, (savings), balances the demand for credit, (investment), at a price, (interest rate). Baby boomers became productive in the late 60s and demanded interest rate product. The greatest spike in global population growth preceded the greatest spike in global interest rates. A surge in demand for global resources, played out most notably in commodity markets, but also interest rates (the "D" line shifted out). The three Ps rose, real growth rose, real rates rose, but inflation pushed nominal rates into the stratosphere.
The demand shock for all resources took place at a more supply‑constrained time. Regulated labour markets and product prices, and geopolitical oil shocks (plus "peak oil" theories) were rigidities that took years to overcome. Rampant commodity price inflation fuelled the rise in nominal interest rates. Deregulation was the response of the 1980s. Global trade and competition took off as Eastern Europe, Asia's tigers and China entered the world economy, with the impact exacerbated by disruptive technology and globalisation.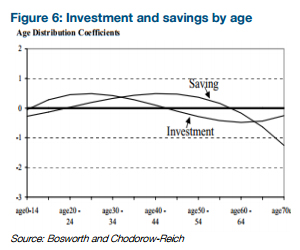 Fast forward to today. There is push‑back against immigration, competition and globalisation. That could give rise to an inflation pulse in due course. But more importantly, baby boomers have been retiring and supplying interest rate product. A large driver of the glut in global savings has been the saving of baby boomers into their retirement (the "S" line has shifted out). We do most of our savings in our working years, and savings accelerate into retirement (Figure 6). That wave of baby boomers may have reached "peak" savings in developed countries but there's still a global wave to flow through as populations age in many developing countries.
The supply "glut" has occurred at a time of higher production capacity, globally. China's export‑led investment boom has run into a western savings boom and a (related) global financial crisis, but it hasn't yet developed a consumption model of its own. We're simply producing much more for less. Labour markets are more flexible, prices are generally market driven, and the supply of commodities, globally, has now caught up and risen substantially. The increased supply of commodities has driven much of the decline in prices in recent years. Reduced commodity price inflation has reinforced deflation fears.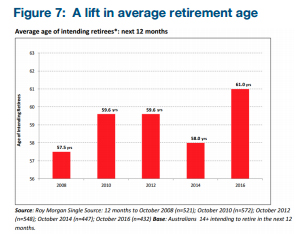 The next phase, is retirement, where savings declines (Figure 6). The baby boomers will slowly unwind their savings over the next 20‑30 years. Eventually, the supply curve (of loans) will contract back. But it will be a long, slow process. Roy Morgan recently produced the results of a survey on intending retirees in Australia. The average age of intending retirees has lifted from 57.5 to 61 (Figure 7). The average age rose post crisis, dropped in 2014 with the rejuvenation in financial markets, and has now blown higher with the continued decline in deposit savings rates. Not surprisingly, the survey of ~50k respondents showed that gross wealth (excluding owner‑occupied homes) of intending retirees is up just 3.6% since 2014.
The other, yet to be tapped, source of wealth is the family home. "A clear majority (85%) of intending retirees either own or are paying off their home, with an average value per person of $495,000 or 73% higher than the average ($286,000) in all other retirement funds." The value of that dwelling has jumped 43.5% since 2008. Demographics shape property markets. Retiring owner‑occupiers supply large dwellings in search of small, high density, dwellings. Young families and migrants upsize.
The Bill Kerr example: there's at least one in every family, probably four.

My father was born in 1947. He is the second of four baby boomers. He became productive in the 1970s when he joined the workforce, after a tour or two in the NZ navy. He demanded an interest rate, in the form of a mortgage, to build his first house. Later, he demanded another interest rate, to start his first business. Interest rates were in demand. Interest rates went well into the teens, some were above 20%. 35 years later the business has been sold. The family home went under the hammer. And the old boy has downsized and retired to Mangawhai Heads (north of Auckland) with a war chest of savings. He now supplies an interest rate. The interest rate he supplies, in the form of a fixed rate deposit, is far less than he had imagined.

Despite his son, an interest rate strategist, convincing him to fix into the falling yield environment, yields are much lower than any forecast a decade ago. And fixed rates only last so long. Risk appetite is something the old boy does not have, not at his age. Supply of term deposits are sticky for this age bracket.

Of course the four Kerr boomers had children of their own. But they had ~2 children each, not four like their parents. And the grandchildren are having fewer children than their boomer parents. We only want 1 or 2. Four children just seems inhumane…

Bill Kerr is just one man, one example, one in the millions of baby boomers now retiring into a low yield environment. Asset rich retirees have much lower risk appetite. Interest rates are currently on the rise. But the stock (supply) of global savings hunting yield remains high. Baby boomer savings rates will naturally run down, as retiree's consume their nest eggs. And interest rates may eventually lift to higher levels. That may be a problem I'll leave to my son Lachlan to figure out, on behalf of his old man.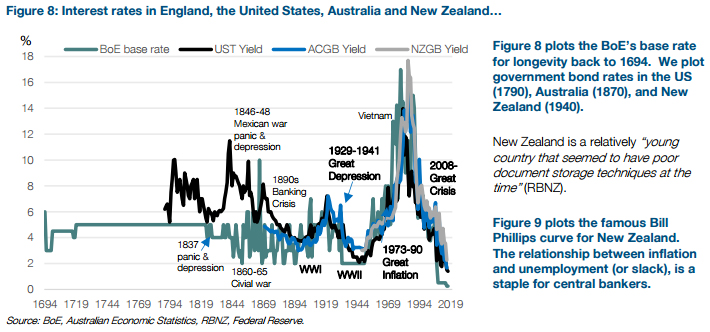 Demography is destiny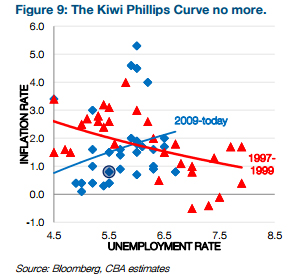 The correlation in global interest rates has strengthened since WWII. Globalisation has strengthened the interconnectivity of markets. The great inflation period was case in point. All populations surged, all markets rose. Inflation was then deemed evil by central banks. Despite poor record keeping, the Kiwis were the first to directly target inflation in 1989. Don Brash, then RBNZ Governor, referred to the great inflation period as a great tax on savers. Brash also noted real estate as an inflation hedge, during the 1970‑80s. Central banks spent the next 25 years riding inflation down to targets of ~2%, successfully anchoring inflation expectations. Job done. Well, they did some of the job. It turns out demographics did most of the heavy lifting, on the way up, and on the way down.
Phillips curves have now inverted. The decline in the Phillips' curve can be attributed to demography, globalisation, and central bank behaviour. Inflation targeting anchored expectations. The decline in inflation was also driven by globalisation, or the rise of Asian manufacturing. The Asian rise has in part fuelled political discontent in the West (Brexit and Trump). Future inflation expectations have also become more backward looking2. Post‑GFC, the threat has been losing control of expectations to the low side.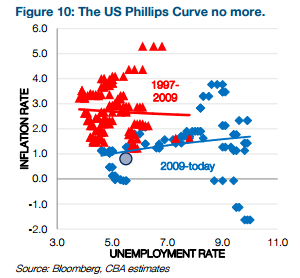 Demographic forces have ballooned in the last decade as baby boomers retire. The decline in inflation has been weighed down by ageing populations. Ageing populations have lower productivity and wage expectations. Figure 11 highlights the cliff in participation past the age of 60. A cliff that has worsened since the 1960s. Deflation was (still is?) the threat. And risk appetite remains impaired. Panicked investors still pay for protection of capital. Negative interest rates are an intergenerational wealth transfer. Negative rates "transfer" wealth from savers (elderly) to borrowers (younger generation). Negative rates are a tax of savers.
According to the US Fed, demographics explains ALL of the decline in real interest rates and potential growth rates. The Fed's demographic model:
"accounts for a 1¼ percentage‑point decline in both real GDP growth and the equilibrium real interest rate since 1980 ‑ essentially all of the permanent declines in those variables... The model also implies that these declines were especially pronounced over the past decade or so because of demographic factors most‑directly associated with the post‑war baby boom and the passing of the information technology boom. Our results further suggest that real GDP growth and real interest rates will remain low in coming decades, consistent with the U.S. economy having reached a new normal."
The Fed notes that the influence of demographics has been "easily misinterpreted as persistent but ultimately temporary influences of the global financial crisis".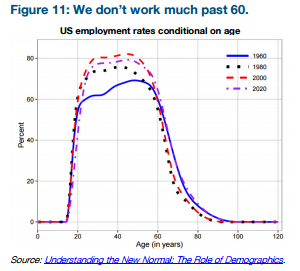 The implication from the Fed's research is "the persistence of a low equilibrium real interest rate means that the scope to use conventional monetary policy to stimulate the economy during typical cyclical downturns will be more limited than it has been the case in the past for a given inflation target." Demographics explain much more than most dare admit. Policy makers may be at the helm of a ship, with a tiny rudder.
Figure 12 shows the decline in the real rate of growth from a peak above 2%, to a current rate sub‑1%, and a forecast decline to ~0.35%. Figure 13 illustrates a similar forecast decline in the real rate of interest from ~1.75% in the 1970s‑80s to ~0.35% out to 2030.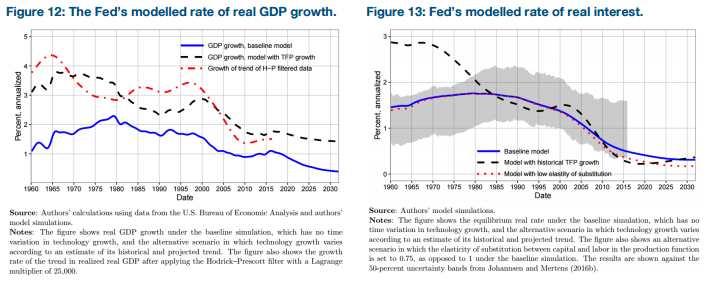 The Fed's demographic work fits with other aspects of the 'new normal' theory, including Larry Summers' 'secular stagnation'.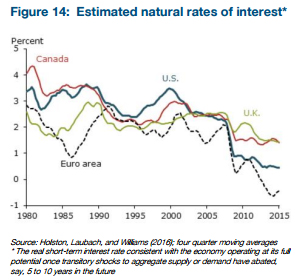 San Francisco Fed President Williams re‑published estimates of the natural rate of interest last year, arguing that it had fallen to near zero in the United States and Europe. He believes this rate, where monetary policy is neither accommodative nor expansionary, has fallen to historically low levels, and will stay there.
Figure 14 plots the estimated natural rates of interest since 1980. Natural interest rates had declined from a 2.5‑to‑3.5% range in the early 1990s to 2.0‑2.5% pre‑crisis. Following the GFC, the estimated ranges have collapsed to 1.5% for Canada and the UK, near zero for the US, and well below zero for the Euro Area.
The underlying determinants for these declines are related to the global supply and demand for funds, including shifting demographics, slower trend productivity and economic growth, emerging markets seeking large reserves of safe assets, and a more general global savings glut... Importantly, this future low level of interest rates is not due to easy monetary policy; instead, it is the rate expected to prevail when the economy is at full strength and the stance of monetary policy is neutral. - (Williams, San Francisco Fed).
We think very high global debt dynamics and abundant spare capacity in the global economy also explain why the real natural rate of interest has dropped.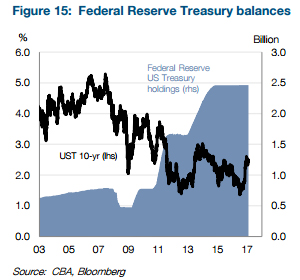 Fed Chair Janet Yellen added a possible paucity of attractive capital projects and a more cautious consumer after the GFC to the list of possible reasons for the decline in the neutral rate of interest last August (though these are really just demographics at work).
Yellen believes "that monetary policy will, under most conditions, be able to respond effectively" to future downturns in the economy even if interest rates are much lower than in the past (through the use of more QE and interest rate guidance). But she didn't sound confident. And she didn't disagree with the notion that the real neutral rate is 0%. Which means she won't be in a rush to raise rates to this level even if inflation ticks up.
"If the natural rate remains low, future episodes of hitting the zero lower bound are likely to be frequent and long‑lasting… This will necessitate a greater reliance on unconventional tools like central bank balance sheets, forward guidance, and potentially even negative policy rates." - (Laubach and Williams, US Federal Reserve)
A real rate in the US that averages 0‑0.5% would equate to a nominal Fed Funds rate averaging around 2‑2.5%.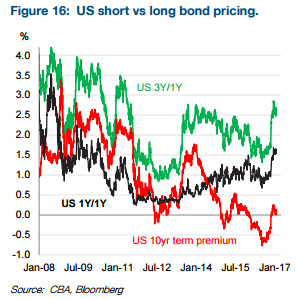 We maintain that it will be tough for the market to price a terminal Fed Funds rate of much more than this. For bonds, the question is how much term premium should be added on top. The factors cited above point to a continued low or negative term premium. But, with a new regime in the White House embarking on a stimulatory fiscal policy and intent on changing currency, finance, trade and foreign policies, we argued in our 2017
Outlook
that this is precisely one occasion when the term premium should rise.
The Fed's QE programme, or size of balance sheet, continues to exert significant downward pressure on US yields (figure 15). Fed modelling shows that QE has pulled the US 10‑year yield down by around 100bps. Ending reinvestments would cause a "passive" removal of this accommodation but seems a long way off. Still, Janet Yellen recently noted that even the current policy is resulting in a shortening of the Fed's maturity profile that "could increase the yield on the 10‑year Treasury note by about 15 basis points... over the course of 2017… all else being equal."
Figure 16 shows that normalisation of the term premium has been a source of the rise in bond yields over the last 6 months. But there is likely more to go. If the nominal Fed Funds rate averages around 2‑2.5%, a rise in term premium for 10‑year bonds back to 50‑100bps implies that yields on 10‑year US Treasuries may range between 2.5‑3.5% in the years ahead, averaging about 3.0%.
A lower term structure in the US means a lower term structure globally.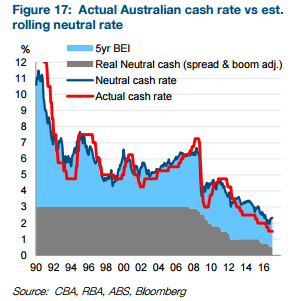 US Treasuries are the global benchmark, because of size and liquidity. Real rates have entered a 'new normal', but divergences persist. Figure 14 shows a divergence in estimated natural rates.
We think Australia's real neutral rate has come down to around 0.75% (Figure 17, which updates numbers for analysis published in 2014, when we had the estimate at 1.0%). Adding a higher long‑term inflation target suggests there is a healthy margin versus the US of at least 1.0% in nominal terms and closer to 2.0% versus Europe and Japan (not that we expect Australia to be near capacity or the mid‑point of the 2‑3% inflation target for a number of years).
We're interested in whether these divergences are likely to persist. The US has a relatively young population because the US attracts young migrant workers. Australia and New Zealand even more so. It's a numbers game.
Figure 18 plots the stark divergences in population growth, indexed back to 1980.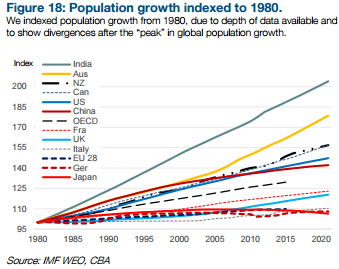 India, Australia, New Zealand, Canada and the United States have well above average population growth. China's growth is slowing, quickly, and off a very high base. Population growth in France and the UK are a bit below the OECD average, but well above the EU 28 average. UK growth has picked up dramatically since 2005, a trend that the populous has voted to break through Brexit. Germany's population was contracting, until the Syrian referee crisis. Japan's population is contracting, with no end in sight.
Real rates in the US are higher than ageing peers such as Germany, Japan, and Italy. US rates will remain well above Japanese and European rates. Antipodean rates will remain above US rates. In this numbers game, migration matters the most.
Migration is the fountain of youth
As we age, we participate less. The fall in participation rates across much of the ageing world is related to the rising share of people over 60. The 'normal' so‑called global population pyramid now looks more like a Trump tower (Figure 19, males on left, females on right). There's a lot of advertising up top.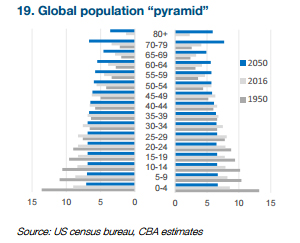 Although it's what happens around the foundations that defines us. In 1950, less than 1% of OECD population were over 80 years old. By 2050, more than 10% will be over 80 years old. Japan has the oldest of the old.
Figure 20 shows Japan's population pyramid is now upside‑down. The remarkable, and difficult, swing in Japan's population is the most extreme. In 1950, after WWII, 45% of Japan's population was under the age of 20. By 2050, 45% of Japan's population will be over the age of 60. Japan will have 15‑20% of its population over 80 by 2050. Germany and Italy also have much older populations (though Germany has rapid productivity growth and the Syrian refugee crisis will alter the population projections across Europe).
We may all end of like Japan, eventually… But not over the next 50 years. The US, Australia and New Zealand have much younger populations (figures 21 to 23). The most important difference is immigration. Migrant flow can solve (or at least postpone) a lot of our "first world" problems.
The best work I have found on migration comes from Guy J. Abel, Nikola Sander, and Ramon Bauer (http://www.global‑migration.info/).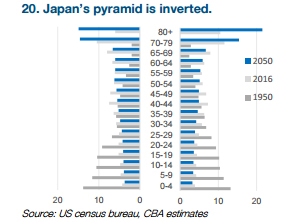 Figures 24 and 25 are the coolest charts ever created. I have borrowed them to hypnotise many audiences over the years. Figure 22 beautifully displays the world's migration flows in 2010‑2015. Figure 23 has the largest flows.
North America attracts massive flow from Latin America, India, and China. African flow to the US is fourth. Most African flow remains on the continent. Most Asian flow also remains on the continent.
Migration paths do not lead primarily from very poor to very rich countries, but rather adhere to a graduated model. People move to countries where the economy is somewhat stronger than in their native country… from Bangladesh to India or from Zimbabwe to South Africa. - Guy J. Abel.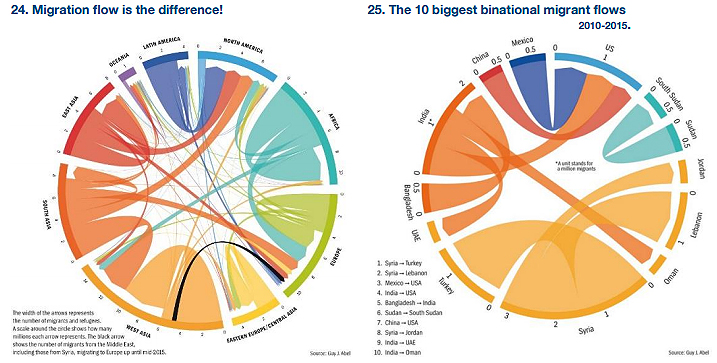 The largest flows on the planet come from the most populous places on the planet. Outside the Syrian crisis, the largest flows are Mexico to the US, India to the US, Bangladesh to India, China to the US, India to UAE and Oman. The US has been the largest recipient. But has just voted to build a wall to stop the flow. The potential growth rate of nations with higher immigration is simply higher. The population pyramids are fatter and younger. The growth in number of workers is larger and so is GDP, even if not on a per capita basis. The US, UK, and Antipodeans attract migrants. A flow Trump was voted to address, and Brexit voted to break.
Figure 26 shows the number and percentage of 5‑year migration flows, back to 1960. Despite the Syria crisis, there are fewer migrants as a percentage of total population, dating back to the 1960s. In absolute terms, there are fewer migrants than during the 2000‑2010 decade. Abel and Sander note: "Our data suggest a stable intensity of global five‑year migration flows at about 0.6% of world population since 1995." A finding that is contrary to common belief, which is that migration trends are on a larger and ever‑increasing scale. Abel and Sander show migration rates are holding, with recent numbers actually declining. It appears it is our tolerance of immigrants that has diminished.

Beware the wrath of a patient man

The relatively normal flow of migration is interesting, given the political revolt. Anti‑immigration sentiment defined 2016. Votes for Brexit, Trump and Australia's Pauline Hanson are against globalisation. The revolt has arisen out of economic discontent, post crisis. Discontent in having to postpone retirement plans. Discontent in having to work without wage growth.

"Across Europe parties of the far left and the far right are seeking to exploit this opportunity — gathering support by feeding off an underlying and keenly felt sense among some people — often those on modest to low incomes living in relatively rich countries around the West — that these forces are not working for them… And those parties — who embrace the politics of division and despair; who offer easy answers; who claim to understand people's problems and always know what and who to blame — feed off something else too: the sense among the public that mainstream political and business leaders have failed to comprehend their legitimate concerns for too long." Theresa May, British PM.

One of the repercussions from the financial crisis and demographic shift, is isolationist actions. Professor Simon Hix from the London School of Economics, reduced the Brexit vote to an issue of immigration. Because the "leave" voters voted on immigration3. The vote was divided by class, education, age, and ethnicity.

Voters who classed themselves as "English" wanted to leave. "British" voters wanted to remain. Voters from lower social classes with lower levels of education voted to leave. Older baby boomers voted to leave. There was a great divide across skilled labour. Professionals voted to remain. Lower skilled workers voted to leave. "A revolt against the elite, the wealthy, and the immigrant…: "A class of people are very angry about mass immigration policies." "In aggregate mass immigration is great for the economy... Cheaper costs for business. Great if you're higher income… But if you're a lower skilled worker, there's much more competition for your job…" (Pr. Simon Hix).

"We've been ignoring the negative distributional consequences of mass immigration… [Immigration] Leads to pressures on lower skilled wages… Leads to pressure on local public services. Pressure on schools...doctor's surgeries… local council housing… and social integration pressures with different languages, different cultures… this had all been ignored……We need public polices to address these distributional consequences" (Pr. Simon Hix). Immigrants are generally of high participation age, 20‑40, and they are generally cheaper. Studies show migrants are entrepreneurial, setting up a small business (taxis, child care, or stores). In good times, society enjoys cheaper migrant labour. In bad times, displaced locals regret migrant competition.

Tolerance of foreigners has fallen with weak income growth, and poor distributional consequences. Fiscal policy is needed to alleviate stresses on the system. Fiscal policy is the policy missing.

"Why has monetary policy been ineffective in bringing inflation up to target levels in the US, Europe and Japan? ...monetary policy effectiveness requires that...at low inflation rates interest rate declines generate fiscal expansion. The persistence of low inflation and low interest rates is not a surprise when, as has been true in fact, the low interest rates fail to generate substantial fiscal expansion[and thus aggregate demand expansion]." Christopher Sims
The lucky country. Lucky to be in demand
Australia fares better than most advanced countries.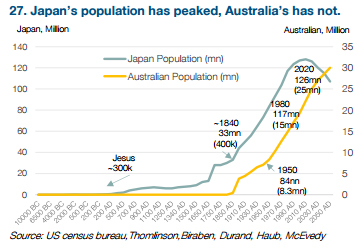 Because Australia imports more people. When compared to Japan, the glaringly obvious (but often ignored) difference is migration. Figure 27 highlights the difference. Japan's population has peaked. Australia's population has a long way to grow.
The UN's population division projects the contribution to future population growth across four demographic factors: fertility, mortality, momentum and migration. "All four demographic components can have a significant impact, positive or negative, on future population growth." The stark divergence between the oldest nation Japan (figure 28), and the younger nation Australia (figure 29) is momentum and migration. The US and New Zealand (figures 30 and 31) are similar to Australia.


The source of Australia's migrant flow is important.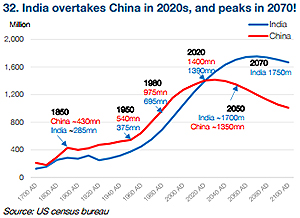 Figure 32 plots population projections for the world's two most populous countries, China and India. India's population is projected to outgrow China's in 2022. The path thereafter is very different. China's population, thanks to the one‑child policy, peaks much earlier, and contracts beyond 2030 (though that policy has recently been relaxed with some immediate effects on the growth rate). India's population peaks much later, around 2070, and contracts at a slower pace.
Australia's proximity to Asia is increasingly important. Australia has one of the youngest populations because of proximity. Australia's economic prospects are better because of proximity. Being at the end of the Earth was once a hindrance for economic trade. Australia is now closer to the economic centre of the world. Because the economic centre of the world is gravitating towards the greatest populous in the world.

We include the "economic centre of gravity" map from McKinsey Global Institute (Figure 33).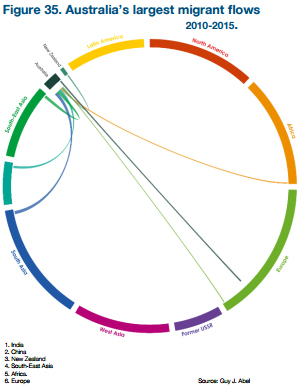 The map works nicely with our economic team's own version (Figure 34). Australia and New Zealand are part of the hottest club on the planet.
Our inner circle has most of the world's population. Our inner circle generated most of the world's economic growth. A large chunk of global migration flows are born in our inner circle. The world's best cricket players, and the hardest rugby players, are forged in our inner circle.
Our inner circle, is where the cool kids play.
Figure 35 shows the 2010‑15 flow of migrants for Australia. The greatest change in Australian immigration flow has been the source. Australia now attracts more migrants from East Asia, South Asia and Africa than Europe. India sends the largest flow of immigrants, followed closely by China. When Australians leave, they go to Europe. That flow hasn't changed a lot.
Figure 36, shows a time series of immigrants to Australia. The highlight has been the persistent rise in Indian and Chinese immigration since the late 1990s. Conversely, the sharp spikes in UK and Kiwi migrants have largely unwound. Kiwis are, for the first time in 25 years, leaving Australia.
So what's the attraction?

Australia is a developed nation, with great beaches, reefs, and an old English game called cricket (the Kiwis took rugby).

Most of all, it's safe. Ok, there are loads of creatures that will kill you on sight, but "she'll be right mate". It's the drop bears you have to watch out for. There are many peoples attracted to the great down under. Most immigrants have been European, some Middle Eastern. But today, most immigrants are Asian.

The greatest flow comes from India. For a poorer country like India, another former English colony, there's a lot to love. Australia offers a massive upgrade, with the "simple" things like water, food and transport well catered. The Australian language is even similar to the English language, with just a slight twang. The education is top notch. There's a common love affair with bat and ball. And the legal system is close enough. Being a Kiwi, I understand the attraction.

Then there is the Chinese flow. Again, the attraction is clear. Everything is cheaper in Australia. The water is crystal clear. You can drink it from the tap. The food is fresh. You have to wear sunglasses, because there is no smog to block it out. The quality of the housing is better, and far cheaper per sqm. And then there's a little something called English property rights. I buy it, I actually own it. And I can bequeath it. Aussie apartments make for great safety deposit boxes. Matching the safety deposit boxes used in Singapore, Canada, New Zealand, and the source of those property rights, the UK. The Aussie apartment could also be used by children sent here to study hard at university. We know they're safe. And the children will probably convince the entire family to move down later. No wonder Chinese developers in Australia ask us for our student visa forecasts.

The third flow of interest is the flightless bird. Kiwis come to Australia in the good times, and return in the relatively bad. I think the clearest signal of the current weakness in Australia's labour market, is the exodus of Kiwis. Kiwis are the cheapest, most mobile part of the Australian workforce. And they don't all show up in unemployment. Because they go home. For the first time in 25 years net permanent migration turned to an outflow in 2016. Kiwis are returning home after years of mining boom related work. The return of the Kiwi miner has induced a sizeable spike in Auckland house prices.

Another persistent flow has been South African. I should know, I married one. The reasons my wife, and her family of +50, left South Africa for Australia and New Zealand are sad and violent. Again, there is a lot to love about Australia. It's safe.
Australia's immigrants are from the power houses of the future. And they will strengthen our ties
In the 1990s few took China seriously as an economic power. China barely made it into the top ten economic heavyweights.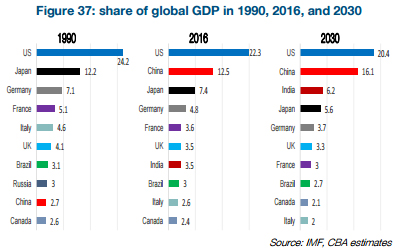 Today, China sits at number 2, a swift move from number 9 (Figure 37). By 2030, China will still be number 2, according to the IMF. China is Australia's largest trading partner. China is the largest trading partner of 125 countries, and China is rebuilding the silk road. By comparison, the US is the largest trading partner of just 55 countries.
There is another relationship, with another country that deserves more airplay: India. India was not on the economic map in 1990, but had risen to 7th behind the UK in 2016, and is forecast to knock off Germany and Japan by 2030. India needs resources to feed and house the greatest population on Earth.
India will have more people than any other nation in 2022. India will be the third largest economy by 2030. It's a numbers game, and India has more numbers than any other. When it comes to economic size (and importance), it is no coincidence that the oldest (most ageing) nations, Japan, Germany and Italy, are falling in the global rankings. Japan will slip from 2nd to 4th. Germany will slip from 3rd to 5th. Italy will slip from 5th to 10th. France is also ageing, and falling from 4th to 7th. The UK is holding tight to 6th position, with strong migration growth (at least up until Brexit).
Progressive economic policies and a lot of investment are needed for India to truly succeed.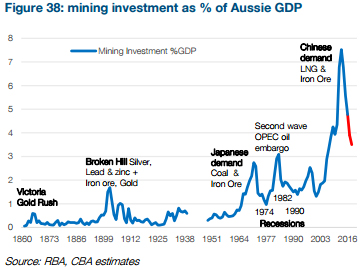 But the potential of India is enormous. And the rise of China and India (eventually) is supportive of the Asian region as a whole.
Australia has just been through the greatest mining investment boom in its history (figure 38). Australia has developed its largest ever stock of mining resources. And there are plenty of other holes that can be dug, at the right price. China's industrialisation was far greater and faster than any forecast.
India's industrialisation may mimic China's, one day. If India develops, the emerging nation will demand a great deal of resources, including coal, iron ore, gold, and LNG. Mining investment in Australia, figure 33, could easily see an India induced spike in the 2020s, or 2030s. Developing nations also demand increasing food, education, and travel services. Australia is well equipped to leverage these three industries.
But the connections between Australia and Asia also mean that migration flows are likely to continue.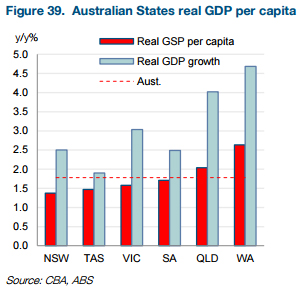 And that means higher population growth, higher economic growth and higher interest rates than other developed nations. Our final Chart, just domestic in nature so as to eliminate measurement problems and the like, shows that population growth is by far the largest determinant of relative growth performance amongst the Australian States.
Queensland and Western Australia have out‑performed over the long haul due to their abundance of natural resources. But, for all of the claims made about relative economic performance, and who's leading the nation, etc, it turns out that the difference in GDP per capita among the four remaining states is negligible. It is the difference in population growth that explains the difference in GDP growth. And it is that difference in population that growth that will mean Australia and New Zealand continue to average higher interest rates against the new normal of low interest rates around the world.
An attempted summary of what it all means
Over the coming decades the ageing of Australia's population and a projected slowing in the rate of population growth are expected to affect the nation's economic growth. The components of the above decomposition most likely to be affected by the population changes are average hours worked and the participation rate, as people get older and move into part‑time work or out of the labour force.  Australian Bureau of Statistics.
Demographics explain much of the decline in potential GDP growth and real yields.
• We are in the middle of the largest demographic shock ever seen. The surge of the 1970s‑and‑80s was baby boomer induced. It can be argues that the decline in growth and interest rates ever since has simply been the result of slowing in population growth, and ageing in populations. Growth rates, inflation rates and interest rates will all be lower for longer as our population ages.
• Real rates are likely to remain well below 1% into 2050. Term rates globally will remain in a much lower for longer band. At least until the baby boomer savings unwinds. Policy makers must consider "alternative monetary and fiscal policies that are more likely to succeed in the face of a low natural rate." John C. Williams
• There is a lot that can be done to prolong and improve our outlook. "Productivity isn't everything, but in the long run it is almost everything." Paul Krugman. The focus of policymakers, especially governments, must turn to productivity. Investment in education, technology, and infrastructure are all part of the equation. The investment requires large, long term, Government policy. The weakness in Governments, or lack of fiscal response is unusual historically. Voters want change.
• "The persistence of low inflation and low interest rates is not a surprise when, as has been true in fact, the low interest rates fail to generate substantial fiscal expansion." Chris Sims. We need to invest more. We need to invest for productivity. We have ample capacity.
• Short of that, voters want inflation. More insular politicians are starting to deliver policies that will limit competition and supply flexibility, creating an environment where inflation pricing over and above on‑going low real interest rates should creep higher. Ourforecasts for higher bond yields reflect expectations for the term premium in the bond market to rise, not for much change in pricing of terminal policy rates.
• Embrace the ageing. Retiring at 65 doesn't have to be. Innovative solutions to keep people employed for longer, through flexibility and technology, are needed to stem the tide. My father was bored out of his mind when he first retired. Now he heads the North Island Returned Services Association (RSA), and runs around more than he did when he was "working". There's a lot of untapped labour, with ample experience, should we want it.
• Immigration is the fountain of youth. Countries that attract immigrants will fare better than those with closed borders. The outlook for Australia is better than most because it attracts people, and at this point in time mainly Asians tapped into the world's strongest growth story. Relative higher growth in population points to on‑going relative higher interest rates.
---
For all Notes and Sources, see the original piece
.
---
Jarrod Kerr is the director of interest rate strategy at the Commonwealth Bank of Australia, based in Sydney. This piece is an extract from this daily publication. It is here with permission.