Rabobank Nederland is redeeming its NZ$900m perpetual, resettable bond issue after a decade during which the interest rate paid to investors dwindled to 2.88% from 9.48%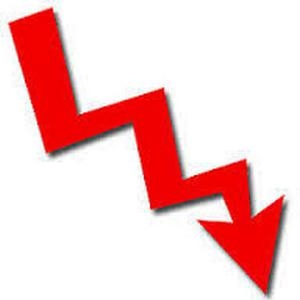 By Gareth Vaughan
It almost feels like the end of an era.
Rabobank Nederland, the Dutch co-operatively owned parent of local rural lender Rabobank New Zealand, is redeeming NZ's biggest ever non-government debt issue. All $900 million of the perpetual, cumulative capital securities. This bond issue has served as a salutary lesson in the dangers of investing in perpetual securities with resettable interest rates. But more on that later.
"NZX Regulation advises that RBO [Rabobank Nederland] will exercise its right to fully redeem their perpetual cumulative capital securities ("RBOHA"). The final quotation date for RBOHA will be Monday, 9 October 2017," an NZX announcement says of the listed debt securities.
"The final day of trading in RBOHA will be Wednesday, 27 September 2017, prior to the bonds being suspended at close of business."
It seems more than 10 years ago that I, then as a Fairfax business reporter, trudged along to a briefing in the Auckland CBD where Rabobank's visiting chief financial officer Bert Bruggink was spruiking the bond issue. This was a time when local finance companies were falling like dominos and we were starting to hear about something in the US called subprime mortgages.
Thus Bruggink talked up Rabobank's conservativeness, as I reported at the time.
He [Bruggink] acknowledges that a global credit crunch stemming from problems in the American subprime mortgage market, plus New Zealand finance company collapses make Rabobank's perpetual capital securities offer timely. 

Rabobank has the highest available credit ratings from international credit rating agencies Standard & Poor's and Moody's Investors Service. 

Mr Bruggink said the New Zealand securities offer had been on the drawing board for a year. He told Auckland brokers that he had not heard of subprime mortgages till recently. There were none on Rabobank's books. 

Mr Bruggink said Rabobank should benefit from the global credit squeeze. A couple of months ago credit spreads had become so compressed that Rabobank's advantage over rivals with weaker credit ratings had been negated. This had now changed. 

"The opportunities for us given the current market circumstances are probably better than over the last couple of years," he said. "Our maybe old-fashioned model works out in these kind of situations."
Peddled by Credit Suisse, First NZ Capital and ASB, the Rabobank bonds sold, like hot cakes, in retail investor friendly minimum parcels of $5,000. Undoubtedly the initial interest rate, set in October 2007, was a major attraction. It came in at 9.482%, being a margin of 76 basis points over the one-year swap rate. For those of us who can remember 2007, it was a time of high interest rates. Thus very different to today and most of the years since 2007.
Ultimately $900 million of the Rabobank bonds were sold, including $500 million worth of oversubscriptions. It was and remains NZ's largest ever non-government debt issue.
But the frustration for investors has been the subsequent low interest rate environment, given the interest rate they're paid has been reset annually at the same margin of 76 basis points over the one-year swap rate. This is demonstrated in the table and chart below.
| | | | | | | | | | |
| --- | --- | --- | --- | --- | --- | --- | --- | --- | --- |
| Oct 07-Oct 08 | Oct 08-Oct 09 | Oct 09- Oct 10 | Oct 10-Oct 11 | Oct 11-Oct 12 | Oct 12- Oct 13 | Oct 13-Oct 14 | Oct 14- Oct 15 | Oct 15-Oct 16 | Oct 16-Oct 17 |
|  9.482% |  7.449% |  4.1230% |  4.211% |  3.7% |  3.3225% |  3.7075% |  4.5875%  |  3.4925% | 2.8825%  |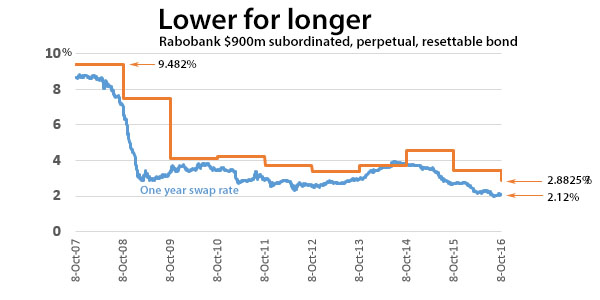 Rabobank notes that the first call date for the bonds is October 8, and the redemption date is October 9, being the first business day after that first call date.
"Holders of the capital securities at the record date [of] 29 September 2017 will be entitled to receive the principal amount ($1.00) of each capital security held, together with any accrued and unpaid interest and any additional amounts that may be payable in accordance with the terms and conditions applicable to the capital securities. Rabobank Nederland will be communicating with all of the holders of the capital securities to notify them of this decision," the bank says.
A positive spin on this bond issue could be that although the interest payments dwindled massively, undoubtedly to the chagrin of many investors, at least they're getting their principal back. 
*This article was first published in our email for paying subscribers early on Monday morning. See here for more details and how to subscribe.