The Govt's target of getting net Crown debt down to 20% of GDP by 2022 has been questioned, but Finance Minister Grant Robertson is not budging from his commitment
Finance Minister Grant Robertson is defending the Government's decision to slash Crown debt at a time when borrowing money is historically cheap.
The Government has promised to reduce public debt to 20% of GDP by 2022. It's 21.6% now.
"To give future generations more options, reducing government debt has to be a priority," Labour's pre-election fiscal responsibility rules say.
The target has copped flak from some economists who say the Government should be borrowing more while interest rates are low and debt is so cheap.
Independent economist Shamubeel Eaqub, for example, is highly critical of Robertson's approach.
"My view [is that] the last decade has been the best time to borrow money – money is cheap and everyone is looking to lend you money," he said last month at the unveiling of the Government's Housing Stocktake Report.
"You're a fiscal idiot if you don't borrow money when interest rates are at the lowest level in a century."
Eaqub went as far as calling the Government's commitment to lower debt "a fiscal straightjacket."
Robertson, predictably, does not share Eaqub's view.
"New Zealand is a small, advanced economy but we are prone to external shocks and, indeed as we have seen in recent years, internal ones in terms of earthquakes.
"So, we need, as a small country, to be very prudent with our debt levels."
Following the Global Financial Crisis in 2008 and the Christchurch earthquakes in 2011, net Crown debt jumped from 5% to 25%.
Robertson says one of the main reasons the economy got through both shocks was because of the low levels of Crown debt achieved under the previous Labour Government.
Credit ratings agencies, such as S&P and Moody's, assess a country's credit risk in part on its Government's debt levels.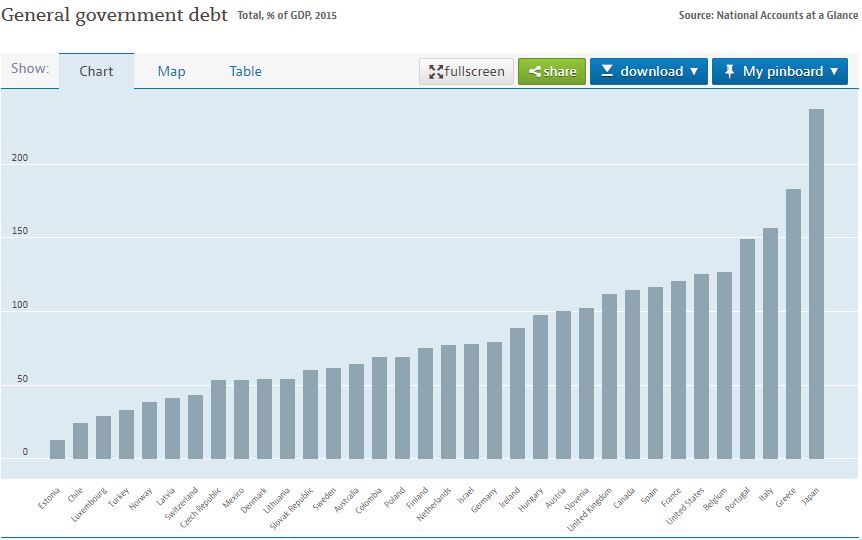 New Zealand sovereign debt is much lower than most other OECD countries. The UK's public debt is 112% of its GDP, the US is at 125% and Japan is at a whopping 237%, according to OECD figures.
A little bit more debt can't hurt, right?
Robertson admits that an extra 1% or 2% wouldn't make much difference to the rating agencies assessment of New Zealand.
"But the track, the target and the goal are important to those rating agencies to be able to see we have a plan. It's a balance between meeting the important social and infrastructure needs of the country and managing our finances responsibly."
He says the debt reduction path is slower than the previous Government's which means issues like funding for infrastructure can still be addressed.
Labour's fiscal responsibility rules say in the event of an economic shock, the Government can take on more debt to cope with any fiscal pressures.
But it does not put a limit on how much debt the Government could take on and Robertson is reluctant to commit to a figure.
"I don't want to put a number on that – it's really just an acknowledgement that we made when we announced the budget responsibility rules that from time to time, things are going to happen in the economy that means you have to take another look.
No plans for deposit insurance
Meanwhile, Roberson has essentially ruled out exploring any work on introducing bank deposit insurance. Both the Green Party and New Zealand First were keen on the idea before the election but it did not make it into the Government's Coalition or Confidence and Supply Agreements.
This is despite the International Monetary Fund (IMF) last year saying the introduction of deposit insurance would strengthen New Zealand's financial safety net and complement the Reserve Bank's Open Bank Resolution framework, which potentially protects taxpayers from having to bail out a bank if it goes under. 
"We don't have work underway in those areas at the moment," Robertson says.
"Obviously, the individual parties will continue to hold their views – but that's not part of the agreement we signed."
Asked if it's something that could be looked at in the future, he says it's "certainly not on my current work plan."