NZ's Advanced Global Markets Ltd, with wife of infamous ex-pat Kiwi company agent as a director, is alleged to have taken millions of dollars from overseas investors via a foreign-exchange scam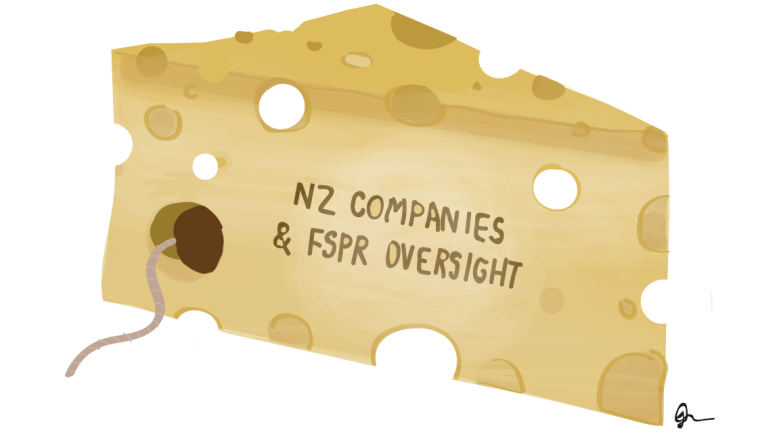 New Zealand registered company Advanced Global Markets Ltd has allegedly been running a foreign-exchange scam, taking millions of dollars from investors overseas, according to the Australian Broadcasting Corporation's coverage of the so-called FinCEN Files.
The Financial Markets Authority (FMA) last year issued a warning about Advanced Global Markets, or AG Markets, after the company was drawn to the regulator's attention by interest.co.nz. However it continues to remain a NZ registered company. Interest.co.nz highlighted to the FMA that the Queensland-based Taya Burnett was, and remains, a director of Advanced Global Markets, and that the company claimed on its website to be registered on NZ's Financial Service Providers Register (FSPR) when it was not.
Burnett is the wife of infamous company incorporator Ian Taylor. Interest.co.nz reported in 2018 that NZ Police had received more than 350 criminal investigation enquiries from overseas relating to NZ companies established by the Gold Coast-based Kiwi ex-pat Taylor, his father Geoffrey, and their businesses, including the Vanuatu-registered GT Group Ltd, over the years.
However there's no suggestion the Taylors have broken any NZ laws and they've never been charged by NZ police. They've simply created shell companies for international clients, sometimes also providing nominee directors and addresses, many of which have subsequently been linked to crimes. These include a NZ registered company that leased a plane to fly North Korean weapons to Iran in contravention of United Nations sanctions, and four NZ companies linked to Mexican organised crime group the Sinaloa Cartel.
This week the ABC reported, on its website and on the ABC 7.20 TV programme, that Advanced Global Markets "has been running a foreign-exchange scam, taking millions of dollars from investors around the world."
Mr Taylor's wife Taya Burnett is the director of Advanced Global Markets Limited, the New Zealand-listed company behind the scam.

"The director appeared to be nothing more than a nominee — a person whose name would appear on the directorship in return for a fee," says private investigator Ken Gamble, who was hired by a Portuguese man who lost more than 3 million euros ($4.9 million).

"One would ask, 'Why is [Taya Burnett] on that company and what's she doing there?'" Mr Gamble says.

"And why is she still the director after the company has been involved in a very serious crime?

"How can somebody be allowed to set up shell companies and sell them like hotdogs out of a stand at the back of a rock concert and yet not have responsibility for what those companies do?"

Mr Taylor was banned from being a director in the UK in 2015, after one of his companies was involved in a 3.2-million-pound ($5.7 million) land-sales scam where many investors lost their money.

In a phone call with the ABC, Mr Taylor declined to be interviewed but said he was no longer involved with shell companies and he was not aware his wife was the director of Advanced Global Markets Limited. Ms Burnett did not respond to questions.
The story was part of ABC's coverage of the FinCEN Files, which include more than 2,100 suspicious activity reports filed by banks and other financial firms with the US Department of Treasury's Financial Crimes Enforcement Network. BuzzFeed News obtained the records and shared them with the International Consortium of Investigative Journalists, which partnered with other news organisations including the ABC.
'A matter for the Companies Office'
Asked again by interest.co.nz about Advanced Global Markets this week, an FMA spokesman said the regulator does not have any open enquiries or investigations into Advanced Global Markets or its associated individuals.
"Advanced Global Markets' registration as a New Zealand company is a matter for the Companies Office," the FMA spokesman said.
And nor is the Ministry of Business, Innovation & Employment (MBIE), which includes the Companies Office, probing Advanced Global Markets.
"The Companies Office is not currently investigating Advanced Global Markets or the individuals associated with the company. The Companies Office is not currently working with authorities from other countries in relation to Advanced Global Markets [either]," an MBIE spokesman said.
Advanced Global Markets' second director is listed as Carlos Ferrer Montalvo of Barcelona. Its shareholder is listed as Vanuatu international company Advanced Global Markets Ltd, for which there's no public registry filing or record accessibility.
The MBIE spokesman also said: "Please also note, there is no jurisdiction under the Companies Act to take regulatory action against a company registered in another country that does not conduct business in NZ."
MBIE's answers to interest.co.nz's questions don't address when they knew Burnett was Taylor's husband, just acknowledge the Companies Office is aware "there are associations between Taya Burnett and Ian Taylor." However, it does note the involvement of Peter Burslem, another Queensland-based ex-pat New Zealander who has provided NZ company registration services. Interest.co.nz reported on Burslem's association with Burnett, the Taylors and a series of questionable NZ registered financial service providers in May 2017, and before that Burslem and a series of curious NZ registered companies including Advanced Global Markets in 2016.
On, off and on again
Advanced Global Markets was incorporated as a NZ company in October 2013 and as a NZ registered financial service provider for "trading financial products or foreign exchange on behalf of other persons," in December 2013. The MBIE spokesman says it was deregistered from the FSPR in July 2017 under the Financial Service Providers (Registration and Dispute Resolution) Act, because it was believed to not be in the business of providing a financial service.
Advanced Global Markets was also removed from the Companies Register between November 2017 and June 2018 because Registrar of Companies Ross van der Schyff believed it had ceased to carry on business.
The company subsequently applied to be restored to the Companies Register under the Companies Act, the MBIE spokesman says, on the grounds it was carrying on business at the time of its removal and there was a proper reason for it to continue in existence. 
"After providing sufficient evidence to support the grounds for restoration, Advanced Global Markets was restored to the Companies Register on 1 June 2018. In January 2019, the Registrar became aware that Peter Joseph Grant Burslem, the director who made Advanced Global Markets compliant with section 10 of the Companies Act, had resigned. The Companies Office Integrity and Enforcement Team initiated removal action on Advanced Global Markets in January 2019 ... on the grounds that the company did not comply with section 10 of the Act. Advanced Global Markets then appointed another director, Taya Burnett, and the removal action was ceased," the MBIE spokesman says.
"Using the Registrar's power of inspection ... further verification was sought from the new director in February 2019 to ascertain Taya Burnett's compliance with section 10 of the Act. The Registrar was satisfied with the response received to support the director's compliance with section 10 of the Act."
Section 10 of the Companies Act sets out essential requirements a company must have. These include at least one director who lives in New Zealand or Australia.
The FSPR is like a phone directory for NZ financial service providers. Anyone in NZ providing a financial service such as insurers, banks, fund managers and financial advisers, must be registered on the FSPR, which is operated by the Companies Office. The FSPR records the name, address and financial dispute resolution service membership of the provider, along with the services it's registered to provide and any licences it may have. However merely being registered on the FSPR doesn't mean an entity is regulated or licensed in NZ or anywhere else.
Advanced Global Markets' registered office and address for service is accounting firm BHW Ltd in Auckland's Parnell. No one from BHW has yet responded to interest.co.nz's requests for comment.
In its warning last November the FMA said: "AG Markets claims on its website to be registered on the Financial Service Providers Register when it is not. The FMA is concerned that investors may be misled about the extent to which AG Markets is regulated under New Zealand law."
*This article was first published in our email for paying subscribers. See here for more details and how to subscribe.