New Zealand's only oil refining company is pressing ahead with plans to convert its Northland refinery into an import terminal after reaching agreements with Z Energy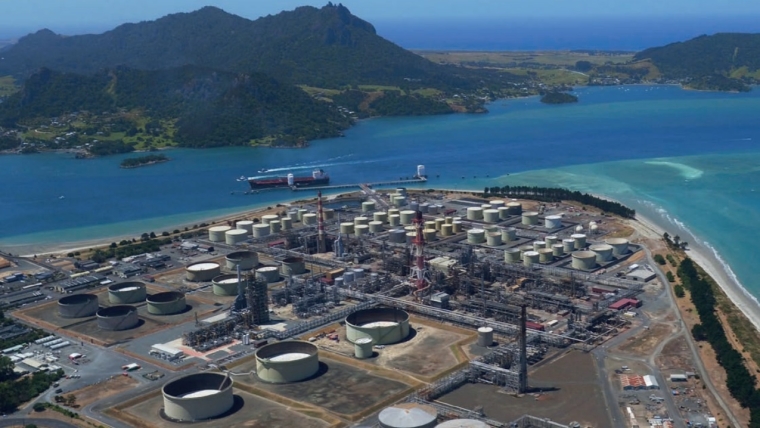 Refining NZ is pushing ahead with plans to stop refining operations at New Zealand's only oil refinery at Marsden Point, Northland.
Depending on various approvals the company is looking at switching to an import-only model by the middle of next year.
Refining NZ said on Tuesday it had reached an "in-principle agreement on key commercial terms" with Z Energy for converting operations at Marsden Point to a dedicated import terminal. This followed a similar agreement reached with BP in February 2021.    
This means Refining NZ will now "take steps" to prepare for a shareholder vote to approve the move in coming months.   
The company has clearly favoured ceasing refining operations since announcing a strategic review over a year ago. 
It said the strategic review was prompted by a significant decline in refining margins as a result of excess refining capacity in the Asian region.
The amount of time taken to reach a definitive decision appears to have been based on reaching agreements with its oil company customers/stakeholders.
The company gave some details of its plans earlier this year in conjunction with releasing its results.
Tuesday's announcement made little specific reference to the implications for jobs other than to say the decision would involve a "big change" for employees.
Previously Refining NZ has indicated it employed over 400 staff and about 250 contractors, but didn't break down where those staff were specifically employed.
The company said its agreement with Z Energy is for an initial term of 10 years. 
"The agreement includes provision for third party access to unutilised capacity on its Refinery to Auckland Pipeline (RAP).  Refining NZ remains focused on concluding negotiations with its only other current refinery customer Mobil," the company said.   
Refining NZ chief executive Naomi James said the latest announcement was "a significant milestone"
"...It means we can progress to the next stage and prepare for a shareholder vote to approve this shift in our operating model before a final decision is made."  
James said the change from refinery to import terminal would involve "little change for New Zealanders".  
"However, this will be a big change for our operations and workforce at Marsden Point and for our community. 
"A key focus for us is on how we support our people through this transition and work with central and local Government and agencies to make this a well-planned and managed transition for our workforce and the region."  
James said the company had been working hard on the detailed planning about "exactly how we might run an import terminal operation", and what other opportunities there might be for the site. 
"Marsden Point has huge potential being a large industrial consented site, with deep water port access, large electricity and gas connections and a highly skilled workforce.  We want to explore what the best opportunities are for the site, for our region, and for New Zealand." 
She said the next step would involve obtaining the necessary lender and shareholder approvals, negotiating binding agreements with customers and progressing detailed plans for the change in operations, including "workforce changes".  
"On current estimates, a final decision in Q3 2021 would enable a conversion to occur by mid-2022."    
Refining NZ describes itself as is the country's only oil refinery and the leading supplier of refined petroleum products to the New Zealand market, including petrol, diesel, aviation fuel and other products. 
"Refining NZ processes a range of crude oils imported from offshore markets to produce premium and regular petrol, diesel, aviation and kerosene, and fuel oils for our oil company customers (BP, Mobil and Z Energy).  The Marsden Point oil refinery supplies around 70% of New Zealand fuel demand, delivering fuel to Auckland through the Refinery to Auckland Pipeline (RAP), to Northland from the Marsden Point site and to other parts of New Zealand through coastal shipping vessels," the company says.