Collapse in residential construction sentiment highlights another gloomy ANZ Business Outlook Survey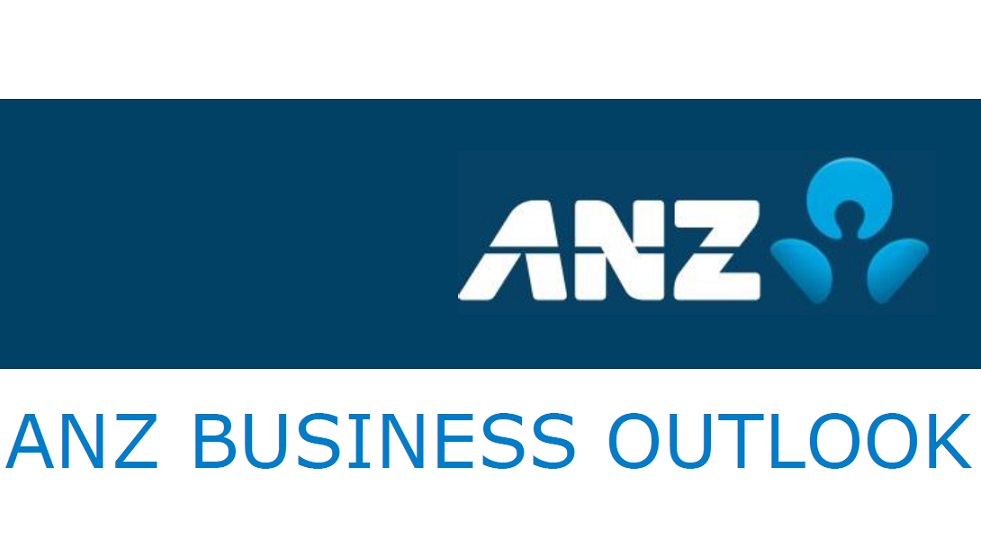 A spectacular collapse in sentiment in the residential construction industry is one of the standouts in another gloomy ANZ Business Outlook Survey (ANZBO).
In speaking to the July ANZBO survey results, ANZ's NZ chief economist Sharon Zollner said sentiment in the residential construction sector had undergone a "truly spectacular crash to fresh lows".
"The outlook for house-building has hit a brick wall in that there was a sharp fall in residential construction intentions. Note the fall in early 2020 [as seen in graph below] was due to lockdown – it's difficult to imagine what would lead to such a rapid bounce this time.
"Housing consents are now dropping, as foretold by the ANZBO data three months ago. Broader 'dwelling' consents (including apartments etc) are holding up better for now, but don't tend to diverge from housing consents for long," Zollner said.
According to Statistics New Zealand the seasonally adjusted number of new stand-alone houses consented fell 1.4% in May, after falling 5.9% in April 2022. The seasonally adjusted number of new dwellings (including townhouses, flats, units, apartments and retirement village units) consented fell 0.5%, after falling 8.6% in April 2022
"The ANZBO data suggests consents may have a lot further to fall yet," Zollner said.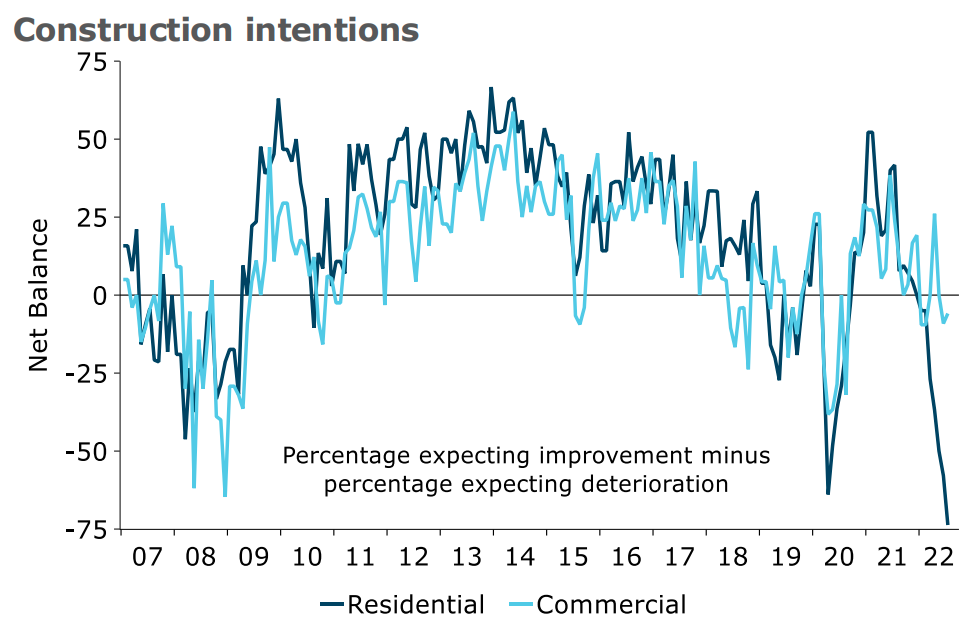 Among other features in the latest survey, inflation and pricing pressures remained intense. Year-out inflation expectations have actually hit a new high of 6.23%.
Business confidence bounced 6 points in July to -56.7, while expected own activity was little changed at -8.7.
"Most activity indicators were little changed in July although responses received later in the month were weaker, on the whole," Zollner said.
"Economy-wide inflation pressures remain intense, as captured by inflation expectations, cost expectations, and pricing intentions. The rate of increase in costs appears to have stabilised, but is still far too high.
"The agriculture sector is expecting the highest cost inflation by far, but has little pricing power, while the retail sector has the highest pricing intentions – and their pricing decisions have the largest direct impact on the CPI.
"The outlook for wage growth is a crucial determinant of the likely path of non-tradable inflation. The RBNZ can take some comfort that at least the data isn't showing a strong upward trend in expected wage growth.
"Thirty percent of the sample were received following the RBNZ's (well-anticipated) 50bp OCR hike and Statistics NZ's staggering CPI print for the June quarter. It is notable that employment and investment intentions dropped sharply compared to the early crowd.
"In both cases, that's an unusually large gap. Perhaps it's a sign that interest rates have hit some kind of pain threshold."
Zollner said New Zealand businesses are well aware that the Reserve Bank is on a mission to reduce customer demand for their wares in order to reduce inflation.
"No wonder they're feeling apprehensive.
"While they wait for that hammer to fall, supply-side factors continue to cause headaches, including ever-higher costs, and, as we saw from the quarterly 'biggest problems' question last month, a severe lack of labour.
"In theory, there will be a sweet spot at some point in the future where easing demand meets easier supply conditions. In practice, one suspects that that moment may prove fleeting."