Registrar of Companies looking into Mainzeal and other Richard Yan-related companies; meanwhile trade creditors are down NZ$70 mln and employees NZ$11.5 mln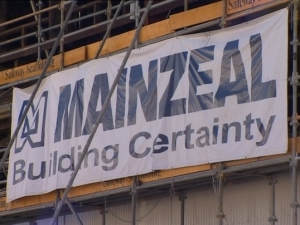 Inquiries are being made by the Registrar of Companies into collapsed Mainzeal Property and Construction and other companies linked to entrepreneur Richard Yan.
The news comes as accounting firm BDO, liquidators of Mainzeal and several other Yan companies, have revealed that about 1500 unsecured trade creditors are owed NZ$70 million they appear unlikely to see, while employees of the crashed company are owed NZ$11.5 million.
It's not absolutely clear how much the bankers the BNZ are owed yet. Mainzeal Property and Construction had assets pledged as specific security of NZ$11.9 million, while there was NZ$12.3 million pledged against the Mainzeal head office in Auckland's Victoria Street. The company that directly owned the head office building owed BNZ some NZ$9.6 million, while Mainzeal Property and Construction owed NZ$300,000.
Mainzeal, the third-largest construction company in the country, collapsed into receivership on Waitangi Day, leading to general chaos in the construction industry. The receivers PwC have yet to file their first statutory report. It is due next month. But they said in an update last week that most of Mainzeal's projects were now in the hands of other contractors, including those that are part of the Christchurch rebuild.
Independent directors of Mainzeal; former Prime Minister Jenny Shipley, ex Brierley CEO Paul Collins and Tauranga businessman Clive Tilby all quit the Mainzeal Property and Construction board at the end of last year, however, they were all made directors of Mainzeal Property and Construction's new immediate parent company Mainzeal Group (now also in liquidation) and stood down from this board on February 5, they said at the request of Yan, who then asked bankers BNZ to call in the receivers.
Mainzeal and related companies were more recently also placed into liquidation and the liquidators have legal obligations to file their first reports much more quickly than receivers.
According to the first liquidator's report, included in the NZ$70 million owed to trade creditors is NZ$18.3 million in so-called sub-contractor "retention" payments. This is money withheld by a contractor (in this case Mainzeal) from the sub-contractors effectively as insurance they will be able to finish their job.
The issue has become very controversial and sub-contractors are pushing for a change in the rules, perhaps to ensure that any retention payments are held in trust, rather than being used as part of the cash-flow of the main contractor - as appears may have been the case with Mainzeal.
The first liquidators' report gives no indication as to what level of payment, if any, might be forthcoming to creditors. The receivers PwC are still in control of the business and assets at the moment, so their first report is likely to give some indication of that.
The liquidators say that areas in which initial analysis has indicated "may warrant further investigation" include: Reasons for the demise of the business, related party positions with entities in New Zealand and overseas including amounts due from companies not in receivership or liquidation,  voidable transactions,  any Group restructurings carried out, reviewing the actions of management, directors and officers of the companies, any undertakings provided by related parties, and amounts in suspense accounts not yet allocated.
A spokesperson for the Registrar of Companies told interest.co.nz that the Registrar was conducting inquiries into Mainzeal and other Yan companies including in relation to the financial reporting obligations of group.
"Recent company amalgamations and restructures (resulting at times in a change of ownership) add some complexity and it is premature to advise the Registrar's final view at this time," the spokesman said.
"We note that almost all the companies in the group are now in either liquidation or receivership, and the liquidators and receivers of the group are under a duty to report to the Registrar suspected offending that is material to the liquidation or receivership. The Registrar will consider appropriate action in the event any such report is received."
The Registrar did in fact take action against individuals involved in some of the finance company collapses after having reports passed on of suspected offending. For example directors of Five Star Finance faced charges jointly laid by the Registrar and the Serious Fraud Office.
The SFO has confirmed that it is not currently investigating the Yan-related companies. Neither is the Financial Markets Authority.
None of the Mainzeal/Yan companies have filed financial information with the Companies Office since 2009. The former Mainzeal parent company was an offshore-based company called Richina Pacific, which was listed on the NZX, but delisted in a complicated amalgamation scheme in 2008. Subsequently, ownership of many of the Yan businesses was restructured, with the parent company emerging as an NZ-based limited partnership, controlled, or at least managed, by a company owned by Richard Yan. Under such an ownership structure it is possible that there was no legal requirement for the various subsidiaries to report their financial results, but the position appears very complex.
The liquidator's report on Mainzeal shows the company having assets of NZ$95 million - but in reality most of these assets would seem likely to disappear. For example there is NZ$24.5 million in trade debtors. Given most of the contract work has now been given up, there will be little return on this. Similarly, the NZ$11.3 million shown as a retentions receivable is likely to all but disappear. And then there is NZ$72.7 million of "related party assets". This is mostly other Yan-linked companies now also in liquidation, so the value of this will also be pared back, possibly to zero.
The BDO liquidators say in preparing the statements they have relied on information provided by management and directors of the various companies.
"We have not carried out an audit of the information which has been provided, nor have we subjected the information provided to detailed verification procedures.
"Whilst the information provided to us from the Companies' records provides an insight into the affairs and financial position of the Companies' we have concerns about the accuracy of this information and believe that many balances warrant further investigation."
BDO is also the liquidator of another Yan-related company called King Facade, which did building facade work and often worked alongside Mainzeal. King Facade was placed in liquidation on February 12, so the first BDO report on this company was issued a few weeks ago. In it the liquidators disclosed that about NZ$15 million had been advanced by Mainzeal Property and Construction to King Facade.
"It appears that the company's [King Facade's] operations were funded by Mainzeal Property and Construction and that it had recorded substantial losses," the liquidators said.
"Another company, King Façade (NZ) Limited, that is related by virtue of a common shareholding, is not in liquidation. We understand that this entity was a joint venture between RGREL [a Yan-related company] (50%), Shenzhen King Façade Decoration Engineering Co Limited (30%) and Pacificflag Limited (20%) but that MPCL or companies in the wider Mainzeal or Richina Groups funded the substantial losses incurred. Further investigation is required to determine the relationship between the company (in liquidation) and the above company [King Facade (NZ)]."