Kiwibank Business wins top award with a 'stand-out' entry; planning SME mobile banking app for October launch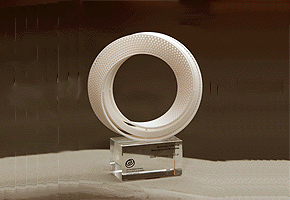 Kiwibank has taken out the Supreme Award at the 2013 AUT Business School Excellence in Business Support Awards held last night in Auckland.
It beat 41 finalists in the only national performance measure available to the business support sector.
Winners were announced in 11 categories, with the Supreme winner chosen from amongst them. 
The award was given to Kiwibank's Business Markets group for their work transforming their banking services for SME customers.
Minister for Economic Development, Hon Steven Joyce, and Dr. Geoff Perry, Dean of AUT Business School, presented the awards.
A key factor in Kiwibank Business Markets' win was its recent campaign to treat small to medium sized businesses the same way that some banks treat large corporates.
"The quality of entries was extremely high, but there was one stand-out winner and that was Kiwibank Business Markets. If you apply management theory as it's meant to be applied, it'll increase your chance of success," said Dr Mark Le Fevre, Head of AUT Business School's Management Department, who led the evaluation process, says:
"When we evaluated Kiwibank it was very obvious that they were applying theory to practice and doing it well. They were also doing some things beyond what you'd find in academic literature – they had taken the tools and said, 'we can do more'."
Mark Stephen, Kiwibank's Group Manager Business Markets, attributed the award to the bank's success in offering exactly what Kiwi small business owners wanted.
"The single biggest thing a small business owner is worried about is where to spend their time."
"Time is everything to them. They have to keep on top of all sorts of things like staff, customers, sales and supplies. So the banking part of their business must always be easy and helpful."
"Tami Louisson of Shott Beverages – one of our very first business banking customer - told me that we just need to keep it simple. Tami and other Kiwi business owners want banks to help by being straight-forward and simple. They want banks to help make business flow better."
"They're right to expect that from their bank. And that's ultimately what we're setting out to do – giving small business owners one less niggle in running their business."
Stephen said that Kiwibank had done a top down review of the banking business to make banking work better for the SME market.
"Everything from managing online accounts, the information that can be accessed on the website or in branches, to speeding up our decision making processes. All of these have been overhauled to make banking simpler for the business owner."
"Our 'Fetch' payment solutions provides more options for customers of small businesses to pay their bills: online, on the go, direct debit or recurring card payments, all through a simple portal."
"We've redesigned our internet banking service so that it better integrates with accounting software and all the regular processes people use to run their business."
"In October, we'll also be launching New Zealand's most sophisticated mobile banking application designed specifically for the small business owner. They'll be able to do their day-to-banking on-the-go and view, authorise or delete a variety of pending transactions."
Kiwibank currently has more than 34,000 SME banking customers.