Trade Me pays $7.7 million for up to 15% stake in peer-to-peer lender Harmoney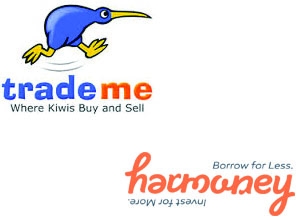 Trade Me has bought a 14.1% stake in New Zealand's first licenced peer-to-peer (P2P) lender Harmoney for $7.7 million.
The announcement comes as Harmoney says it has raised capital of $10 million, including the Trade Me deal and existing shareholder Heartland Bank investing an additional $1.5 million having taken a 10% Harmoney stake last year. Other investors have tipped in about $500,000. For its part Heartland said it welcomes Trade Me, which has usurped the bank as the P2P lender's second biggest shareholder, as a fellow Harmoney shareholder.
Harmoney's major owner, its CEO and founder Neil Roberts, described Trade Me as a new minority shareholder, strategic partner and distribution channel. He says Trade Me's 700,000 daily browsers provide an "enormous opportunity" to showcase Harmoney. Roberts says Harmoney's now valued at $55 million.
The $10 million raised will be used to expand Harmoney's product offering and grow its loan portfolio, Roberts, who is keen to enter the SME market, says.
Heartland says it has has increased its investment to maintain its existing shareholding of about 10% in Harmoney.
"Based on the investment made by Trade Me, the current implied value of Heartland's investment in Harmoney is in excess of $5 million. Following the capital raise, Heartland will have invested approximately $3.5 million in Harmoney," Heartland said in a statement.
Harmoney launched with about $100 million of lending capital including US$50 million from United States firm Blue Elephant Capital Management LLC in September. At that time Roberts told interest.co.nz Harmoney aimed to lend more than $100 million in its first year of operation.
"Harmoney and Trade Me share a common purpose in that we are both all about providing Kiwi consumers with a safe, trusted, scalable, efficient online platform to undertake a transaction. The Trade Me platform is all about items changing hands, and Harmoney's platform is all about dollars changing hands," Trade Me CEO Jon Macdonald said in a statement.
Trade Me's buy into Harmoney comes after a spokesman for New Zealand's internet marketplace behemoth told interest.co.nz last April that P2P lending was an "interesting area that we'll be keeping an eye on."
Trade Me has taken a 14.1% stake and has been awarded warrants that could potentially take its shareholding to 15%.
'A long-term structural shift online'
Macdonald said consumer finance and P2P lending were proving sustainable and successful overseas, although P2P is a fledgling industry locally with Harmoney licenced by the Financial Markets Authority last July, and its online platform going live as recently as September.
"It is early days but we think there's a lot of potential for P2P lending to work well in New Zealand, and of course consumer finance is a large and well-established industry. To us it looks like an area of the market that will undergo a long-term structural shift online, and we believe Harmoney is well-placed to take advantage of this," Macdonald added.
Trade Me would bring its trusted consumer brand, broad audience and ability to cross-promote Harmoney products to the P2P lender.
Roberts described Trade Me's investment as a great endorsement for Harmoney.
"But more importantly we gain a strategic partner and distribution channel with deep domain knowledge of building and running an online marketplace," said Roberts.
Trade Me's chief financial officer Jonathan Klouwens will join Harmoney's board as part of the deal.
'Exponential growth'
Roberts said the move to raise capital now was a response to customer demand that has driven "rapid month-on month growth" since Harmoney's launch.
"Since launching Harmoney in September we have experienced exponential growth. This recent capital raising, alongside the strategic partnership with Trade Me and the continued support of Heartland means we can rapidly scale our offering, develop new products and gain exposure to a wider range of the New Zealand public," said Roberts.
Macdonald described Harmoney as having good momentum, saying Trade Me's management likes Harmoney's future plans.
Meanwhile, Heartland's managing director Jeff Greenslade said Trade Me's investment represents further endorsement of Harmoney's growth potential.
"Harmoney operates a lending model that challenges those being offered by traditional banks. This model is complementary to Heartland Bank's strategy of occupying leading positions in niche markets through specialist products which are different to those offered by mainstream banks," said Greenslade.
"We are continuing to build our relationship with Harmoney and look forward to working with Trade Me as a fellow shareholder. Heartland believes further scope exists to create high value products for consumer and business customers in New Zealand through the Harmoney platform," Greenslade added.