Should the big 4 Australasian banks have to list 25% of their NZ units on the NZX? Devon's Paul Glass thinks so, ANZ's David Hisco doesn't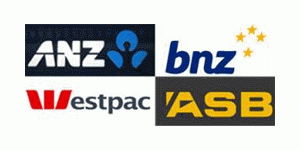 By Gareth Vaughan
The big four Australian banks should be required to list 25% stakes in their New Zealand subsidiaries on the NZX, a leading fund manager says.
Devon Funds Management executive chairman Paul Glass says it's right that New Zealanders are debating the merits of foreign ownership of land and houses. But, he says, no other advanced economy in the world would allow almost all its banking system to be foreign owned.
"The big four banks in NZ, which are all Australian owned, have a combined market share of about 90% and will make combined after tax profits out of NZ of more than $4.5 billion in 2015. To put that in context, if you add up the profits of all the companies listed on the NZ Stock Exchange you get to a similar number," Glass says in an article in Devon's latest monthly report.
"The big four banking oligopoly is so profitable that in NZ in 2014 they generated a pre-tax return on equity of more than 22% for their Australian shareholders. Given the banks are effectively NZ Government guaranteed, this represents an exceptionally attractive return, particularly relative to the current risk-free rate of about 3.5%. The NZ taxpayer, represented by the Government, effectively guaranteed the foreign-owned banks - interesting, isn't it?"
Glass notes NZ's current account has been in deficit since 1973 with banks a big contributor to the deficits.
"All other developed sovereign nations have taken the view that it's important to have domestic ownership of the majority of the banking system, particularly in the event of a severe financial crisis," says Glass.
Addressing what NZ could do about the situation Glass suggests we could require the big four banks - ANZ, ASB's parent Commonwealth Bank of Australia, BNZ's parent National Australia Bank, and Westpac - to list 25% per cent of their NZ operations on the NZX over the next 10 years.
"The amount of capital needed would be about $20 billion, but spread over 10 years would be manageable," Glass suggests.
'The timing is right'
Glass goes on to say the timing is right because NZ now has a solid regulatory regime under the Reserve Bank and Financial Markets Authority, KiwiSaver is transforming our savings base with more than $27 billion in KiwiSaver and growing strongly with this money in need of attractive investment opportunities. Furthermore the NZ sharemarket has grown and is now capitalised at about $100 billion.
"Consequently the new listed bank stocks would comprise a manageable 20% of the market, compared to about 30% of the Australian Index," says Glass.
Additionally, the NZ sharemarket is now trading at a price to earnings multiple premium to the Australian market meaning Australian bank shareholders wouldn't have to take a hit on valuation. 
"Transparency is increasingly important and a stock exchange listing helps provide this. Stakeholders will have a much clearer idea about leverage, taxation and transfer pricing issues following partial listing. If, as a possible consequence of the economic cycle or new capital regulation rules, the banks needed to raise more equity, this is now possible through the NZ Stock Exchange given our improved liquid savings pool," says Glass.
"The banks are a big part of our economy and NZ-based investors should be able to access their NZ businesses, particularly through KiwiSaver."
Glass also points out NZ shareholders could benefit from the imputation credits generated from tax paid in NZ.
"Currently, if a New Zealander buys shares in an Australian bank the franking credits have no value. The NZ market is hungry for yield and banks generate great dividends. Investing directly into Australian banks is a different risk exposure to buying shares in their NZ operations, which typically account for less than 15% of overall group profits. I think it is in the banks' long-term interest to be listed here and be part of KiwiSaver schemes, as it will reduce the risk of their high profits becoming more regulated," says Glass.
EY's Wheeler chimes in, ANZ's Hisco does too
In terms of the tax issues, Glass' comments are similar to those raised in a previous interest.co.nz article by EY partner Brad Wheeler. Wheeler suggested New Zealanders should be "demanding the opportunity" to buy shares directly in the local operations of our Australian owned banks.
"Given the Australian government's reluctance to move on trans-Tasman tax reform, thus failing to allow New Zealand investors in Australian companies credit for tax paid in Australia, it's not sufficient to tell these investors they should be satisfied with shareholdings in the Australian banking parents, as some commentators have done," Wheeler wrote.
"Because New Zealanders can't use Australian franking credits, it is not tax-efficient for them to invest in Australian-owned banks, even those which are dual-listed in Australia and New Zealand," Wheeler added.
And sharemarket listings could also raise cleaner capital for the banks than the hybrid securities issues targeted at retail investors that the Financial Markets Authority has warned aren't actually suitable for many investors. 
Although rumours do the rounds from time to time suggesting one of the big four banks is considering listing a chunk of its NZ subsidiary on the NZX, nothing firm has yet materialised on this front. 
In an interview after ANZ's recent half-year financial results, I asked ANZ NZ CEO David Hisco about the idea of a partial float of ANZ NZ. 
"I think people like to raise this, particularly investment bankers," Hisco said. "But I think it wouldn't be without its difficulties and there's probably easier ways to raise capital actually." 
Asked to elaborate on the latter point Hisco said: "In terms of how you would manage it for example. And it just creates more complexity. So well you get some capital, it comes at a price. It is one option but certainly from where we sit it's not on the table for us."
Here's the full Devon article.
This article was first published in our email for paying subscribers early on Thursday morning. See here for more details and how to subscribe.