Exporters see higher profits and more opportunities to enter the Chinese and ASEAN markets over the next year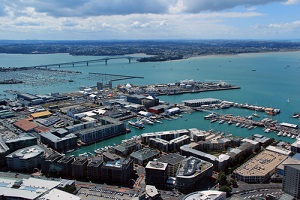 There's optimism on the horizon for New Zealand exporters, despite the global commodity price slump and slowing growth in China.
Those that have survived the global financial crisis, as well as years of a sustained high New Zealand dollar, are confident about penetrating the Chinese and South East Asian (ASEAN) markets, according to ExportNZ's chief executive Catherine Beard.
"Any exporter who's still exporting in 2015 and now enjoying the better exchange rate is going to be pretty resilient," she says.
An annual ExportNZ survey released today, shows 70% of the 205 exporters surveyed expect business profitability to improve in the next year, while 22% maintain it'll stay the same and 7% expect it to deteriorate.
Around 55% expect to employ more staff, 39% plan to employ the same number and 7% anticipate they'll lay people off.
In the next year most exporters expect their orders across all markets to increase, either slowly (48.5%) or substantially (31.6%), with the strongest average sales growth expected in the US.
Beard says the survey respondents are a good representation of the export market in New Zealand. Half are manufacturers, and a number are from the agriculture, forestry or fishing sectors. The majority employ less than 150 staff.
"It is a very resilient sector now. Exporters have weathered some very high exchange rate levels for a number of years. They've hung in there and they've figured out how to get more productive. I think once the exchange rate falls to better levels, they're actually in a position to make good margins," she says.
"What the really successful companies understand is that in a high cost operating environment like New Zealand, the only way to really be globally competitive, is to be innovative so that you have something that's special and unique, and people are prepared to pay for it."
Food and beverage industry resilient to slowing Chinese growth
The survey shows the top export destinations for respondents have changed slightly from 2014, with China and ASEAN moving up the rankings. Most exporters are focusing on Australia, China, Europe, ASEAN and the US.  
Larger portions of exporters plan to enter the Chinese, ASEAN and Indian markets over the next year, compared to last year, while less are looking to enter the European market.
Beard says exporters are becoming more familiar with China, with newer entrants making the most of the relationships the larger more established businesses have developed.
She says companies, which had once only done their manufacturing in China, are starting to set up shop there, and the knowledge of the market is growing.
She says the food and beverage industry, which New Zealand has made a good name for itself in, is proving resilient to slowing growth and market instability in China. When people look at what luxury items they might not purchase, food and beverages are last on the list.
Furthermore, Beard recognises New Zealand exporters are going online to sell their goods. New Zealand Post teaming up with the Chinese version of Amazon, the Tmall Global web store, has helped facilitate this.
"That's opening up opportunities for companies that are selling smaller products that can be sent through the post… Opening up these sorts of opportunities lowers the risk for exporters," she says.
However Beard recognises, "Some exporters will go explore China and find out it's not for them. It is complicated. It's a very competitive market."
Regulatory and non-tariff barriers an issue
Survey respondents say their top obstacle to growth is the price competitiveness of products, which has moved ahead of exchange rate levels in the list of hurdles, followed by funding for developing overseas markets and overseas regulatory requirements.
Regulatory and non-tariff barriers are a problem for 42% of respondents. Beard says these exporters cite a number of difficulties.
"China is mentioned often and continues to be a challenging market to do business in," she says.
Exporters in the food and beverage category need more help from Ministry of Primary Industries (MPI) to navigate market access issues as this is holding back trade, particularly in the processed food category."
Beard explains processed food exporters have to jump over a number of hurdles before getting their products to market. Those with a meat or plant base get caught in the raw ingredient laws, even though these ingredients will have gone through the same processes at the supplier's end.
ExportNZ is working with the MPI to try to do away with some of this double handling.
Beard recognises MPI deals with market access issues around traditional sectors like dairy, meat, horticultural, fisheries and forestry well, but is still finding its feet a little when it comes to processed food.
Overall, she says "Exporters need to go overseas with their eyes wide open.
"NZ companies don't have deep pockets when it comes to building brands and promoting themselves, so they have to have a real x-factor to cut through."