Rabobank braces for higher bad loan provisions from dairy sector & plans to retain all profit to bolster capital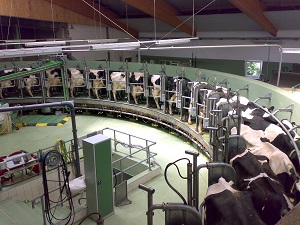 Rabobank New Zealand Ltd (RNZL) had net lending growth of $643 million last year but its net profit after tax declined slightly to $104 million from $105.49 million in 2014.
RNZL interim chief executive Crawford Taylor said the results showed the bank and its clients were operating on a solid footing in challenging market conditions.
Rabobank is unusual among this country's banks because of its particularly high exposure to the dairy sector.
The bank's latest Disclosure Statement said loans to dairy farmers made up more than half of its overall loan portfolio.
The bank had gross loans of $9.5 billion at the end of last year and the Disclosure Statement said an extended period of very low farm gate milk prices "...would [be] likely to increase farm loan defaults and the potential for higher loan loss provisions in the bank's dairy portfolio."
Fonterra last week dropped its 2015/16 milk price payout forecast by 25 cents to $3.90 per kg/MS. The Reserve Bank estimates the breakeven price across the dairy sector at $5.30 per kg/MS, with farmers currently looking at three consecutive seasons of below breakeven payouts.
'In good health'
 Taylor said Rabobank's loan portfolio was in good health but provisions for losses were likely to rise.
"Given the challenging conditions being experienced in the dairy sector, provisions are likely to rise this year after the low levels of the previous year," he said in a statement with the bank's annual results.
."At this time there is no specific provisioning expected, but there has been an increase in collective provisioning to allow for additional risk in this sector.
"While the current dairy downturn is very challenging, the bank's view remains that the outlook for this sector in the medium to longer term is positive."
All of RNZL's profits would be retained to bolster its capital ratio and to reinvest in this country's agribusiness sector.
The bank's total capital ratio was 13.72% at the end of last year and Taylor said that allowed for continued growth in the coming years. As of December 31 last year Rabobank's total impaired assets were valued at $49.19 million, down from $239.04 million a year earlier. Balance sheet provisioning that was at more-than-five-year lows at the end of 2015.