Heartland targeting residential mortgage borrowers who want speed & certainty, not the best rate, in new online home loan offer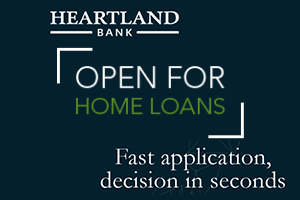 By Gareth Vaughan
Heartland Bank is dipping its toe into the home loan market through an online initiative.
In a move foreshadowed at its annual meeting just before Christmas, Heartland has launched Open for Home Loans, an online service. The bank offers only a floating interest rate, which is currently 5.65% per annum. (See all banks' carded mortgage rates here). All loans will be secured, first ranking registered mortgages.
Formed through the merger of Marac Finance, CBS Canterbury and the Southern Cross Building Society in January 2011, Heartland gained banking registration from the Reserve Bank in December 2012. Under CEO Jeff Greenslade Heartland has targeted niche markets such as reverse mortgages, vehicle lending and livestock finance where bigger banks are not aggressively competing.
Thus until now Heartland has shied away from the cut throat home loans market and instead was offering customers Kiwibank home loans. This arrangement ended late last year.
Heartland has now been tempted into the residential mortgage market because it's able to do so via a cheap, online offering. At December's annual meeting Greenslade told shareholders emerging technology for digital platforms was not only the fastest, but also the cheapest.
"We can make the process of applying straightforward, while utilising highly predictive credit tools and can legitimately aim at being the fastest at originating loans - also at the lowest cost. New data analytics allows us to be more precise in our marketing, by analysing behaviours to indicate customers with appropriate needs and credit worthiness," Greenslade said.
He also said that within three months Heartland aimed to have the following online origination channels in place; residential mortgages, livestock, deposits, and distributor specific services such as for Holden or Isuzu vehicles.
Targeting customers who value speed & certainty
Heartland's deputy CEO Chris Flood told interest.co.nz the cost of customer acquisition through a scalable, online distribution platform is very cheap and this has attracted Heartland to have a crack at the home loan market.
"What we can see is if we can acquire customers cheaply, customers who don't want the best rate, and are not at the risk end of the curve in terms of high LVR, but do value speed and certainty, then we think we'll be able to provide them a service they'll value," Flood said.
He said Heartland wouldn't be hiring new staff to run its home loan business, rather it would "retask" existing branch staff.
"So it doesn't cost us anything to do this and we only have to be moderately successful in what is a very big market to make a difference to our balance sheet," Flood said.
He wouldn't say how much residential mortgage lending Heartland was targeting through noted "a couple of hundred million" makes a difference to Heartland's balance sheet.
"When you consider that we retask existing employees and focus them on a part of the market that we can make a margin on then it becomes doable," Flood said. "The market is enormous. if we had $1 billion of residential mortgages suddenly then that's hugely transformational for Heartland and will make a real difference. And I kind of think $1 billion of residential mortgages, the market probably wouldn't notice."
Heartland says Open for Home Loans enables a borrower to apply online for a mortgage "in a few minutes and get a decision in seconds." Borrowers can choose a loan term of up to 30 years. Heartland will lend up to 80% of the house value on owner-occupied and freehold residential homes.
Borrowers who don't make payments when they're due will be charged interest at a default interest rate of 2% per annum above their existing interest rate. There's a $500 loan establishment fee, a $500 refinance fee, a $150 loan variation fee, and a $100 discharge fee. Full details on fees are here.
Not a lone voice anymore
Earlier this week Heartland announced a partnership with online lender Spotcap. The deal sees Heartland provide Spotcap's Australian business with A$20 million of funding. At the same time, Spotcap has launched in New Zealand offering unsecured credit lines and business loans of up to $250,000 to small and medium-sized businesses. 
Flood said although Spotcap's competing in the same market as Heartland's Open for Business, the NZ bank welcomes the Berlin-headquartered online lender's presence in NZ.
"There will be another player in the market talking about providing SME funding in a very fast and efficient way. At the moment we're a bit of a lone voice with Open for Business. So I think somebody else promoting that sort of service will be good. And we're pushing into a very big market in a New Zealand context," Flood said. 
In terms of whether the Heartland-Spotcap relationship would be expanded to NZ, Flood said there was currently no proposal or discussion around this.
"But we are talking to them and we'll just have to wait and see how that pans out," Flood said.
Heartland also has a livestock loan site, Open for Livestock.
*This article was first published in our email for paying subscribers early on Friday morning. See here for more details and how to subscribe.