Heartland Bank moves to bolster distribution and grow in Australia as it keeps an eye on the Harmoney vs Commerce Commission court case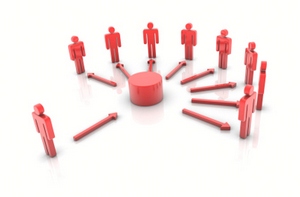 By Gareth Vaughan
Heartland Bank is stepping up efforts to get its products to more customers, including Australians, as a progression from the four year-old bank's push to target niche markets where bigger banks aren't competing hammer and tongs.
Heartland's chief operating officer Laura Byrne told interest.co.nz that, given the bank doesn't have a major branch network, it's looking to technology as the means to best reach customers. She was speaking after Heartland posted a 14% increase in half-year net profit after tax to $29.1 million. 
"We have been focusing on our products and bringing to market best in breed products. And now it's time to think about how we can get those to more customers. Obviously we don't have an extensive branch network like the big banks do, so we're looking at technology answers to that question as to how we can best reach our customers," Byrne said.
"So focusing on being able to provide more and more to them through digital means. The platforms that we've launched to date and that we've got in the pipeline enabling customers to apply for loans or register their interest in relation to a product online, and also partnering with other fintech providers who we see as leading the charge on that side of things and making sure we can learn and grow with them."
The range of digital platforms Heartland has launched to reduce costs and expand include ones for small and medium sized business lending, livestock lending and residential mortgages, with another planned for deposits. The bank has also partnered with online SME lender Spotcap, and paid $1 million for a 25% stake in another online SME lender, Fuelled Ltd, to whom Heartland has also provided a $2 million loan facility.
"We're also looking at putting in place bespoke 'open for' platforms for some of our intermediaries or customer aggregators so they've got their own portal that they can direct their customers to. For example, [for] some of our truck financing we might look at putting in place websites for them to be able to direct their customers specifically to them," said Byrne.
Targeting Australian SME market
A key priority of Heartland's is expansion in Australia. Over there, Byrne said this would be a case of looking to things that have worked well for the bank in New Zealand, such as its Open for Business SME lending platform, which launched in April last year. Heartland has lent $27.3 million through this to date.
"The likes of Open for Business, that's something we can see being successful in Australia given the large SME market there. That's something that's proven for us here and growing very well. We'll look to roll those sort of platforms out in Australia. [But] aligning ourselves with Spotcap and really focusing on that reverse mortgage book are the priorities [in Australia] for the moment," Byrne said.
In the half-year to December 31, Heartland says it grew reverse mortgages, which the bank offers in both New Zealand and Australia, by $57.1 million. The reverse mortgage business now has net receivables of NZ$380 million in New Zealand, and A$472 million in Australia with net growth of 5% and 9%, respectively.
Formed through the merger of Marac Finance, CBS Canterbury and the Southern Cross Building Society in January 2011, Heartland gained banking registration from the Reserve Bank in December 2012. Under CEO Jeff Greenslade Heartland has targeted niche markets such as reverse mortgages, vehicle lending and livestock finance where bigger banks are not aggressively competing.
In its interim results Heartland said return on equity increased 50 basis points to 11.6%. Net operating income rose 7% to $83 million, and operating costs fell 3% to $36 million. The bank's cost-to-income ratio came in at 43%, down from 48%. Impaired assets rose $1.3 million to $6.9 million. Net impaired, restructured and loans overdue by at least 90 days stood at $33.1 million, or 1% of net finance receivables at December 31. Total assets reached $3.8 billion at December 31.
The bank's net interest margin for the half-year was 4.44%, down eight basis points year-on-year.
Byrne said Heartland remains interested in acquisitions. With the focus on distribution, Heartland's on the look out for more opportunities with fintech companies. In terms of big, potential trade acquisitions, she said Heartland had taken a look at UDC, GE and Fisher & Paykel Finance when those finance companies were on the block. But Heartland couldn't make the numbers stack up on any of those three, and is "not pursuing anything" in regards to Motor Trade Finance, a business the bank previously expressed an interest in, at the moment.
'We're a small minority Harmoney shareholder and we don't have any board control'
Meanwhile, Byrne said Heartland is closely watching the court case between peer-to-peer (P2P) lender Harmoney and the Commerce Commission over whether the "platform fee" charged by Harmoney to borrowers is a credit fee under the Credit Contracts and Consumer Finance Amendment Act (CCCFA). Heartland has a 13% shareholding in Harmoney and by December 31 had lent $62 million through Harmoney's online platform.
"We're certainly very interested in how the case unfolds from a 'how law is responding to market' perspective. We certainly would all welcome some clarity on how the courts see the CCCFA applying to P2P lending generally. because the law was put in place before the advent of P2P lenders and these sorts of issues are thrown up as a result of that," said Byrne.
"But in terms of impact on the [Heartland] business, we're a small minority shareholder and we don't have any board control or anything like that. We don't have close details of the conversations they [Harmoney] have been having with the Commerce Commission. So we'll await with baited breath to see the outcome."
Heartland says it's finalising an offer of about A$15 million worth of tier two regulatory capital to Australian wholesale investors.
Meanwhile, the bank expects annual profit to come in at the high end of a previously advised guidance range of $57 million to $60 million. June 2016 year net profit after tax was $54.2 million.
The slide below comes from Heartland's half-year investor presentation. 
*This article was first published in our email for paying subscribers early on Wednesday morning. See here for more details and how to subscribe.