Chinese conglomerate HNA plans to place NZ finance company UDC under the wing of its large European-Canadian equipment service subsidiary TIP Trailer Services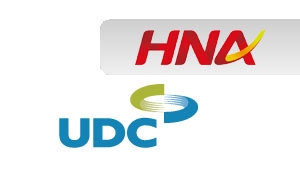 By David Hargreaves
Acquisitive Chinese conglomerate HNA Group intends to put New Zealand's UDC Finance under the wing of its European and Canadian equipment service subsidiary TIP Trailer Services.
It is also planned that UDC will continue to issue debentures to the public, as well as having a securitisation programme. And the management and staff at UDC will be retained.
HNA's confident the deal will go through as planned.
The proposed acquisition of the long-established UDC business from ANZ for $660 million was announced in January, with the intention of HNA completing the deal by the end of this year.
Till now HNA has been largely silent on its plans for UDC. But now it has, through its TIP subsidiary, given the first glimpses of the strategy.
TIP says it is "leading the UDC purchase and separation". alongside the ANZ team, having "successfully navigated" a similar process itself when HNA bought TIP from GE at the end of 2013, with TIP management largely unchanged from the time of acquisition by HNA.
Netherlands-based TIP Trailer Services is one of Europe and Canada's leading equipment service providers and has been growing rapidly, operating in 17 countries and 80 locations, and with assets reaching €1.35 billion as at December 2016, up from just €1 billion the year before. Turnover last year was nearly €450 million, up from €370 million in 2015 and the target for this year is €500 million, with a target of €1 billion for 2020. Profits have not as yet matched the strong turnover and asset growth, with reported net profit last year of €15.6 million, down from €24.6 million the year before.
TIP's president and chief executive Bob Fast, whose own role with TIP long precedes HNA's ownership of the company, gave written responses on behalf of HNA to a number of questions submitted by interest.co.nz on the proposed HNA/UDC deal.
"It is envisaged that on completion of the purchase, UDC will sit under and report to Global TIP Holdings," Fast said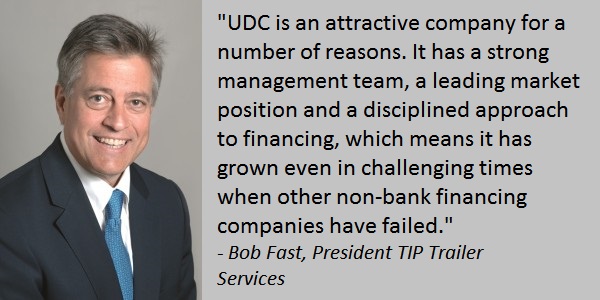 The deal raised eyebrows when it was announced, with the privately-owned HNA, evolving from a regional airline founded in only 1993, having grown spectacularly in recent years, and questions raised about exactly how it has been bank-rolling its acquisitions. These questions continue to be asked.
ANZ said recently it believed HNA would be a good owner of UDC and that the deal was progressing as originally intended. See here for other UDC sale articles.
TIP's Fast said that TIP/HNA were confident the acquisition of UDC would progress largely to the timetable that has been set out and there had been no problems encountered.
"No, to date the proposed purchase has progressed in line with our expectations," he said.
'HNA focused on becoming a global leader'
Asked why HNA had wanted to buy UDC, Fast said HNA Group was focused on becoming a global leader in tourism, logistics and financial services. 
"Our strategy is sustained growth achieved by acquiring successful businesses. We look for businesses with a leading market position, strong customer relationships, growth potential and solid management teams."
UDC, he said, was an attractive company for a number of reasons, with strong management, a leading market position and a disciplined approach to financing, "which means it has grown even in challenging times when other non-bank financing companies have failed".
UDC was a strategic addition to HNA Capital, a division of the HNA Group. "UDC provides a platform for HNA to grow in this part of the world."
In terms of clearing the various regulatory approvals, these include Overseas Investment Office approval and also approval from the Reserve Bank for HNA as the new owner.
Fast said that an application to purchase UDC had been lodged with the OIO. "As is usual with an application of this nature we expect no further response from the OIO at this stage."
In terms of the RBNZ, Fast said the company had been in contact with the central bank and was in the process of completing its submission.
"We will naturally be providing the Reserve Bank of New Zealand with all the information it requires to process our submission."
Sharing more on its plans 'at the appropriate time'
Fast said the company would be sharing more information on its plans for UDC "at the appropriate time".
But he did say that HNA intends to retain UDC's management team and employees, who will run the company largely in line with how it operates today. Additional  "capabilities" that are currently provided by ANZ as owner will be replaced.  
"The UDC team will be reinforced with additional expertise as required. Our intention is to enable the business to operate as an independent entity and following the close of the transaction, UDC Finance will remain a standalone company within the HNA Group."
One key question mark about the proposed deal with HNA is how UDC would be financed in future. It has been a major issuer of debentures to the public in the past. As of the end of last year it held about $1.46 billion in secured investments from the public.
The ANZ and UDC have indicated that as part of the sale there will at some stage be a meeting for the about 13,500 debenture holders to vote on winding up the existing debenture plan.
While not going into detail on the HNA/TIP plans for UDC's funding, Fast said that UDC was "expected to be funded through a securitisation program and a debentures programme".
In terms of what HNA ownership will bring for UDC, Fast said HNA invested in and supported the businesses it buys.
"Firstly, we look for companies with strong management. We encourage them to pursue opportunities for growth. Secondly, we assist them by providing capital support, investing in systems, and providing access to the HNA global network and expertise.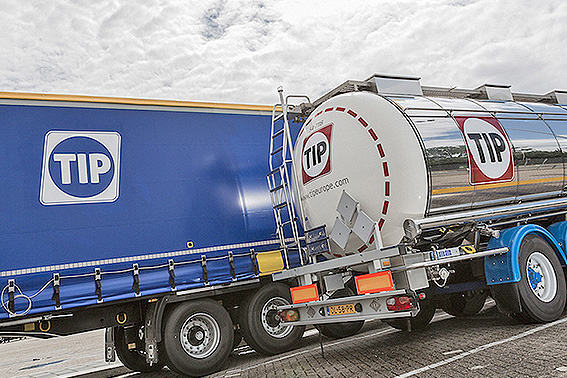 "For UDC this will mean it has the potential for significant further growth with HNA as its owner." 
On the fact that there has been some criticism in New Zealand of this deal, Fast said HNA was relatively unknown in New Zealand so it was not surprising people wanted to know more about the company.
"HNA also recognises the importance of UDC to New Zealand, even though it is not currently New Zealand owned. UDC supports the growth and aspirations of New Zealand businesses and investors. HNA is committed to maintaining the presence of UDC in NZ, while helping to continue its success and create significant long-term growth opportunities."
'No comment on speculation or rumours'
Asked for some reaction to the questions about HNA's rapid expansion that are being asked within Asia and the queries as to where the funding is coming from, Fast said: "HNA Group does not comment on speculation or rumours."
Further asked what comfort he could give the New Zealand public that HNA is a stable, well-funded company, Fast said HNA Group was a Fortune Global 500 company, and China's largest non-bank leasing company.
"We operate a leading global aviation finance business as well as one of the world's leading container leasing businesses and Europe's leading trailer leasing business.  We are a global corporate citizen with nearly 200,000 employees across North America, Europe and Asia.  
"Our continued success is a combination of strategic investments and long-term commitment to all the businesses within our portfolio."
Asked what sort of company TIP/HNA sees UDC being in, say, five years' time Fast said: "At this stage, we are focused on progressing our plans to purchase UDC."
*This article was first published in our email for paying subscribers early on Thursday morning. See here for more details and how to subscribe.