Siah Hwee Ang says the 'grand strategy' looks ambitious but needs to be put in perspective of the overall development goal for the year 2049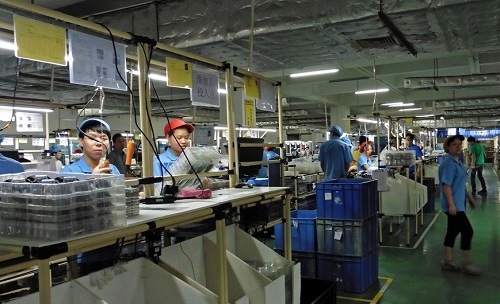 By Siah Hwee Ang* 
'Made in China 2025' is the first step towards making China a technology super power in the world by the year 2049, the country's 100th birthday.
Milestones are being set along the way, with targets in 2020, 2025, then 2035 and finally 2049.
The guiding principles for this grand strategy cover five areas.
1. Innovation-driven development and capability
Under this umbrella, China seeks to promote trans-industrial and interdisciplinary collaborative innovation, digitalization, network technologies, and smart technologies in manufacturing.
Initiatives will be launched to provide platforms where Chinese companies can engage in more research and development work in both products and services.
There are also going to be initiatives around innovation design in major areas, such as traditional manufacturing, strategic emerging industries, and the modern service industry. There are plans to comprehensively promote advanced designs that are green, smart and collaborative.
Building ecosystems and linking them to enhanced intellectual property regimes are further significant developments that have been earmarked.
2. Quality and value
Quantity rather than quality typified the Made in China brand of the past.
'Made in China 2025' emphasises the importance of quality as the core principle of manufacturing leadership.
Various mechanisms will be put in place to encourage enterprises to assume responsibility for product quality. There is also more support for quality-related research.
The initiative will promote high quality domestic branding. This will be aided by professional institutions focusing on brand cultivation, brand management consulting and marketing services.
At the same time, China will develop more standardised laws and regulations, and will promote a quality-first culture.
3. Green development
This will fundamentally involve the application of energy-saving and environmental protection technologies, processes and equipment to enable cleaner production.
For example, green upgrading in traditional industries like steel, nonferrous metals, chemicals, building materials, light industry, and printing and dyeing will be promoted.
Yet another example is to improve the energy efficiency of energy-using products like electrical machines, boilers, and combustion engines, and accelerate the elimination of outdated mechanical and electrical products and technology.
In essence, this is about developing the recycling economy, improving the efficiency of resource recycling, and establishing a sustainable manufacturing system.
A shorter-term target is to build a thousand green demonstration factories and a hundred green demonstration industrial parks by 2020.
4. Structural optimisation
Technological advancements aside, there should be structural upgrades to ensure that technological advancements serve their purpose.
Structural optimisation will be introduced to support the development of advanced manufacturing, to upgrade traditional industries, and to transform production-oriented manufacturing into service-oriented manufacturing.
For example, excess capacity control will be needed, in particular when the focus shifts from one type of manufacturing activity to another that is more service-driven within the manufacturing sector.
Manufacturing enterprises will be encouraged to invest in services, to develop customised services, to practice life cycle management, to execute network marketing, and to provide online support services.
A key plan here is to support eligible enterprises to evolve from equipment providers into integrated system contractors and from product providers into total solution providers.
5. Talent-oriented development
Related to the structural optimisation is the notion of inputs, in this case skilled labour and upskilling of individuals.
There will be pragmatic mechanisms for personnel hiring, placement, and training, which will cultivate professional, technical, managerial, and administrative personnel to meet the demands of modern manufacturing.
With this, we should also see talented young Chinese professionals and students, especially those with a professional and technical background, go abroad for study and training.
International training bases in China will be established to ensure a seamless supply of talent to cope with the advancements in technologies.
Further, an entrepreneurial mindset will be encouraged, with mechanisms in place to support the new and emerging technologies being generated.
The grand strategy
As mentioned in the first part of this three-part series, the grand strategy of 'Made in China 2025' looks like an ambitious one.
But it is guided by China's overall development goal for the year 2049.
Therefore, we are unlikely to observe many concrete performance benchmarks highlighting what needs to be achieved by 2025.
While not new to Chinese individuals, being innovative and entrepreneurial is largely new to China as a country.
Speed and critical mass are what China has been good at, but now the brakes have been put on.
'Made in China 2025' does put China at the crossroads, and perhaps also puts the rest of the world in a state of uncertainty.
This article is the second of a three-part series on Made in China 2025 - the first is here)
-------------------------------------------------------------------------------------------------------
*Professor Siah Hwee Ang holds the BNZ Chair in Business in Asia at Victoria University. He writes a regular column here focused on understanding the challenges and opportunities for New Zealand in our trade with Asia. You can contact him here.