More than 100 jobs on the line as BNZ restructures its branch network, First Union says. Bank says 'change proposals' are being discussed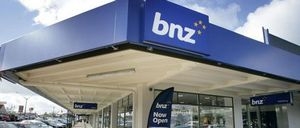 First Union, the bank workers' union, says more than 100 jobs are on the line at BNZ as the bank restructures its branch network.
First Union spokesperson Tali Williams says it's "appalling" that a "wildly profitable" bank like BNZ is looking to layoff so many staff through an "unnecessary" restructure.
"BNZ is proposing job and hours reductions for tellers in over 30 stores [branches] nationwide and everyday this number is growing. Changes have already occurred in some stores while other stores are still at the consultation stage," says Williams.
"BNZ's restructure impacts frontline tellers, the first people to help us when we walk into a branch. This isn't just devastating for those staff who may lose their jobs but it'll impact customers as well. When jobs go customer service suffers," Williams adds.
According to Williams, BNZ maintains the introduction of Smart ATMs is making people obsolete.
"Sure, Smart ATM's can assist if you want to make a deposit, but what about all the other reasons people visit a bank? Smart ATMs cannot approve loans, give financial advice, or help sort out a problem in someone's accounts. Many customers still want face-to-face service. You only need to go into any branch to see there are lines out the door so there's still a customer need," Williams says.
Meanwhile, a BNZ spokeswoman says the bank's management has spoken about the need to get the balance right as customers become increasingly independent in terms of their day-to-day banking.
"Most are comfortable using things like online banking and our app, and smart ATMs which can process more transactions and queries," the BNZ spokeswoman says.
"In some of our branches, this means we are looking at the mix of staff and skills they have. For some this means there are change proposals that are being discussed. We can't go into detail on what that might be, as we need to let the proper consultation process take place with our people in the first instance," says the BNZ spokeswoman.
According to this year's KPMG Financial Institutions Performance Survey, BNZ has 5,019 staff, an increase of 178 year-on-year. The KPMG survey put BNZ's branch numbers at 171, down two year-on-year.
New Zealand's big four banks, including BNZ, rank near the top of the pack across a range of profitability measures when compared to their counterparts from both advanced economies and major emerging economies.
Also see; Bank branches and 20th century thinking.