Banks are copping flak for shutting branches, but in a cold, hard business sense they could be closing more of them, Gareth Vaughan argues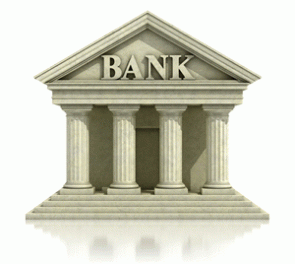 By Gareth Vaughan
That there has been much kerfuffle in the media recently about banks closing branches isn't surprising. But it does demonstrate some outdated, twentieth century thinking.
First of all I accept that bank branch closures are sad events. People lose their jobs. People who in many cases will have families to support, mortgages to pay, have been good and loyal employees, and may have worked there for years. Not nice. And communities lose a long standing service, which clearly creates inconvenience for some people. And for the banks themselves it's dreadful public relations being seen laying off staff or offering them job transfers that may not be suitable. And then there's being accused, as bank workers' union FIRST Union puts it, of systematically abandoning regional New Zealand.
But the cold, hard reality in 2016 is that branches are, to a large degree, banking's past. From an unemotional and pure business sense, banks could, and probably should, be closing more branches.
Westpac, facing the most wrath as it moves to shut 19 branches, pointed out more than 85% of customers' service transactions now take place outside of a branch. ANZ, which is looking to close seven branches, says about 76% of cash, foreign exchange, cheque withdrawal and deposit functions are done outside a branch. According to an ANZ spokesman, the bank's average customer uses mobile banking one or two times a day, but visits a branch only twice a year. Meanwhile, ASB disclosed as long ago as 2012 that only about 5% of its customer transactions were done through branches.
Newspapers and bank branches
Taking a detailed look at the future of bank branches four years ago I wrote the following, "As a journalist writing about the banking sector who has witnessed from the inside how the internet has transformed the print media, I can't help but draw parallels between newspapers and bank branches. Both are labour intensive, high cost ways of achieving what the internet can do cheaper and faster."
At that time senior bank executives were still publicly talking optimistically about the future of bank branches, and doubtless many still are. One of the arguments for branches at that time was that they were the single most important expression of a bank's brand, which is not something that can be replicated by new entities competing for traditional bank business. Internationally banks have pitched branches as funky and fun locations to try and keep them relevant, and as the likes of financial spas, cafes, technology centres, and places for young people to hang out.
Local banks have worked hard to try and make their branches attractive, making use of the latest technology gadgets, Wi-Fi, offering customers a cafe like atmosphere with coffee, and even in one Westpac Auckland branch, a giant lego helicopter. BNZ started calling its branches "stores" and said it was turning to retailers such as Gap and Michael Hill Jeweller for tips on improvement.
Banking during the ad breaks
But the harsh reality is people just don't need branches like they once did. Internet and smartphone banking, phablets and smartwatches, with apps hugely popular, are much more user friendly for busy people than making a specific trip to a branch. A couple of years ago I attended a presentation by a senior Commonwealth Bank of Australia executive. He showed a chart of spikes in customers logging on to do their banking via smartphones and tablets during advertising breaks in a popular evening TV show.
Away from branches there's always the option of talking to someone over the phone (assuming a well functioning call centre), or video conferencing, if actual human contact is required, desired or needed. And if you're taking out a mortgage, most banks will send a mobile mortgage manager to you.
The chart below was released with Westpac's interim results in 2014. It shows the contrasting growth of - and forecasts for - different types of transactions, highlighting the speed of mobile banking growth, which is the orange line. Red is internet banking, and blue is branch transactions.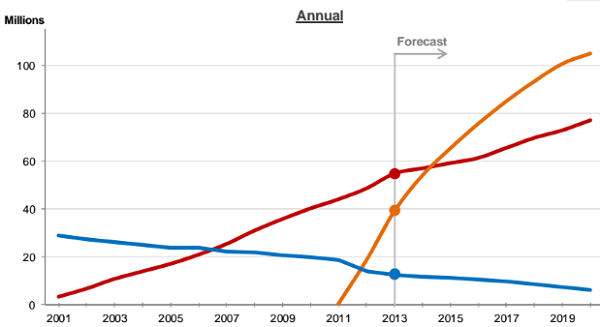 The chart below comes from KPMG's 2012 Financial Institutions Performance Survey (FIPS). It's interesting to note that EFTPOS transactions, growing steadily at that point with branch transactions largely static, are now starting to come under pressure from the growth of contactless debit and credit cards with the Government concerned about rising costs for consumers as a result.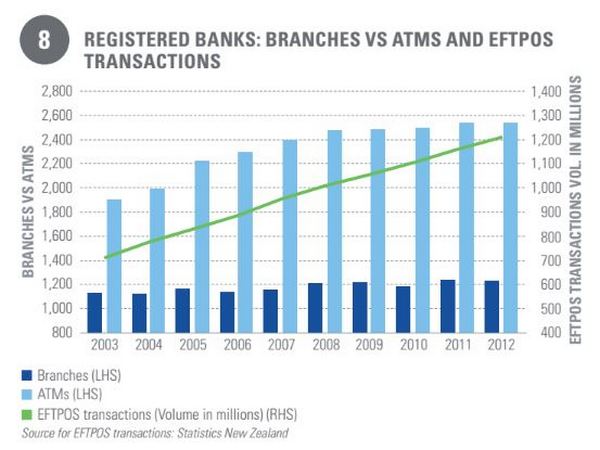 A steady dwindling of branch numbers
If you were entering the retail banking market today, how would you do it? Not by opening a large number of branches. China Construction Bank is looking to roll out retail banking services in New Zealand and it's eyeing a digital rather than bricks and mortar strategy.
Squirrel Group's John Bolton, who has a mortgage broking business and peer-to-peer lender's licence, is keen to push into additional financial services. And what's catching Bolton's eye is the series of digital banks that have sprung up in Britain over the past two or three years with names like Atom, Starling, OakNorth, Tandem, Fidor and Monzo. The smartphone and other such devices are the way ahead for them rather than labour intensive bricks and mortar branches. (There's more on them here).
Before the latest round of closures, with Westpac's 19 and ANZ's seven, branch numbers have been steadily declining at the big banks. KPMG's 2012 FIPS shows ANZ, then on the cusp of culling the National Bank brand, with 312 branches. This year's FIPS shows it with 225, that's 87 fewer branches. Over the same time period BNZ has shed five branches going to 173, ASB has dropped 11 to be on 134, Kiwibank has reduced by 16 to 265, and Westpac has shed 16, before the latest round of closures, to drop to 189.
In contrast, some of the country's smaller banks have increased branch numbers, a little, off small bases. According to the FIPS figures, The Co-operative Bank has added three branches taking it to 34, TSB has also added three, taking it to 27, and SBS has added one, moving to 17.
I am told the annual cost of running a branch typically ranges from about $350,000 to about $1 million, depending on the type of branch. The biggest cost by far is staffing. 
What about mobile branches?
In its response to the devastating and tragic Christchurch earthquake, Westpac gained some international kudos in 2012 for its innovative use of mobile branches inside shipping containers. At the time Westpac was considering using the containers as mobile branches in the long-term, as they were transportable by truck. In sparsely populated parts of the country, this idea appears to have some logic. Customers in town X could be told the branch would be in town on Monday, and those in town Y could be told to expect their branch visit on Tuesday, for example.
However, Westpac has backed away from this idea with a bank spokeswoman telling me, "We're always looking at innovative banking solutions, but don't have plans to make use of mobile branches at this point. While it sounds good, in practise there are obvious safety issues related to the movement of cash and the security personal required. At this point we would rather invest in more permanent leave behind solutions."
An ANZ spokesman said his bank has also mulled using mobile branches.
"We looked at a range of alternatives, including mobile branches, but cost, logistical and security issues ruled it out," the ANZ spokesman said.
Interesting ANZ also maintains broadband has "completely changed" the way people do their banking. People can choose to live in provincial New Zealand but still access goods and services small towns would previously have struggled to get, the ANZ spokesman said.
In a world of low interest rates, tougher regulation, growing competition and high household debt levels, banks are expected to find revenue growth harder to come by. Recent research by analysts at Macquarie suggests branches make up about 15% of the cost bases of the big four Australian banks, who are the parents of New Zealand's big four. 
It's hard to imagine our major banks without any branches at all, as a strategically placed physical presence does help show tangibility and continuity. So despite the changes in the way people do their banking and the economics stacking up against them, we're unlikely to see wholesale bank branch closures. It would be a disastrous look for major banks to be seen wielding the axe too widely. But over time expect to see branch numbers continue to dwindle. In tougher times that 15% of costs may look like low hanging fruit.
*This article was first published in our email for paying subscribers early on Friday morning. See here for more details and how to subscribe.