ASB half-year profit rises 13%, pushes $600 mln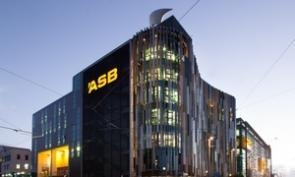 ASB's interim profit climbed $68 million, or 13%, as operating income rose 7% and loan impairment losses almost halved.
The bank says net profit after tax for the six months to December 31 climbed to $593 million, a new record high, from $525 million in the same period of its last financial year, ASB's previous highest ever half-year profit.
ASB's total operating income rose $84 million, or 7%, to $1.274 billion. This came as net interest earnings increased $76 million, or 8%, to $999 million, and other income gained $8 million, or 3%, to $275 million. Impairment losses on loans fell $23 million, or 47%, to $26 million. The bank's half-year expenses increased $14 million, or 3%, to $425 million.
New CEO Vittoria Shortt, who this week succeeded Barbara Chapman, says the strong result stemmed from balanced lending and deposit growth and stabilising margins. It was also influenced by lower impairment expense with the continued improvement in the dairy farming sector allowing for provision releases.
"This was a strong first half performance, driven by balanced, business-wide growth and a continued focus on cost management, despite some significant regulatory compliance costs, and higher technology expenses," Shortt says. "At the same time we are continuing to accelerate our digital transformation while leveraging our strengths in customer service and innovation."
 Like Chapman before her, Shortt is a New Zealander joining from ASB's parent Commonwealth Bank of Australia (CBA) and has a marketing background.
ASB says home loans grew 5%, with business, commercial and rural lending up 8% year-on-year, lifting total lending 6%. Customer deposits grew 8%, ASB says.
Advances to customers increased $2.27 million, or 3%, in the six months from June to December, reaching $80.37 billion. Over the same period, deposits and other borrowings increased $2.64 billion, or 4.5%, to $60.833 billion.
Figures released by CBA show ASB's home lending grew at 4.8% during 2017 versus system growth of 5.7%, and business and rural lending grew at 7.5% versus system growth of 4.6%.
"We are seeing a continued trend around customers focusing on increasing savings and taking advantage of the current low interest rate environment to pay down debt," Shortt says.
ASB paid a $300 million half-year dividend, up from $200 million in the same period of its previous financial year. ASB's half-year return on shareholder's equity rose to 18.5% from 17.5%.
The tables and chart below come from CBA.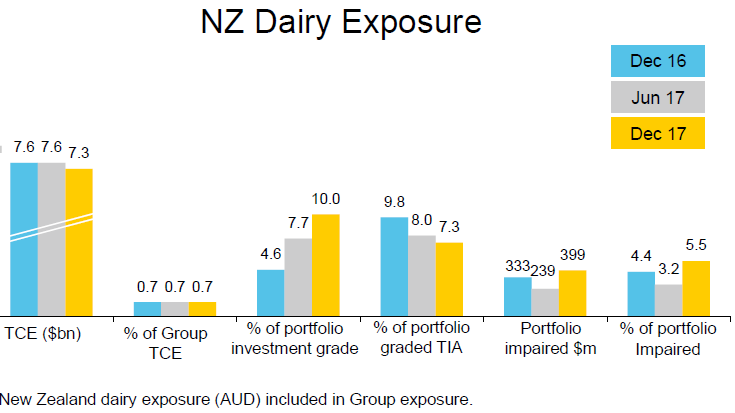 *TCE is total current exposure. CBA says NZ dairy represents 0.7% of group TCE.
A$575 mln of regulatory provisions for CBA
CBA, meanwhile has taken an A$375 million provision as a "reliable estimate" of the civil penalty a court may impose against in proceedings taken by Australia's anti-money laundering regulator AUSTRAC. AUSTRAC has alleged more than 53,800 contraventions of the Anti-Money Laundering and Counter-Terrorism Financing Act 2006 by CBA.
CBA has separately also taken an A$200 million expense provision for expected costs related to "currently known" regulatory, compliance and remediation program costs, including the Australian Government's Financial Services Royal Commission.
CBA's cash net profit after tax fell 1.9% to A$4.735 billion. Its return on equity was down 120 basis points to 14.5%, and CBA's net interest margin rose six basis points to 2.16%. It's paying an interim dividend of A$2 per share, up A1 cent, which is equivalent to 72% of cash profit.
And here's CBA's press release.