Westpac McDermott Miller survey shows the collapsing confidence contagion is spreading, with the lowest level of consumer confidence in six years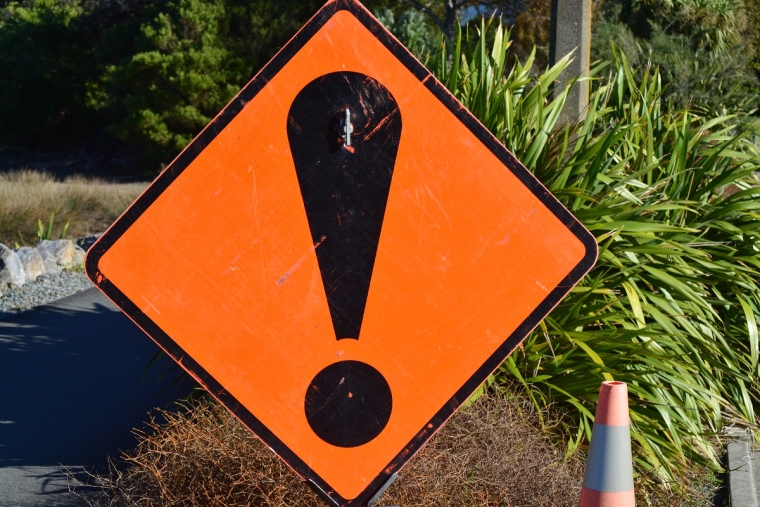 By David Hargreaves
It's spreading. And how.
The plunging levels of business confidence seen since the Coalition Government came into power are now well and truly making their way into the minds of consumers.
The Westpac McDermott Miller survey released on Wednesday shows the lowest level of consumer confidence as measured by that survey for six years.
Westpac economists say the drop in confidence "gives genuine cause for concern about how the economy is progressing". 
To this, I would say while a survey is just a survey and people can have kneejerk reactions to what they see and hear and get grumpy about, the fact is the plunging levels of confidence will be a worry to a Government that was already showing signs of being worried indeed, if not to say rattled, by the falling business confidence.
The key thing is not so much that people get grumpy - but more what the grumpiness might lead to in terms of people 'shutting up shop', stopping spending, and otherwise changing their behaviour. It's this potential flow-on that then could have a big impact on the economy.
The latest survey will do nothing to dispel the thoughts and suggestions that New Zealand is starting to 'talk itself' into a downturn.
National's Finance Spokesperson Amy Adams said the Government doesn't seem to realise its policy decisions "have an impact in the real world".
"Consumers have no confidence in the economic policies and management of the Government.
 "There's too much at stake to have a coalition Government learning on the job. Its anti-growth policies are having a real effect on how people view the economy which in turn affects how they behave within it.
 "It means businesses are less likely to hire new workers, increase wages and invest. And consumers are less likely to spend as they fear the good times are coming to an end."
The knitty gritty of the survey is that the Westpac McDermott Miller Consumer Confidence Index fell 5.1 points in September, taking it to a level of 103.5. This is the lowest level for the Index since September 2012.
Westpac Chief Economist Dominick Stephens said New Zealand households are particularly concerned about the outlook for their own finances and the general economy over the next year.
"Expectations for their own circumstances in the year ahead are at their lowest, outside of an actual recession, in the history of the survey."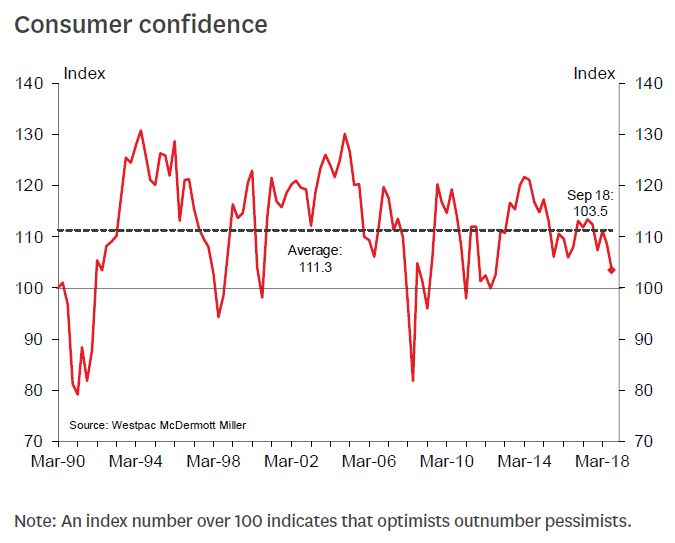 Stephens said the groups that benefited from the Government's Families Package, which took effect from 1 July, did report some improvement in their own circumstances. "But this appears to have been outweighed by other concerns in most consumers' minds.
"The slowdown in the housing market and rising fuel prices are potential factors behind the drop in confidence," Stephens suggested.
"Indeed, these factors have been felt most acutely in the Auckland region, which saw a particularly sharp drop in confidence."
Stephens said it may be that consumers are starting to feel "a real impact" from the economic slowdown that began in 2017.
"...Or it may just be that consumers are worried by what they are hearing about weak business confidence."
Managing Director of McDermott Miller Managing Director Richard Miller also noted that urban Aucklanders' confidence fell further than other consumers.
"Those working in the private sector, in particular, seem to be losing confidence in the economy, and are not expecting to be better off financially in the year ahead. They are pessimistic for the first time since March 2009, with their Consumer Confidence Index falling 10 points this quarter to 98.5. In contrast, Urban Wellington Kiwis remain firmly optimistic, albeit a little less so than last quarter at a Consumer Confidence Index of 109.4."
Miller stressed the contrasting confidence levels between those in the public and private sectors.
"Probing questions indicate that both private sector oriented Urban Auckland and public sector dominated Urban Wellington are diffident about the effectiveness of Government policies, but there is a sharp difference in belief about what drives their own region's economic future. Wellingtonians have confidence in their people to create good economic times over the coming year, while Aucklanders expect population growth and new or growing industries to lift the economy."
The survey was conducted over 1-10 September, with a sample size of 1,556. An index number over 100 indicates that optimists outnumber pessimists. The margin of error of the survey is 2.5%.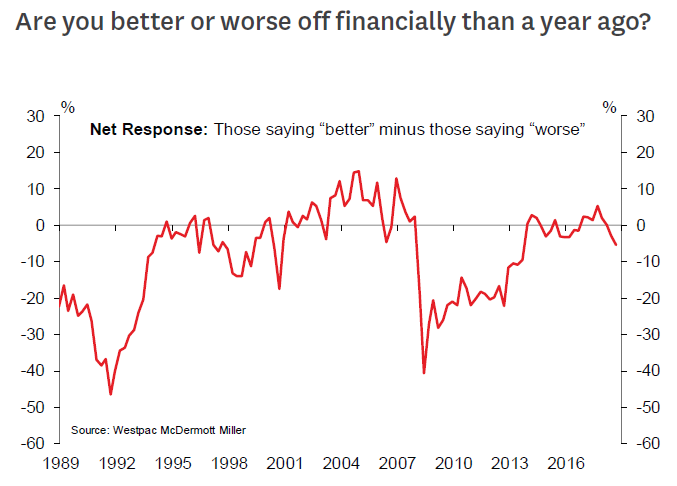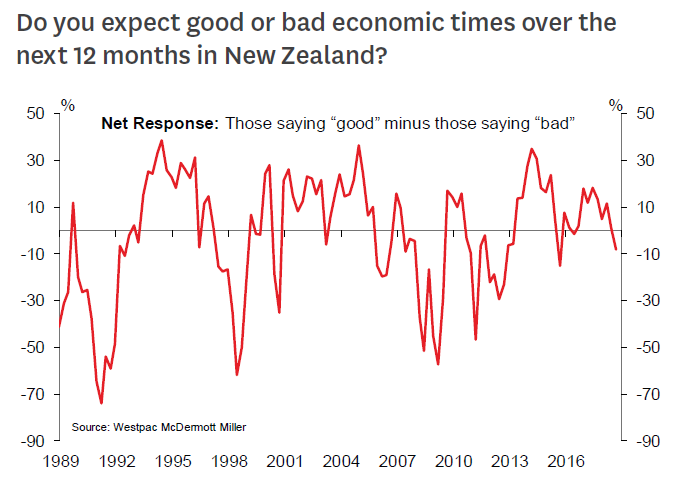 In their detailed economic note on the survey results, Westpac's Stephens and senior economist Michael Gordon say the survey results "present a challenge to our expectation that the economy will regain some momentum in the short term on the back of Government spending".
They say that unlike business surveys, consumer confidence covers "the whole spectrum of voters, so it's not obviously slanted based on who is in power". They point out that up until now, the post-election consumer surveys have been mixed rather than consistently softer.
"So the latest drop in confidence gives genuine cause for concern about how the economy is progressing."