PM responds to outcry over high petrol prices by rushing through law change requiring petrol companies to come clean to the ComCom
The Government is fast-tracking a law change that will require petrol companies to open up their books to the country's competition watchdog.
Prime Minister Jacinda Ardern is prioritising the passing of the Commerce Amendment Bill, which compels petrol companies to give the Commerce Commission the information it needs to understand how the market functions.
Speaking at a post-Cabinet press conference on Monday afternoon, Ardern said petrol companies had refused to play ball when the previous government requested this information, so it's now being legislated.
She said the Bill would have its second and third readings in Parliament in coming weeks. Once passed, there would be a one-month transition period before the Act becomes operative.
Ardern expected the study to report back next year.
While the Coalition Government has copped flak for exacerbating high fuel prices by increasing the petrol excise duty and introducing a regional fuel tax, Ardern pointed out New Zealand has the highest pre-tax petrol prices in the OECD. In 2008, we had one of the lowest.
"Between 2008 and 2017, the margins importers were taking for themselves more than doubled from 7% to 16%," she said.
"Between the 27th of October 2017 and 28 September 2018, petrol prices have risen roughly 39 cents, of which 6.8 cents at that point could be attributed to taxes and levies, 22 cents roughly to importer costs, and 9.8 cents to importer margins...
"Some of that cannot be explained. I do not see that as acceptable."
Ardern went on to point out: "We also have different fuel prices between the South Island and Wellington versus the rest of the North Island. While there might be a slightly higher cost of transportation in the South Island, it is no way near equivalent to the difference in fuel prices now."
2010 a turning point... 
According to Ministry of Business, Innovation and Employment data collated by interest.co.nz, the 'oil company component' of the petrol price - IE what you get when you subtract taxes and the crude price from the discounted price at the pump - started tracking up from 2010.
It rose to 56 cents a litre in September 2018, from around 30 cents per litre before 2010 when Shell sold its retail stations and stake in the refinery at Marsden point to a consortium of Infratil and the Guardians of New Zealand Superannuation. These stations were then re-branded Z. 
Ardern refused to comment in the press conference on whether the Commerce Commission made a mistake allowing this sale, saying "we need to look at the industry as a whole".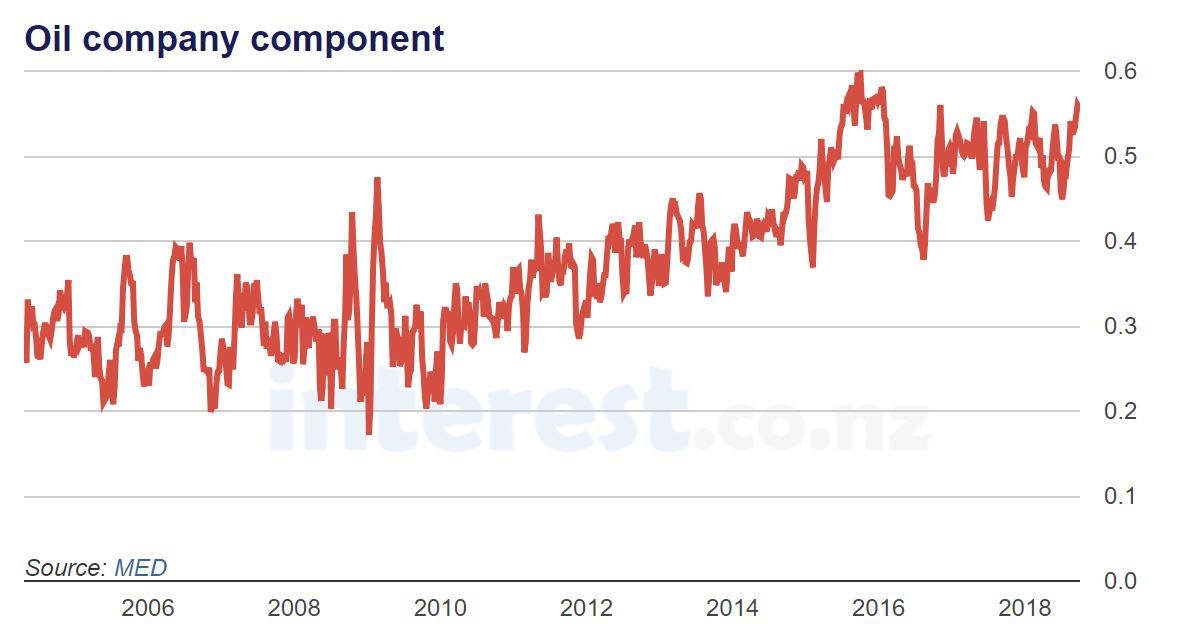 National: The Govt should axe tax increases
National Leader Simon Bridges has responded to Ardern's announcement saying: "While the Government passes new legislation and waits for yet another report it should provide immediate relief to motorists by putting a stop to its relentless imposition of new taxes...
"The inquiry will take months and any resulting changes could be years away. Meanwhile New Zealanders are paying record prices for petrol and the Government is collecting hundreds of millions of extra tax from them.
"Unlike petrol, talk is cheap. And the Government is a big part of the reason why petrol prices are so high."
As of September 31, New Zealanders have been paying an extra 3.5 cents per litre in petrol excise duties. These will fund $5 billion of transport infrastructure over 10 years, as set out in the government's policy statement on land transport.
And as of July 1, Aucklanders have been paying a 11.5 cent per litre regional fuel tax. Auckland Council will use the revenue generated to support transport projects that would otherwise be delayed or not funded.