National Party transport spokesman Paul Goldsmith backs Treasury concerns about the proposed Auckland light rail project, saying it is politically driven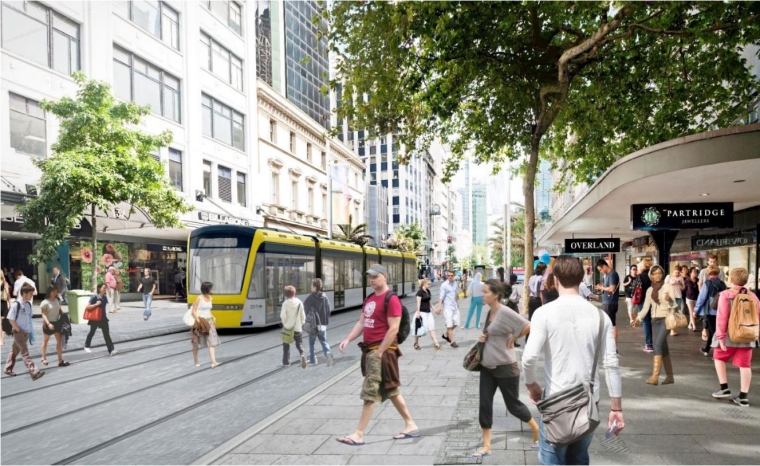 National Party transport spokesman Paul Goldsmith says the Auckland light rail project doesn't stack up and is only being considered because of the Government's confidence and supply agreement with the Green Party.
"It has been driven by the politicians," Goldsmith says. "It's hard to find anyone who thinks it makes sense, or that it is a sensible priority for such a large slice of our limited transport funds." 
He says a Treasury report has raised legitimate concerns over the Auckland light rail project.
"There's no question that Treasury is right that constructing a slow tram down Dominion Road is going to be extremely disruptive to local businesses and have a significant impact on traffic congestion. And at the same time, costing billions of dollars more than alternative options that are available to the Government," Goldsmith says.
And he says attempts by Transport Minister Phil Twyford to defer questions from www.interest.co.nz about the project's procurement to the New Zealand Transport Agency (NZTA) is simply not good enough.
The Treasury report says a new in-depth business case for the project is vital and will need to spell out the strategic and economic basis for the project, as well as consider alternative options and a cost-benefit analysis of the preferred option.
The paper was written by David Taylor from Treasury's National Infrastructure Unit and also highlights the delays and cost blow-outs experienced with a similar project in the UK.
It refers to a light rail project in Edinburgh that was beset with major delays and budget blow outs and eventually took six years to build and cost more than twice the initial estimates.
"Given the size of the project, the fiscal risks and the build and operational challenges, we consider a strong examination of the implementation choices is essential.
"A well-developed business plan provides assurance that the project will not end up in failure. Business cases have been put together by Auckland Transport, but we consider that these should be updated to reflect a new procurer (NZTA); and the Government's broader urban development objectives.
"This is one of the biggest projects New Zealand has seen and extremely complex, given that it is to be built through the middle of some of the busiest streets in Auckland. It entails digging up the streets to a considerable depth, causing major disruptions to traffic and to businesses," the Treasury report says.
And while Goldsmith says he's also keen to see the business case himself it could take time. Last week www.interest.co.nz reported that the business case for the project was supposed to be delivered at the end of last year. But according to NZTA, which is leading the project, it's still a work in progress.
Transport Minister Phil Twyford has estimated that the Auckland project will cost about $6 billion, making it the biggest transport project in New Zealand history.
It will see two light rail lines established in Auckland. One leading from downtown Auckland out to the airport at Mangere, while a second line will run from the central city along State Highway 16 to Kumeu/Huapai.
Announcing the procurement process last May, Twyford said the Government was committed to progressing light rail in Auckland.
"It will be a magnet for private investment in urban renewal and will be able to carry 11,000 commuters per hour – the equivalent of four lanes of motorway," Twyford said. "We are investigating innovative solutions to tackle congestion and build a vibrant and modern city."
The NZTA is leading the development of the Auckland light rail programme with the support of partners, Auckland Council, Auckland Transport (AT) and HLC, a wholly owned development subsidiary of Housing NZ. A spokesperson for Transport Minister Phil Twyford confirmed that he hadn't received the business case for the Auckland light rail project.