Winston Peters links Jenny Shipley's China-praising "opinion piece" to her Chinese business interests; Shipley refuses to comment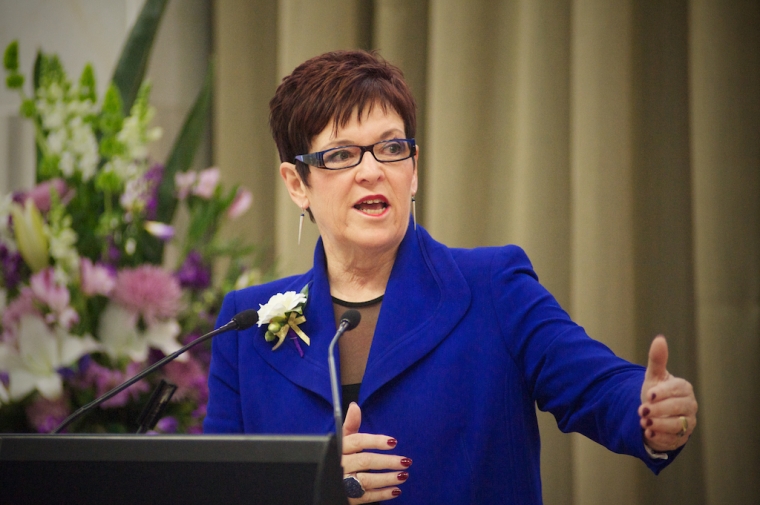 Former National Party Prime Minister Jenny Shipley is refusing to clarify whether an opinion piece with her name on it, which she says she didn't write, represents her views.
Foreign Affairs Minister Winston Peters says: "They are her words… she needs to explain those words."
The People's Daily on Monday published an opinion piece supposedly written by Shipley, lauding the Belt and Road Initiative as "one of the greatest ideas we've ever heard globally" and saying, "we should listen to China".
Yet the NZ Herald's Audrey Young on Tuesday night reported that Shipley told her she didn't write the piece.
Young said Shipley was interviewed by the state-run newspaper in December for a feature article (which had already been published), so was surprised to learn a new piece had been posted under her name.
Interest.co.nz emailed Shipley on Wednesday morning and left her a voicemail at around lunchtime to get some clarification around the situation, but heard nothing back.
When interest.co.nz finally got through to Shipley mid-afternoon, she hung up the phone after saying, "Hello, I've got nothing to add for you. Thanks very much for calling."
Foreign Affairs Minister Winston Peters during the afternoon told media: "The quotes in the op-ed are all her quotes. She's not denying that."
Peters said the timing of the publication was "a bit unwise".
He said Shipley, who is the chair of the Oravida NZ board, had complained to New Zealand Trade and Enterprise (NZTE) about the food exporter having problems at the Chinese border. 
NZTE CEO Peter Chrisp last Thursday told a Select Committee he was unable to identify individual companies he had spoken to about having issues at the border.
When interest.co.nz again called Shipley to get her side of the story, she for the second time abruptly hung up the phone.
Shipley is also the chair of the Chinese government-controlled China Construction Bank NZ.
The questions interest.co.nz wanted to put to Shipley were:
Did Oravida have problems at the Chinese border?
Is there any link between this and the publication of the opinion piece?
Did Shipley actually write the piece?
If the comments she made during an interview in December were repackaged by People's Daily and published in the form of an opinion piece, does she still stand by the comments? Do they represent her views?
Has she asked People's Daily to take the piece down?
The piece was still online as at 4pm Wednesday.
The timing of the piece appearing on the People's Daily is noteable, as the role of Huawei in New Zealand's telecommunications network is seeing the country's relationship with China publicly scrutinised.
Shipley reportedly told Young: "It is important for the Foreign Minister and Prime Minister and others to understand that I would never think of getting into a public situation like this at such an important time for New Zealand's relationship."