A gaping infrastructure deficit and a growing population will pose a challenge to the incoming National-led government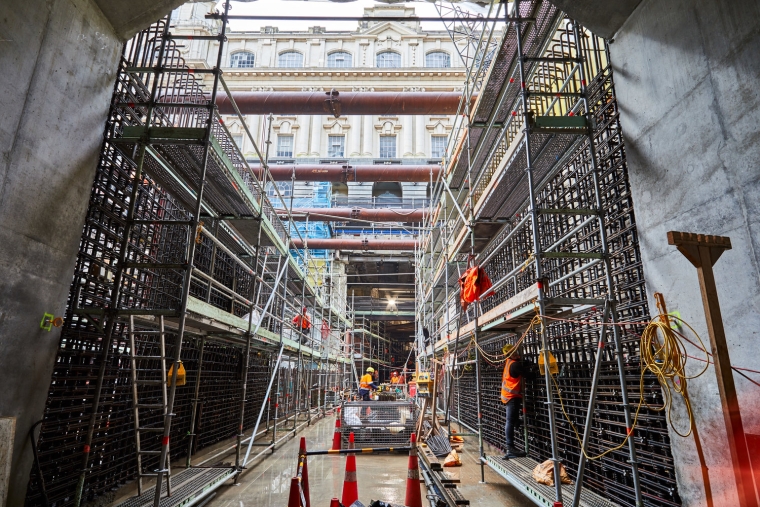 Migration data released by Statistics New Zealand on Wednesday showed there were a net 118,800 new arrivals in NZ during the September year, a fresh record that could yet go higher.  
These new residents are helping make up for low birthrates and ease pressures in the labour market, while also propping up economic activity and boosting house prices. 
But they are arriving in a country that has underinvested in infrastructure to the tune of roughly $104 billion, according to a 2021 report written by Sense Partners.
Closing this gap will be a crucial challenge for the incoming Government, and its successors, to ensure the construction of infrastructure can catch up with population growth.
New Zealand's population increased 2.1%, or roughly 105,000 people, in the year ended June and has been forecast to grow from 5 million today to 6.7 million over the next 25 years. 
Much of this growth will occur in cities. Mike Jones, the chief economist at BNZ, estimated that 55% of all new arrivals in the June year stayed in Auckland.
These arrivals are offsetting an outflow of existing residents seeking greener pastures in the regions. This trend pre-dated the pandemic but was particularly strong in 2021 and 2022.
Residents are leaving other cities for the regions as well. Wellington and Christchurch had the next most departures, while less built up areas, such as Selywn and Waikato, had net arrivals.
Jones said remote working and aversion to the high cost of housing in larger cities was likely driving the shift. 
"It's why house price cycles tend to start in the cities and ripple outwards," he said.
Population growth has been contributing to higher house prices and rents, particularly in regions that are slower to build new homes. 
"The supply side also matters. It turns out that those regions experiencing the strongest population growth—Auckland, Otago, and Waikato for example—have also been the busiest builders over the past few years".
Building too slow
A report written by the Productivity Commission last year said increased demand for housing had a larger impact on prices than it did in the past. 
"House prices now rise more rapidly because housing supply is slower to respond to demand. When demand for housing increases, New Zealand now builds one-quarter to one-third fewer homes now than the middle years of the last century," it said.
It's a story that could be told about all kinds of infrastructure, not just housing. New Zealand's building and maintenance has not kept pace with population growth. 
While migration has accelerated growth, the commission said infrastructure stresses were present long before immigration rates picked up in the years prior to the pandemic. 
The Productivity Commission's report called for the Government to put out a migration and population plan that included information about the necessary "absorptive capacity". 
This includes everything from physical infrastructure, zoning rules, housing, health and education services, and "broader community infrastructure".  
Absorptive capacity is not a fixed constraint and could be increased with appropriate planning and investment, it said. 
In a report published last year, Alan Bollard, the chairman of the Infrastructure Commission, said New Zealanders had a duty to maintain and replace infrastructure for future generations. 
"Unfortunately there are too many examples of our failure to do this, whether it's burst water pipes or congested roads," he wrote.
"We now find ourselves facing hard decisions about how we keep up with the increasing demands of a growing population, so we leave an equally valuable legacy to future New Zealanders".
Even assuming the current high rate of migration slows, the Infrastructure Commission still expects the total population to increase to between 6.2 million and 6.7 million by 2048.
Half of this growth is likely to occur in Auckland, where the population could increase by up to 900,000 people over the next 25 years. 
"Responding to these trends will require new roads, improved public transport systems and water systems for growing cities, freight and port infrastructure for growing economic activity, and trade and telecommunications infrastructure to connect us to each other and to the rest of the world," the Commission said in its report.
New government incoming 
National has promised to fill the infrastructure deficit with a new agency, external financing, a fast-track consent process, and a 30-year pipeline of projects. 
The party wants to strike deals with local governments that outline long-term infrastructure plans and establish the financing needed to deliver them.
While it wants to work with local governments, it has already vetoed some priorities in Auckland and Wellington — most notably light rail projects in both cities. 
National will focus on building roads and busways, which it believes will be more popular and cost-effective. It also plans to scrap the Auckland regional fuel tax. 
Without the fuel tax, Auckland Council will need to find transport funding elsewhere. One option is congestion charging, which the Infrastructure Commission supports. 
It said the city's growing population will require better use of existing infrastructure. This means congestion charging to smooth traffic peaks, greater use of public transport, and building higher density housing. 
National does support some amount of densification in the city, but it abandoned a bipartisan policy that would have allowed three story homes to be built in all residential areas.
The policy was unpopular with homeowners who wanted to block construction in their suburbs but housing activists saw it as the most effective way to free-up land for new homes. 
National's revised policy allows councils to decide what kinds of houses can be built where, as long as they zone enough space for 30 years of population growth.