Could Labour's first major policy announcement be a permanent unemployment insurance scheme similar to that advocated for by ACT?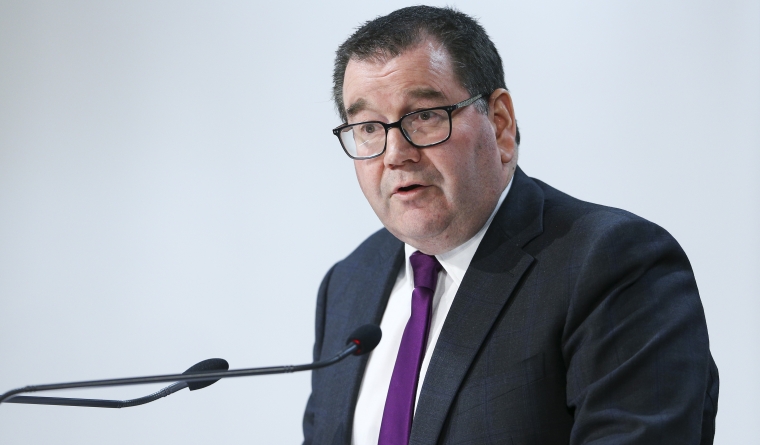 The Government is looking at ways of introducing an ACC-like insurance scheme for people who lose their jobs.
The Productivity Commission earlier this year noted most OECD countries have some form of unemployment insurance, which people can draw down on for a set period of time if they lose their job.
Finance Minister Grant Robertson told interest.co.nz New Zealand needs a sustainable scheme, which gives people security and keeps them connected to the labour market.
He said more policy work had to be done to determine whether everyone who suffers a job loss should receive the same amount of money (which would be more than Jobseeker Support), or whether they should receive an amount equivalent to a portion of the income they previously earned.
Robertson referenced ACC and indicated the scheme could be paid for by a combination of employer, employee and government contributions.
It isn't yet clear whether Labour will campaign on unemployment insurance ahead of the September 19 election.
Robertson noted the Government started looking at the issue before Covid-19. He said work was "moving forward" but there was "still a way to go with it".
Prime Minister Jacinda Ardern likewise threw her support behind the concept, saying she didn't want to keep seeing a "pattern" of "ad hoc" responses in times of crisis. She noted that in response to Covid-19, her government implemented a similar support scheme for the newly unemployed, as previous governments did in the wake of the Canterbury Earthquakes and 2008 Global Financial Crisis.
People who lose their jobs between March 1 and October 30, 2020 are eligible to receive a Covid-19 Income Relief Payment for up to 12 weeks. In most cases, this is worth more than Jobseeker Support.
Robertson clarified a permanent unemployment insurance scheme would operate the same through both economic booms and recessions. 
He denied it was middle class welfare, in that people who lose higher paid jobs could get paid more than those who lose lower paid jobs or are longer-term welfare dependents, unable to work.
"There are two different debates here. I don't think it's useful to draw them together. One is about the adequacy of the welfare system, the other is about what we do in situations when people lose their jobs and how we keep them in the labour market," Robertson said.
"It's a big piece of work, so I'm not pretending it can easily be resolved. But it is an important one, not just in a crisis."
ACT and Labour potential unlikely bedfellows
It's questionable whether the Green Party would support such a regime, should it form a government with Labour after the election.
It wants the country's welfare system boosted in line with recommendations made by the Government's Welfare Expert Advisory Group.
The Green Party also wants to ensure that everyone who isn't in paid full-time work, including students and part-timers, receives a 'Guaranteed Minimum Income' payment of at least $325 a week after tax. Single, childless people on Jobseeker Support currently receive $251.
ACT on the other hand, is campaigning on introducing an unemployment insurance regime under which someone who loses their job would get up to 55% of their average weekly earnings over the previous year. The maximum they'd get over a year would be $60,000.
The payment could be claimed for one week for each five weeks the person has worked, up to a maximum of 26 weeks per claim. So someone who has worked continuously for only one year could claim up to 10 weeks' cover.
National's Finance Spokesperson Paul Goldsmith said his party didn't have a stance to share on unemployment insurance.
Pros and cons of different options
Coming back to the Productivity Commission, its 'Inquiry into Technological Change, Disruption and the Future of Work' in March 2020 concluded there was merit in pursuing what it coined "income smoothing" options.
The Commission said New Zealanders face "unusually large" falls in income by international standards when they lose a job.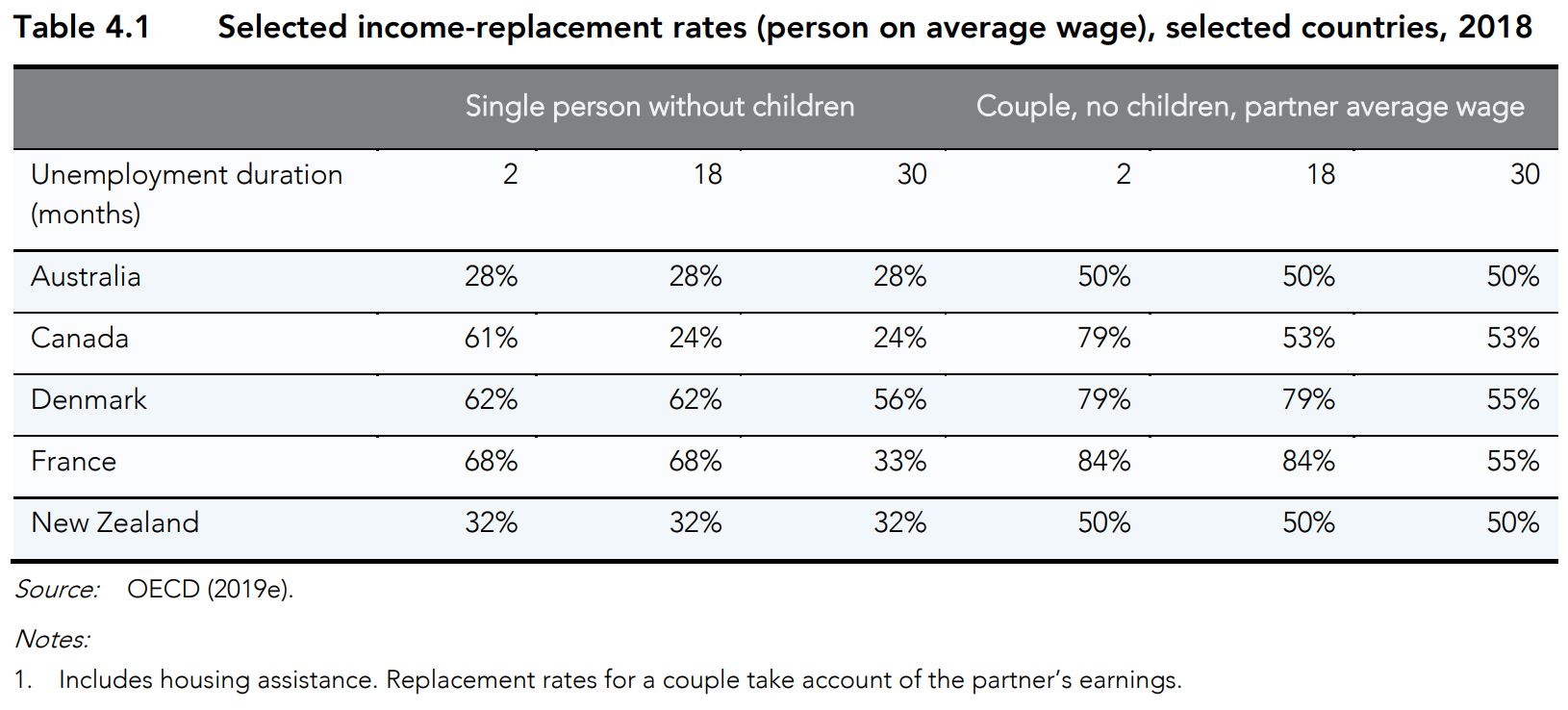 In 2015, about two-thirds of those who reported a job loss didn't receive Jobseeker Support. About half of these people weren't eligible because their partner earned too much.
The Productivity Commission outlined three "income smoothing" solutions, but didn't land on a preferred option:
Option
Features, strengths and weaknesses
Unemployment insurance (UI)

Workers (both employees and contractors) would be entitled to a time-limited series of payments linked to their previous earnings.
Funded by compulsory employee, employer or government contributions.
Ongoing UI payments would be conditional on recipients demonstrating adequate job search efforts.

Portable individual redundancy accounts (PIRAs)

Each worker contributes to a PIRA throughout their working life. They can withdraw funds from this account in the event of job loss and can access and remaining balance on retirement. Austria replaced mandatory redundancy payments with such a scheme in 2003, which was found to increase labour mobility.
Workers who move jobs would not lose entitlements, because the funds in their account go with them to their next job.

Adjustments to current benefit and tax credit policies

Benefits and tax credits would be adjusted to increase income-replacement rates for those who currently face large falls in income after displacement. For example:

paying a higher, fixed rate of payment for Jobseeker Support for a limited period;
changing Jobseeker Support eligibility criteria to disregard a displaced worker's partner's income for a limited period;
a grace period for households whose total weekly working hours fall below the eligibility criteria for the In-Work and Minimum Family tax credit; and/or
creating new benefits or tax credits that applied for a limited period after job loss.
The Commission noted schemes that require employers to essentially pay premiums for an insurance scheme could come at the cost of lower wage growth. By increasing the cost of labour, they could also discourage firms from hiring staff.
It said a scheme like a PIRA, which would pay out an amount relative to what someone paid into the scheme, wouldn't be great for recent entrants to the workforce. Workers who experience multiple job losses would also quickly deplete their accounts.
"Further, as with KiwiSaver, self-employed people would not benefit from employer contributions," the Commission said.
"The Government could underwrite the accounts of those with small balances, but this would add complexity to the system."
ACC-type approach better suited to higher paying scheme
As for how much a scheme should pay out, the Commission said: "If the Government determined that a replacement rate near 50% was desirable [IE someone who loses a $60k/year job gets equivalent of $30k/year], then adjustments to current benefit and tax credit policies is the most obvious option.
"Sole parents and couples with children on low and average wages already achieve at least 50% income-replacement rates in the shorter term under current policy settings. Single people on higher incomes are the main group facing very low replacement rates. Time-limited increases to Jobseeker Support could reduce this gap.
"If the Government sought a higher replacement rate, then more substantive reform - probably involving broad or universal coverage - would be required. UI or PIRAs could meet this criterion. The CTU [Council of Trade Unions] submitted that a 50% income-replacement rate "would be wholly unacceptable, being little improvement on the status quo" and argued instead that the "ACC model of 80% is a sensible and accepted minimum."
The CTU's former policy director/economist, Bill Rosenberg, in a paper written in November 2019, noted: "The biggest income losses are not, as might be thought, among low skilled people but among graduates with degrees."
He also made the point that unemployment insurance schemes in Northern Europe include help for recipients to find a new job, retrain, or relocate if necessary. 
Ardern said the Future of Work Tripartite Forum - a partnership between the Government, Business New Zealand and the CTU - was the best place to do more work on an unemployment insurance scheme.