Treasury voices anxiety over the way CERA is handing over the management of Christchurch's major rebuild projects to other entities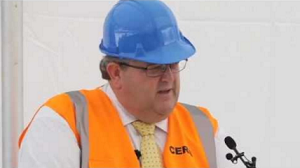 The Government and the insurance industry are being slammed for the lack of progress rebuilding Christchurch, more than five years after the major earthquakes.
The Insurance & Financial Services Ombudsman (IFSO) has released figures showing it received an influx of enquiries between December 2015 and March this year, largely due to more Cantabrians lodging complaints about their insurers.
Meanwhile Treasury has criticised the Canterbury Earthquake Recovery Authority (CERA) for the way it has delivered anchor projects in central Christchurch, labelling it the worst performing government agency in its Major Projects Performance Report for July to October 2015.
Treasury concerned about the way CERA is transferring key projects to other entities
In the report, released to the public under the Official Information Act, Treasury has given CERA the lowest performance rating in its five-tier scale.
It's assessment relates to the way the agency delivered Crown-led and funded projects, including the Avon River Precinct, the Accessible City transport project, the Bus Interchange, the Convention Centre Precinct, the Earthquake Memorial, The East Frame project, the Metro Sports Facility, The Square and the South Frame project.
Treasury said its 'monitoring delivery confidence assessment' for CERA remained "Red", meaning there were "major issues with project definition, schedule, budget, quality and/or benefits delivery, which don't appear to be manageable or resolvable".
It red flagged "significant issues relating to governance and transition of projects from CERA to new entities".
CERA's responsibilities are currently being transferred to other central and local government agencies, as the agency set up to coordinate the region's earthquake recovery officially closes on April 18.
"Project planning and transition planning are not well linked, partly due to timing of HR/change processes, but this means that decisions may be out of sync, or being made without sufficient regard for the implications," the Treasury report noted.  
"Transition is also likely to cause slowdown as any new leadership considers where things are at, what value they can add, and how.
"Churn is an issue, with contractors appointed into critical roles (such as the Convention Centre Precinct project directors). Recruitment has become difficult as any employment would have a short duration and significant uncertainty. Churn is also a risk – losing one key person might be manageable, but losing several at once could result in serious loss of knowledge, and cause delay."
Nonetheless, CERA's chief executive gave his agency ratings of three and four out of five.
He recognised it was "entering a period of significant procurement activity", but said good progress was being made.
Labour's Canterbury spokesperson Megan Woods has slated the Government, saying it has been "dragging the chain" on the rebuild.  
"Only five of the 12 anchor projects have completed business cases despite the millions of taxpayer dollars that have been spent. Cantabrians have been bemoaning the lack of progress and now Treasury has agreed," she says.
"This is the second report in a row from Treasury to give the central city rebuild the worst possible grade. The Minister seems to have ignored the warnings and pushed ahead with a failed approach.
"What's worse is that Treasury is now raising concerns about the way the transition away from CERA is being handled…
"These warnings must be heeded and the Minister must change his approach."
Woods also points to Treasury documents that show anchor projects in Christchurch will be delayed because CERA has underspent its budget by $106 million. 
Treasury's financial statements for the eight months ended February, reveal the underspend is due to delays in the land acquisition programme, which mean anchor projects will be delayed until the end of the financial year. 
Ombudsman receives more Canterbury quake insurance-related complaints
At the same time the IFSO has coincidentally also announced Canterbury earthquake insurance issues are contributing to the steep rise in complaints it has received over the past four months.
At 985, it received 90 more complaint enquiries between December 2015 and March 2016 then it did during the same period the previous year. It accepted 100 of these complaints for investigation – up from 60 during the same time in 2014/15.
Of these, 17 relate to the Canterbury earthquakes. Only three related to the quakes the previous year.
Ombudsman Karen Steven says, "Common Canterbury issues we are seeing include cash settlement issues; delays; driveways, fences and retaining walls; repair or rebuild costs; and issues with the scope of works.
"Our scheme has dealt with 1,700 Canterbury earthquake complaint enquiries and 175 complaints since 2010. We believe there are still more consumers who could need assistance to resolve their complaints. They can contact us any time on 0800 888 202."
Stevens also points out Southern Response agreed to extend the IFSO Scheme's jurisdiction for their customers so it can now get involved where the amount in dispute exceeds $200,000.
"This has given us more flexibility to investigate complaints where more money is at stake. We want to get involved as early as possible to be able to facilitate a greater number of agreed outcomes."
Stevens says 35% of the Canterbury earthquake complaints it has investigated have been settled – IE the customer and their insurer has agreed on an outcome – compared to 22% of complaints it has received overall.
Around 75% of over-cap residential Canterbury quake claims, and 90% of commercial claims, have been settled according to the Insurance Council of New Zealand and the Ministry of Business, Innovation and Employment. Note that many of the outstanding claims are the high value ones.