How longer term insurance policies could prevent mortgage defaults in the future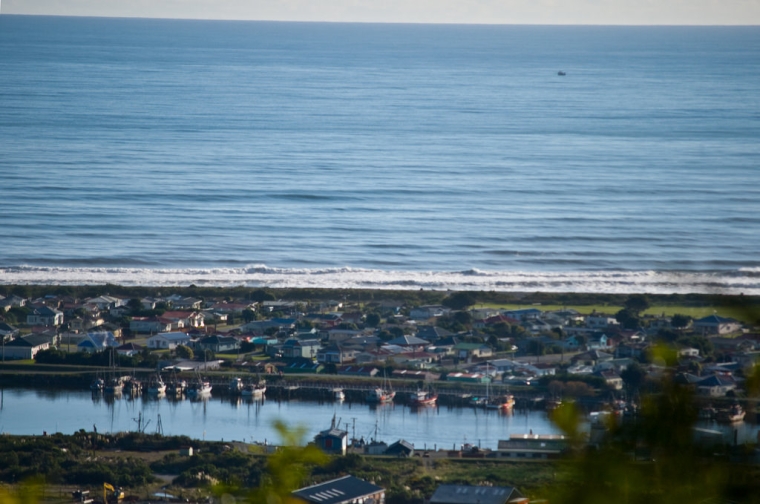 By Jenée Tibshraeny
Climate change - when does it get real?
When a king tide and cyclone collide to damage your home, or your bank forces you to sell your home.
Yes - forces you to sell your home. How? It all comes down to insurance.
If your insurer decides it won't insure your house due to flood risk caused by rising sea levels, your bank will force you to flog it off, as you need insurance to have a mortgage.
The problem is, you'll have trouble getting anyone to buy your house if it's uninsurable. This situation could cripple you financially and leave banks dangerously exposed.
The New Zealand Bankers' Association's Chief Executive Karen Scott-Howman isn't aware of new lending or insurance being declined on coastal properties, but says "it's certainly an issue that banks will have to take into account over time".
The problem explained
Motu researchers have explored this issue in a paper, 'Insurance, housing and climate adaptation: current knowledge and future research'.
They explain: "While mortgages are often granted with repayment periods spanning decades, insurance contracts are renewed annually. Insurers are thus able to completely exit an insurance market within 12 months, while a lender may still have decades before their loans mature.
"Insurance retreat could leave some lenders with a portfolio of assets in technical default. Whether banks experience material losses will depend on the number of houses made uninsurable, the geographical concentration of the bank portfolio and the pace at which banks can divest themselves of mortgages on uninsured properties.
"As a consequence, bankers expect that in the future they may lend to owners of coastal property less often, or require more equity or higher interest rates.
"Even now, and despite their rules requiring mortgagors to insure, the general absence of compliance checks means banks do not currently know whether particular properties they mortgage remain insured beyond the first year of ownership."
A possible solution: longer term insurance policies
In response to this problem, Motu researchers suggest insurers investigate the viability of introducing longer term insurance policies to the market.
"Policies could then more closely match the timeframe against which a mortgage is paid off, or the expected term of occupancy," they say.
"This insurance would likely involve a pre-agreed schedule of premiums which would increase over time and could be contingent on observed sea level rise.
"This schedule would communicate to potential home owners the likely costs of coastal home-ownership and would help the banking industry avoid mortgaging properties which would later become uninsurable.
"Long-term risks are likely to be highly correlated, and so insuring against them would require solving distinct actuarial problems.
"Longer-timeframe home insurance would also require general insurance firms to more actively manage the interaction between asset and liability risks, as is currently done by life insurance firms.
"It may also depend on the availability of long-term re-insurance arrangements."
Banks like the idea, insurers don't
While Scott-Howman says banks and homeowners would welcome longer term insurance products, insurers aren't convinced.
IAG, Vero and Youi say they have no appetite for this. Tower hasn't responded to interest.co.nz's inquiry.
IAG's national portfolio manager for home insurance Brendan McGillicuddy explains a 12-month policy enables an insurer to annually review whether the value of a policyholder's home has changed due to inflation or renovations for example.
It also enables policyholders to receive the "benefits of improved product wording" and allows the insurer to reassess the physical risks the home is exposed to.
"Longer term contracts are considered non-conventional and would make these types of changes harder," McGillicuddy says.
"It must be noted that even annual policies of insurance enable changes to terms and conditions or even cancellation by either the customer or the insurer during the period of insurance. This would remain even with longer term contracts."
Youi's Head of Service Quality Trevor Devitt says: "Our concerns are that a product like this would necessitate changes to underwriting practices and risk acceptance criteria, coupled with significant impact to premiums which would affect the affordability of insurance.
"Furthermore, we consider that having long term policies may act to reduce competition in the market place thereby disadvantaging consumers."
'Too difficult to sell'
The Insurance Council of New Zealand's Chief Executive Tim Grafton maintains products with longer term policies would simply be too difficult to sell.
He questions whether people would want to get locked into a policy with annual premium increases, when they could shop around for the best deal on a year-by-year basis.
"You need to have a reinsurance behind that kind of product - that may present a challenge."
Grafton also maintains longer term policies could be problematic as property owners may decide to sell their properties before the terms of their insurance policies lapse. The question therefore is whether the new owner takes on the existing insurance policy, or whether the policy is cancelled.
At the heart of the matter, he says: "It is simply a ladder extended out 10 years for you to transfer risk at an ever-increasing price. I'm not sure how that actually really addresses the fundamental problem of reducing the risk."
Grafton isn't aware of longer term home insurance policies existing in other parts of the world.
Insurers will still insure flood-prone areas, but it'll come at a cost
Turning the focus back to the present, the question is, how likely is it that insurers will start refusing to insure areas prone to flooding due to rising sea levels?
While Grafton recognises this is a possibility, insurers haven't made any drastic moves.
Vero's executive manager for underwriting & portfolio management Don Smith says: "Climate change is something we're continually looking at, but we haven't yet made any changes similar to the blanket exclusions for damage by the sea in Australia.
"It's more likely that we'll adopt a case by case approach where customers may be underwritten so they have no cover for certain types of damage."
IAG's McGillicuddy says: "We have not made any arbitrary decisions to refuse insurance cover in any locations in New Zealand based on flood risk or anticipated sea level rise, and the terms we apply to "at risk" properties are no harsher than they would have been five years ago.
"In regards to rising sea levels, this is not something that occurs suddenly and this means we do not expect to see people surprised by a sudden change to their insurance coverage.
"Councils have advanced a fair amount in mapping their territory to identify which properties are at risk from natural hazards such as flooding, and in particular, some councils have acknowledged that sea level rise has a material change in the risk profile of their territory.
"In response to this acknowledgement, the flood modelling that had been carried out previously might have been amended to account for an increase in the level of underground, river, lake and coastal water.
"This in turn is likely to have changed the classification the council puts on individual properties… so if more properties are identified as being "at risk" or if the level of risk is higher than previously believed, then we are likely to apply a higher premium and/or excess based on that revised classification."
A case for the mitigation of rising sea level risks to be legislated
The Insurance Council wants the Government to play a greater role helping mitigate the effects of rising sea levels.
Grafton has criticised the Parliamentary Commissioner for the Environment, Dr Jan Wright, for not addressing rising sea levels in her new report that calls for greenhouse gas targets to be legislated.
He says: "The Commissioner's report 'Stepping Stones to Paris and Beyond' borrows extensively from the United Kingdom's approach to addressing how to mitigate climate change. This legislates greenhouse gas targets and requires that they be met through five-year carbon budgets set by the Government and on advice from an independent expert group…
"It is puzzling why Dr Wright did not also recommend that legislating, as the UK does, for five-yearly adaptation assessments by an independent expert group.
"Adaptation means reducing and managing the risk of losses which will be essential to keep insurance available and affordable if losses become unsustainable."
Grafton says the Commissioner's approach is particularly off as "it was not long ago that the Commissioner's report on sea level rise concluded that no matter what was done about mitigating greenhouse gas emissions, sea level rise was inevitable".
Wright, in a 2015 report, identified at least 9000 homes throughout New Zealand that lie within 50cm of spring tide levels.
She found that while sea levels in New Zealand have largely been rising in line with the global average of 20cm since around 1900, they're expected to increase by 30cm between now and 2065.
Accordingly, she said a "one in 100 year" coastal flooding event is accordingly expected to occur every four years at the port of Auckland, every year at the Wellington and Christchurch ports, and every two years at the port of Dunedin.
*This article was first published in our email for paying subscribers early on Monday morning. See here for more details and how to subscribe.