RBNZ and FMA talk tough on poor conduct and culture of $2.57 billion life insurance sector, but avoid explicitly telling insurers to put an end to commission payments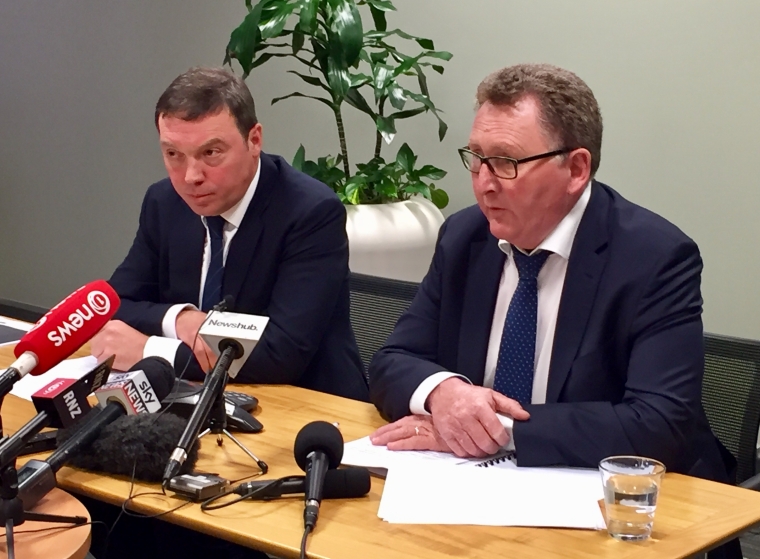 Life insurers in New Zealand have been given five months to show the Reserve Bank (RBNZ) and Financial Markets Authority (FMA) they're removing incentives for sales staff.
However, the regulators have stopped short of explicitly telling life insurers, which collect in $2.57 billion in premiums a year, that they need to stop paying commission to the intermediaries that sell their products.
The regulators have outlined these expectations in the findings of a major conduct and culture review they've completed on the industry - further to them in November completing a similar review on banking, in the wake of a royal commission last year highlighting the worst cases of misconduct in Australia's financial services sector.
In line with their banking review, the RBNZ and FMA say: "We expect all life insurers to revise any sales incentive structures for salespeople and through all layers of management.
"Life insurers need to implement changes to incentive schemes no later than the first performance year beginning after 31 December 2019."
The RBNZ and FMA say that if insurers don't commit to removing sales incentives by 30 June 2019, they will be required to "explain how they will strengthen their controls sufficiently to address the risks of poor conduct that arise with such incentives".
The regulators have for some time acknowledged that misconduct in the financial services sector largely stems from sales incentives.
Commissions discouraged not banned
When it comes to the life insurance sector more specifically, they say issues are compounded by the fact products are often sold through intermediaries, including banks.
With these intermediaries receiving upfront commissions worth up to 170% to 210% of their customers' first year's premiums, their pay structures ultimately incentivise them to encourage their customers to change policies every few years.  
The FMA has for years been raising its concerns over this process known as "churn".
Both the FMA and RBNZ acknowledge that at 20%, the commissions life insurers pay as a percentage of the revenue they receive in premiums, are exceptionally high by international standards.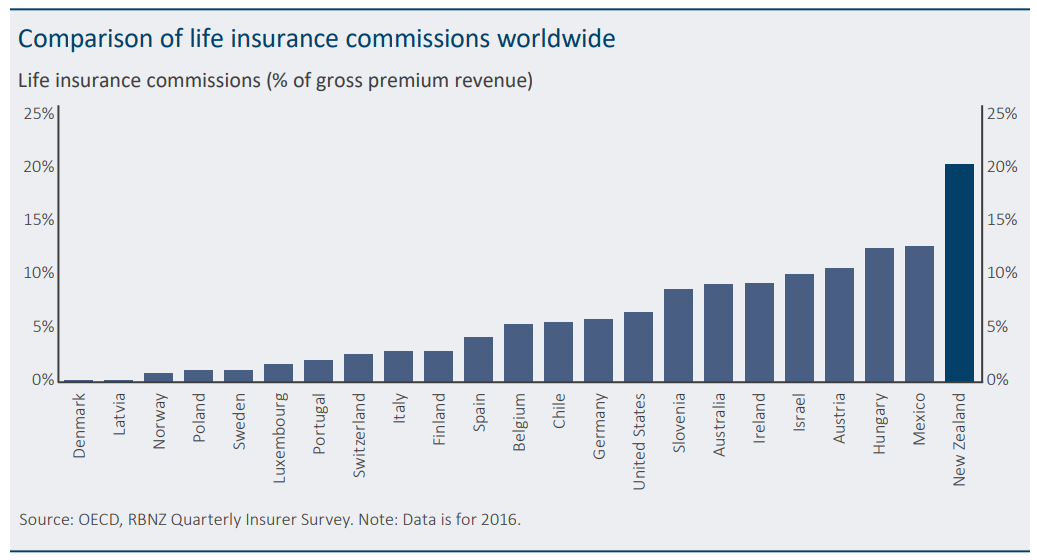 They admit this could also be hiking the cost of insurance. In their review they reference a New Zealand Institute of Economic Research report, which in 2016 found that if commissions were halved, premiums could be cut by 12%.
They say high upfront commissions are "not acceptable," but only go so far as to saying they "expect" insurers to "review their commission structures and volume bonuses for intermediaries" to ensure they're delivering "good customer outcomes".
When it comes to soft commissions, the RBNZ and FMA say they "expect insurers to change their qualifying criteria for soft commissions to ensure they mitigate conflicts of interest and incentivise advisers to improve customer outcomes".
They acknowledge that insurers have recently responded to the pressure they've applied by no longer offering overseas trips. However, none have announced an intention to "change the qualifying criteria" so that intermediaries are incentivised to "improve customer outcomes rather than merely to sell products".
They believe a requirement under the Financial Services Legislation Amendment Bill for advisers to put their customers' interests first, will make soft commissions "unjustifiable".
Controversially, the Bill – the product of a long process to review the Financial Services Act – doesn't include a ban or cap on commissions.
While authorities in Australia and the UK have implemented such bans/caps, the thinking, under both the previous and current governments, has been that if intermediaries aren't paid by insurers, they'll need to be paid (more) by customers, which would make advice inaccessible to many.
This aside, the issue the RBNZ and FMA recognise in their review is that the Bill only deals with advisers, so the conduct of insurers that sell their products direct isn't covered by the law.
Nonetheless, they are telling insurers to take responsibility for conduct and culture, with the onus resting on them, regardless of who sells their products
They say there's currently a "serious lack of oversight and responsibility for sales and advice" where products are sold through an intermediary.
Insurers need to 'act urgently' 
Looking more broadly at the review, done on 16 life insurers between June and November, the RBNZ and FMA found "extensive weaknesses" in insurers' systems and controls, but no "widespread" issues.
They say governance and management of conduct risk is "weak".
"There is a serious risk of further conduct issues arising.
"Insurers need to act urgently and undergo major change to address these weaknesses, as they leave the industry vulnerable to misconduct and escalation of issues, as seen in other jurisdictions.
"We also saw several instances of poor conduct and some examples of potential misconduct (IE breaches of the law)."
The RBNZ and FMA say any issues that warrant further investigation and potential enforcement action will be followed up by either of them or the Commerce Commission.
While they give examples of "poor conduct" they don't name specific companies or detail cases where they'll be taking enforcement action.
Some of the examples they highlight include insurers:
Not notifying policyholders of their premiums are increasing
Continuing to charge policyholders for their old policies once they'd switched to new ones
Selling credit insurance to potentially ineligible customers
Applying the wrong inflation rate to premiums
Charging policyholders after their policies' end dates