Could universal KiwiSaver be used for monetary policy means, former Finance Minister Cullen asks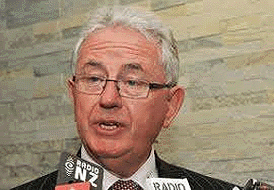 By Alex Tarrant
Could government or Reserve Bank control of universal KiwiSaver payments help out with monetary policy, allowing the Official Cash Rate to remain lower, and taking pressure off the New Zealand dollar?
The question was put to a group of academics and bureaucrats in Wellington by former Labour Party Finance Minister Michael Cullen.
Cullen alluded to making KiwiSaver compulsory, but giving the government or Reserve Bank the ability to tweak employee contributions depending on monetary conditions in the economy.
Numbers suggested by Cullen to help raise New Zealand savings were 4% contributions from employees and 6% from employers.
And instead of hiking the OCR to dampen spending and an upturn in the business cycle, the 4% employee contribution rate could be raised to, say, 4.5%.
The more someone has to allocate to a mandated savings scheme means the less they have to spend in the wider economy.
Alternatively, in a bid to drive consumption, the government or Reserve Bank could cut the employee contribution rate to 3.5% for a period of time, allowing people to spend more of their pay packets than usual.
Could it work? What do you think?
What problems/benefits does the idea have (ie. won't people be pretty annoyed having their pay packages changed all the time?)