PM rejects Andrew Little's claim the Government is being irresponsible by refusing to acknowledge issue with affordability of NZ Super or allow a debate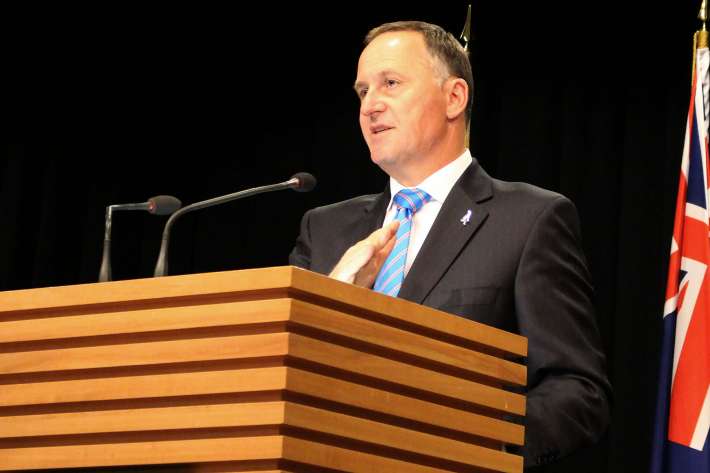 By Bernard Hickey
Prime Minister John Key has rejected Labour Leader Andrew Little's accusation that the Government is being irresponsible by refusing to debate or acknowledge that the current settings for New Zealand Superannuation may not be affordable in the long term.
Key said Treasury's forecasts in Budget 2015 showed the rise in spending on New Zealand Superannuation was built into its forecasts. They showed surpluses increasing to 1.3% of GDP by 2019 and debt reducing to 22.9% despite New Zealand Superannuation costs rising from NZ$11.6 billion in 2014/15 to NZ$14.4 billion by 2018/19.
"I don't think we are being irresponsible," Key told his weekly post-cabinet news conference.
"If you have a look at our fiscal track we've built in the increases for New Zealand Super and the costs associated with an aging population. So we are pretty clear, and on our numbers actually the debt numbers for New Zealand are reducing so it's well and truly affordable," Key said.
Treasury forecast in its 2013 Long Term Fiscal Position statement that it expected Government spending on NZ Superannuation to rise from 4.3% of GDP in 2010 to 7.9% in 2060, which would require spending cuts, taxation increases or changes in the benefit's indexation or age levels to be sustainable, while other parts of Government spending continued to rise. The Retirement Commissioner also recommended changes to New Zealand Superannuation in 2010 to improve its long term affordability.
Key has previously said he would resign if the age of New Zealand Superannuation was ever shifted from the current age of 65 or the benefit for couple was changed from being 66% of the net average wage.
Earlier on Monday, Little repeated comments on Friday that the current settings were not affordable and the Government could not credibly deny that.
He was responding to comments made by Finance Minister Bill English on Q+A on Sunday that New Zealanders did not want to change the current settings.
"There doesn't appear to be an alternative viable political path to changing national super," English said.
'Reckless and outrageous'
Little described English's comments as irresponsible.
"That is confirmation of their political recklessness," Little was quoted as saying on Monday. Little's comments followed controversy on Friday when he appeared to say Labour may consider changing the settings for NZ Super, although he later denied that meant means testing. See our earlier story here.
"So they know they've got this big fiscal issue staring them in the face. The political plan is to ignore this and make it everybody else's problem. It is totally reckless," Little said.
He later said it was "outrageous to effectively say 'not our problem, it's in the future we won't be here, it's up to somebody else'."
Little said the Government needed to resume funding the New Zealand Superannuation Fund to better pre-fund the rising costs of New Zealand Superannuation, rather than using spare cash for tax cuts from 2017.
"The longer this Government goes on without facing up to the reality of the need for pre-funding now, it's going to make it very, very difficult for a future Government," he was quoted as saying.
'Key says Little eyeing lower benefit'
Key said Little appeared to have boxed himself into corner of reducing the generosity of New Zealand Superannuation, having ruled out a later retirement age and means testing.
"So he says that the cost is unaffordable of New Zealand Super, and that's his perspective, and that something has to be done about it and that change needs to happen," Key said.
"He has ruled out an increase in the age. On Friday morning he was saying they were going to means test and by Friday afternoon he was saying that they were not. Now there is only one other alternative left. If you don't lift the age and you don't basically means test then you have to universally reduce the generosity of New Zealand Super," Key said.
"So that must be what he is saying they are going to do. Because putting money into the super fund doesn't reduce the cost of New Zealand Super. So I assume, when he says that they are giving a lot of thought to it and they intend to address that issue, Labour is going to campaign on reducing the generosity of NewZealand Super," he said.
Key said he remained confident for the long run and was comfortable with the current settings that meant wealthy people over 65 could continue to work and collect the benefit.
Key may collect it himself
He declined to say whether richer people over 65 who were still working should decline to accept New Zealand Superannuation.
He said he had not considered what he would do.
Treasury commented of the current NZ Super settings in its 2013 Long Term Fiscal Statement that: "We might be able to afford that, but we would have to either cut other government spending or increase taxes. This approach would raise intergenerational questions – is it reasonable for taxes collected from working-age people to fund the costs of NZ Super indefinitely, given the projected expansion in those costs?"