The number of KiwiSavers withdrawing money from the retirement savings scheme to help buy a house more than doubles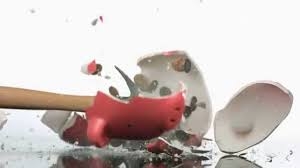 A massive surge in the number of people raiding their KiwiSaver piggybank to source funds for a house deposit is underway.
In its 2016 KiwiSaver report the Financial Markets Authority (FMA) notes "huge" growth in the withdrawal of KiwiSaver funds by members striving to buy a house.
"Nearly $500 million was withdrawn for this purpose in 2016, up from $214 million in 2015. The number of KiwiSavers making use of this facility more than doubled year-on-year, from 14,584 to 31,368. The average withdrawal increased from $14,658 to $17,896," the FMA says.
KiwiSaver has two features to help members buy their first home, - the KiwiSaver HomeStart grant and the KiwiSaver first-home withdrawal. Details are here. 
The chart below is taken from the FMA's report.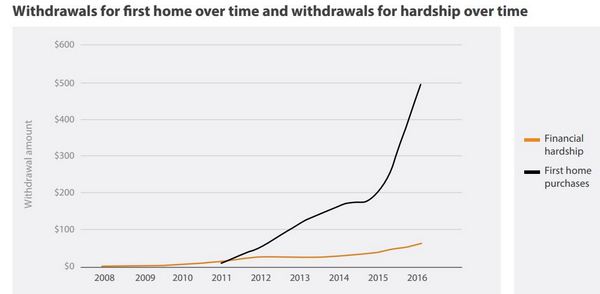 The FMA figures are for the year to March. Since then savers have continued withdrawing money from KiwiSaver to get into the housing market. The total is now at $721 million with $42.88 million withdrawn in April, $50.4 million in May, $40.29 million in June, $41.91 million in July, and $49.89 million in August. (See more detail in interest.co.nz's chart here).
More people transferring than joining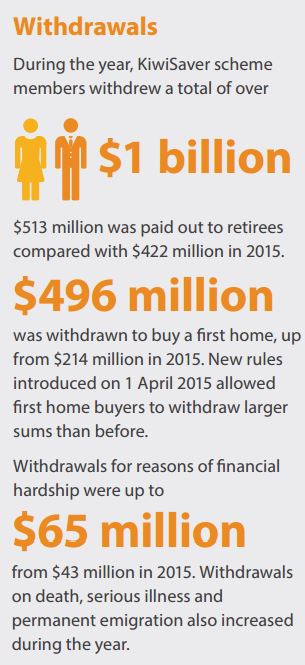 Meanwhile, the FMA says total KiwiSaver membership has grown, but at the lowest level since reporting began, with a 4% increase this year compared to 14% in 2012. And, for the first time since KiwiSaver launched in 2007, the volume of people transferring between schemes was higher than people joining KiwiSaver. Over the March year, 175,000 members transferred to a different scheme provider, compared to 177,000 in 2014-15, while 145,000 new members joined compared to 245,000 new members in 2014-15. 
"As new membership is slowing, it's logical that providers will continue to look to transfers to grow the size of their schemes. The FMA will be paying attention to how transfers occur, making clear our expectations to providers and giving clear information to KiwiSaver members about how to prepare for those circumstances and what they should expect from providers," FMA CEO Rob Everett said.
"The number of default members continues to decline from its peak of 465,000 in 2013 to 445,000 in 2016, now representing 17% of the total members."
Minister seeks greater fee transparency
Minister of Commerce and Consumer Affairs Paul Goldsmith said only three default providers detailing their total fees in their annual statements isn't good enough.
"The Ministry of Business, Innovation and Employment, in conjunction with the Commission for Financial Capability and the FMA, is currently reviewing the content of the annual statements KiwiSaver schemes must provide to their investors. Consultation with KiwiSaver scheme providers has begun to ensure fee transparency is done in a way that is simple for the consumer to understand and easy for providers to implement," said Goldsmith.
"It is my expectation that any regulatory change required will be in place for the next annual statements and that KiwiSaver providers will already be working towards providing their members with the total fees they are paying," Goldsmith added.
The average KiwiSaver balance, including non-contributors, was $13,200 at June 30.