Diane Maxwell urges Govt to increase the minimum KiwiSaver contribution rate from 3% to 4%; Calls for over-65s to be allowed to join KiwiSaver & more contribution rate options to be put on the table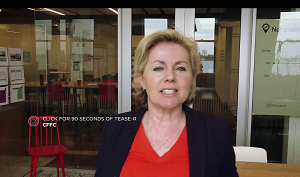 We could be made to start contributing more to our KiwiSaver in around a year's time.
The Retirement Commissioner Diane Maxwell is urging the Government to raise the minimum KiwiSaver contribution rate, for both members and their employers, from 3% to 4%.
She suggests the rate rises by 0.25% a year from 2018, so that it hits 4% by 2021.
She makes this call in the Commission for Financial Capability's (CFFC) three-yearly review of retirement income policies. The first half of it has been presented to the Government, via an interactive video, today. The second half, which largely addresses New Zealand Superannuation eligibility, will be released on December 14.
Maxwell says a 0.25% increase means someone who earns $40,000 a year, would contribute an extra $2 a week.
If a 20-year-old earning $40,000 year, as well as their employer, increase their contributions from 3% to 4%, the contributor's KiwiSaver balance would increase by $82,767 over their working life to $362,142.
Of everyone who has contributed to KiwiSaver this year, 66% have contributed at the default rate of 3%, while 25% have contributed at 4% and 7% have contributed at 8%.
Maxwell admits raising the minimum contribution rate may affect small businesses, but says the flipside is a change may enhance retirees' spending power.
"There is a risk the current minimum rate of 3% sends the signal it is sufficient to build the assets for the standard of living people want in retirement," the CFFC says.
"Internationally, New Zealand has the lowest rate of minimum retirement savings in the OECD."
At 5% of GDP, the Government also spends less on superannuation than the OECD average of 7% (as at 2013).
Treasury predicts the cost to New Zealand taxpayers will rise to 7% of GDP in 2045, as our population ages.
More contribution rate options needed
The CFFC also recommends employees be given the option of contributing 6% or 10%, so they can choose to contribute either 4%, 6%, 8%, or 10%.
This gives people more flexibility and the feedback it has received has indicated that the gap between existing contribution rates of 4% and 8% is too high.
Over 65s should be able to join KiwiSaver
The CFFC would like the government to enable people over 65 to join KiwiSaver.
"This move would remove a current policy inequality, provide another investment option for those over 65, and would allow employers to voluntarily make contributions for all employees over 65. There is no apparent reason for those over 65 not being able to join," the CFFC says.
Maxwell says this change would have a particular effect on people who have been self-employed most of their lives and start working for someone else as they get older.
More transparency needed around KiwiSaver fees
The CFFC is siding with the Financial Markets Authority (FMA) and the Ministry of Business, Innovation and Employment (MBIE) in calling for KiwiSaver providers to be made to detail KiwiSaver fees in dollar terms in their annual statements.
The CFFC says dollar terms are easier to understand than percentage or basis points, so adding these figures to statements will "improve transparency and trust".
While the likes of Simplicity, ASB and Kiwi Wealth already make these disclosures, the New Zealand Bankers' Association, in its submission to an MBIE discussion document on the proposal, has voiced its hesitation around this, saying some banks will struggle to calculate fees.
Is there political will to make these changes?
Maxwell is hopeful a change of Prime Minister will provide the Government with an opportunity to implement the changes she deems necessary to make our retirement saving and superannuation schemes more sustainable.   
Outgoing Prime Minister John Key infamously said he would resign before raising the age of eligibility for superannuation.
Yet Key's pick for his replacement, Deputy Prime Minister Bill English, on Tuesday said he saw the options for reform of New Zealand Super as open and would not repeat Key's commitment never to change the retirement age or the indexation of Super.
Yet the Government has done away with the $1000 kick-starter to incentive people to join KiwiSaver, and halved the member tax credit, during the time English has been Finance Minister.
Asked what English's attitude has been like when she's brought up issues around retirement policy reform with him, Maxwell says: "Let's see where we get to."
"Politics is downstream from culture," she says.
In other words, politicians will act according to public opinion.
The Minister of Commerce and Consumer Affairs, Paul Goldsmith, says the CFFC's recommendations "will be looked at closely and considered".
Interest.co.nz has done a series of stories and video interviews with Maxwell, as the CFFC has worked through its review. You can see these here.