Auckland Council joins other local authorities around the country in declaring a climate emergency. Steve Forbes looks at why they are doing this and what it might mean for insurance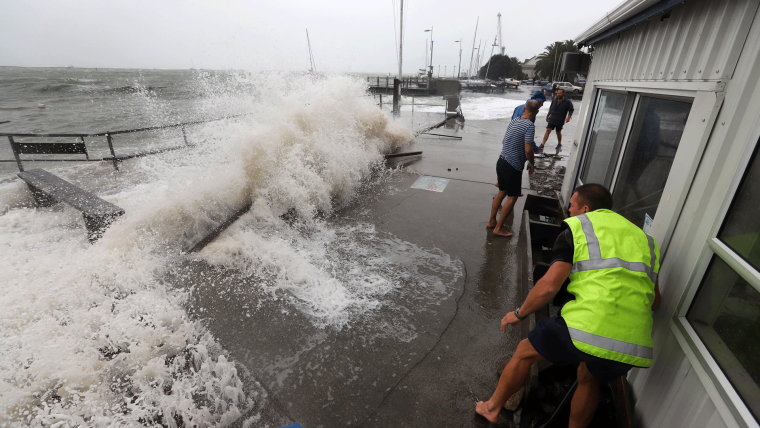 Auckland Council has voted to join the growing local government chorus calling for change and declare a non-binding climate change emergency in the City of Sails.
Council Environment and Community Committee chairwoman Penny Hulse supported the decision which she describes as an important first step.
"Critics will say it's just a gesture, it is a gesture, but it starts the conversation. And the reality is the Auckland Council has already done a lot of work on the issue of climate change."
She says as the council moves forward it will have to make some serious decisions on the impact of climate change and how it funds it.
Hulse says the Auckland Council had looked at the example of Environment Canterbury which declared a climate emergency last month.
"We are a regional council and a city council and we're responsible for the same issues and we have to turn our minds towards how we manage the coastline and how we manage land use and planning. So declaring an emergency says we take this issue seriously and we're going to take action."
Global environmental lobby group Extinction Rebellion's New Zealand branch is calling on the Government to commit to a target of zero carbon emissions by 2025 and to face up to the ecological crisis created by climate change.
Spokesman Simon Oosterman says getting Auckland Council to agree to declare a climate emergency wasn't the end goal.
"Binding emissions targets are what will really make the biggest difference," Oosterman says. "But it's a symbolic first step towards making a commitment to reducing greenhouse gases. It's important that the Auckland Council joins others in acknowledging the climate change crisis and ecological collapse we face."
He refers to the Insurance Council of New Zealand's (ICNZ) public comments about the looming cost of climate change to the country.
"To get the councils to start talking about what the Insurance Council of New Zealand has already talked about is a good thing. It's a significant risk, not just to ratepayers, but to business owners as well," Oosterman says. 
"Local government has a major problem because the cost of climate change is going to be far beyond what they can afford to fund. So from a strategic point of view it makes sense to focus on the councils. But I think there has been some frustration in the climate change movement around the lack of action at a national level."
What does it mean when a council declares a climate emergency?
A Local Government New Zealand (LGNZ) report released in January said up to $14 billion of local government infrastructure was at risk due to rising sea levels. The report called on central government to urgently develop policies to help minimise the impact of climate change on New Zealand communities.
But what does it really mean when a council declares a climate emergency? Are they virtue signalling as some critics have said, or drawing a line in the sand and saying something needs to be done now to address what could be the greatest threat to mankind?
On May 16 Environment Canterbury announced it had declared a climate emergency. The regional council said it was highlighting the urgent need to address the issue and the work it was already doing to help the region respond.
Environment Canterbury's deputy chairman Peter Scott says it had come under a lot of pressure from the global lobby group Extinction Rebellion over what it was, or wasn't doing about climate change.
"We'd been challenged on what our response was to climate change and we had been for some time," Scott says. "Land, air and water is our raison d'être, so we took the opportunity to respond and say across the portfolios we manage in terms of air, land, water, biosecurity and biodiversity, we do take it seriously."
He says Environment Canterbury's climate emergency declaration is its response.
But Scott admits there are already examples around the world of people paying lip service to the environment through climate emergency declarations.
Last month MPs in the UK's House of Commons voted to approve a motion declaring an environment and climate emergency in Great Britain, even though the proposal doesn't legally compel the British government to act.
"In terms of what we can do, we can't do any more than what we've done and it really needs national initiatives led by central Government," Scott says. "You'll understand we need to respond to public pressure. But it highlights what we're doing and across all the portfolios we manage we now have a centralised approach to climate change. It gives us the opportunity to update councillors every quarter on what's happening."
Environment Canterbury said in a statement that it has incorporated climate change into all of its work programmes and decision making and is leading by example in reducing its own emissions.
Nelson City Council (NCC) then declared a climate emergency on May 15 to recognise what it said was the mounting advice from scientists and the United Nations that there is a small window for action to avoid the most damaging effects of climate change. The Christchurch City Council and Kapiti Coast District Council followed suit on May 23 and May 24 respectively. Christchurch City councillor Sara Templeton, who is the chair of the Christchurch Council's Climate Change Working Group, said it wasn't about doom and gloom, but a call to action.
Green MP's parliamentary proposal scuttled 
While Green Party MP Chloe Swarbrick attempted to pass a motion in Parliament late last month declaring a national climate emergency this was defeated by opposition MPs. 
National MP Todd Muller voted against it and says Swarbrick's motion was meaningless.
"As it stands there is absolutely no clarity as to what declaring a 'climate emergency' would mean in practice, what its legal standing is, or what it would actually require of the Government and the New Zealand public," Muller says.
"At first glance this looks like nothing more than political posturing and virtue signalling. Our kids deserve more than empty slogans and highly charged green-rhetoric. They deserve real and concrete plans to drive our emissions down. National will not support this non-debatable motion."
However, Swarbrick says she had tried to work with National MPs to get support for the declaration.
"I had been attempting to work constructively with the National Party, because the Greens recognise that climate action requires all of us. That's why I was genuinely perplexed when they sent out a pre-emptive press release [before the vote] before talking through any of the detail with me. Had they done so, we could've come to a solution that I believe would've worked for all parties," Swarbrick says.
"The purpose of Parliament declaring a climate emergency – as opposed to simply the Government benches – is to create a sustainable mandate, which outlives politics, for the public services to coordinate themselves to act cohesively in response to the urgency of climate change.
"That's why it's important that we worked on Parliamentary consensus about what the climate emergency actually means. When politicians utter words and pass motions, they create a platform to which they're to be held accountable."
Climate emergencies and the insurance industry 
However, if more council's up and down the country continue to declare climate emergencies will that lead to insurers hitting some areas and regions harder than others with risk based pricing?
Insurers have within the last year upped the ante with more risk-based pricing in areas prone to earthquakes and flooding and this has seen some premiums increase and in the most severe cases left some properties uninsurable.
Something the Reserve Bank noted in its recent Financial Stability Report released in May. It said risk-based pricing would become more widespread in New Zealand's insurance market over time and that could lead to higher premiums and more restricted cover. But Reserve Bank Governor Adrian Orr said such price signals were necessary to direct investment away from assets vulnerable to the effects of climate change.
"Insurance will evolve, better pricing needs to evolve. People need price signals to make their decisions for a smooth transition [to mitigate against the effects of climate change]," he said.
"On the other side of it as well, we don't want to see prices rise in some areas and not alter in others. Owners of particularly high-risk assets should be aware that their insurance costs are likely to rise and the level of cover that they can obtain may become more limited in the future."
Insurance Council of New Zealand chief executive Tim Grafton says he doesn't think councils are grandstanding when they take a stand on climate change.
"I have no doubt councils declare emergencies for good reasons to protect their communities," he says. 
But things are changing in the insurance world and providers are more than aware of what is happening in terms of climate change, whether local authorities declare climate emergencies or not.
"Insurance is there to meet the insured costs of disasters. We want to show the important role we play," Grafton says. "Equally, where extreme events hit some areas more the community has an important role in reducing risk and becoming more resilient."