Reserve Bank warns house prices could fall - while property owners, banks and the government could be left exposed - as insurers become more selective over who they insure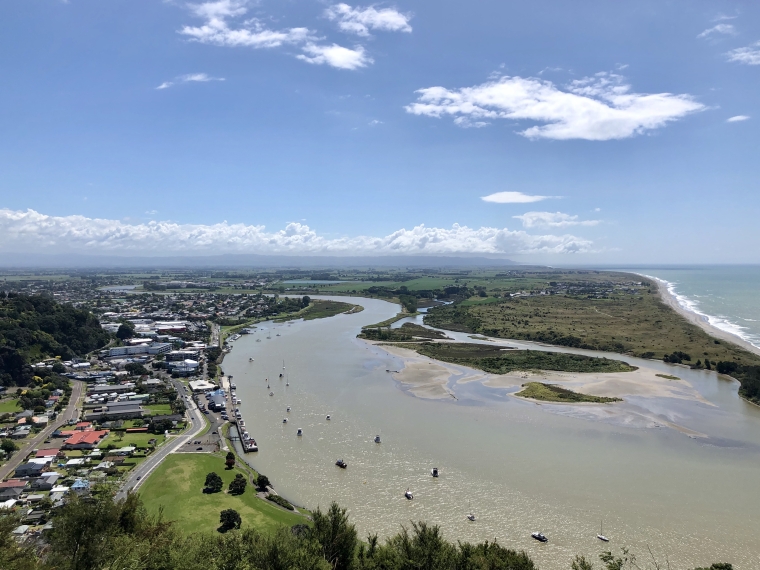 By Jenée Tibshraeny
The Reserve Bank (RBNZ) warns insurers' moves to reduce their exposures to earthquake and flood-prone properties could reduce the value of people's homes.
Insurers have within the last year upped the ante on risk-based pricing, using more granular data to more accurately charge customers for the risks they pose.
This has seen some premiums sky-rocket, and in the most severe cases left some properties uninsurable.
The Press on Wednesday, for example, reported on a couple struggling to sell their "immaculate" quake-repaired bungalow due to it being uninsurable and banks therefore refusing to lend against it.
While the RBNZ in its previous biannual Financial Stability Report (FSR) released in November said it wasn't sure whether risk-based pricing reflected "cyclical factors" of the market, or a "structural shift towards higher premiums and more restricted cover", it appears to have decided the latter is the case.
"It is likely that risk-based pricing will become more widespread in New Zealand over time," it said in its latest FSR released on Wednesday.
"Owners of particularly high-risk assets should be aware that their insurance costs are likely to rise and the level of cover that they can obtain may become more limited in the future."
House prices could be hit
The RBNZ noted risk-based pricing transferred the risk from insurers to affected households and businesses, as well as institutions that lend to them.
"This is likely to reduce the value of assets negatively affected by risk-based pricing, and weaken the financial positions of the assets' owners," it said.
While the likes of IAG and Tower have refused in the past to clarify with interest.co.nz what portion of their customers would experience premium hikes versus cuts as a result of risk-based pricing, the RBNZ said it expected a small portion to face "materially higher prices", with very few unable to obtain full cover.
"But the precise impact on the overall availability and price of insurance is uncertain, reflecting limited information on reinsurance costs for New Zealand and insurer strategies," it said.
"The Reserve Bank is engaging with insurers and reinsurers to better understand the evolving position in more detail."
Value in pricing people out of high-risk areas
While interest.co.nz understands risk-based pricing to have hit quake-prone properties harder to date than flood-prone properties, Reserve Bank Governor Adrian Orr said in a media conference he saw quake and climate risk on par with each other.
He accepted price signals were necessary to direct investment away from assets vulnerable to the effects of climate change.
"Insurance will evolve, better pricing needs to evolve. People need price signals to make their decisions for a smooth transition [to mitigate against the effects of climate change]," he said.
"On the other side of it as well, we don't want to see prices rise in some areas and not alter in others."
Matters made worse by a concentrated market
Asked by interest.co.nz whether the RBNZ was concerned insurers were using risk-based pricing as a money grab, Orr said: "We are right amongst it at the moment, really trying to get our heads around working with the industry, in part for exactly that. Sunlight is a great disinfectant."
Asked whether there was a point at which the prudential regulator would intervene in the market, he said the RBNZ was trying to strike a balance between ensuring insurers were "transparent" with their pricing, while keeping their books in good shape.
Orr also said he wanted to see more competition in the market.
The RBNZ in its FSR warned: "A rapid and disorderly change in the provision of insurance could also reduce competition and efficiency in the insurance market.
"The impact of risk-based pricing in New Zealand is likely to be amplified by the high concentration of the general insurance sector. High concentration reduces the capacity of other insurers to insure risks affected by risk-based pricing."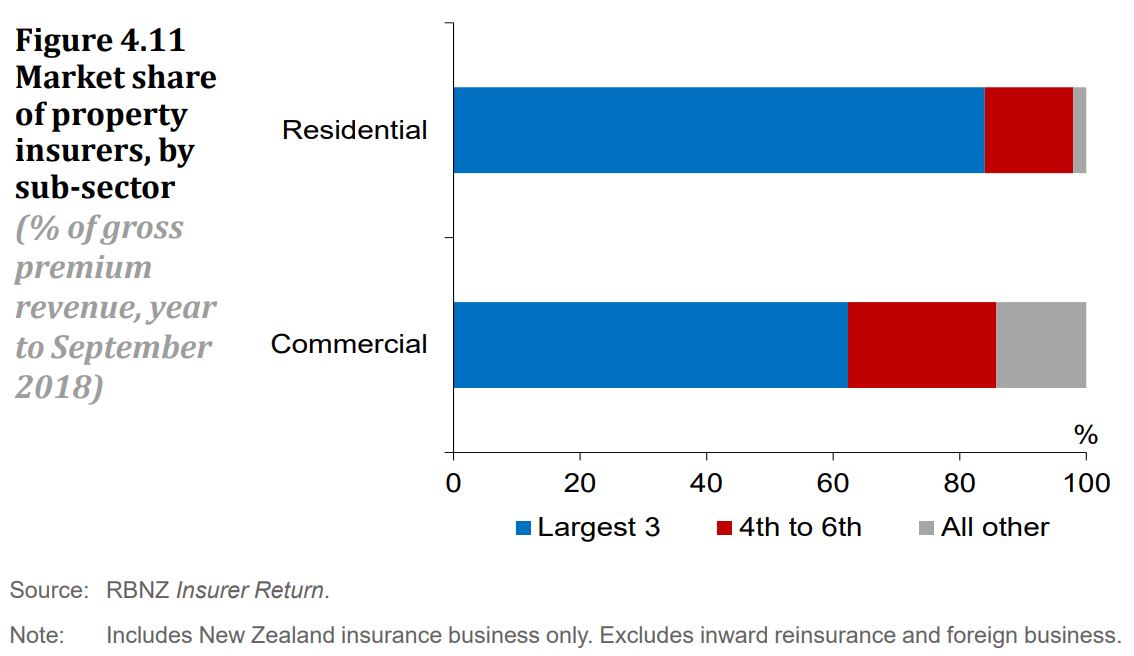 The insurance market is set to become even more concentrated, with Allianz on Tuesday announcing it would stop providing commercial property, motor and liability insurance in New Zealand.  
RBNZ working on climate risk disclosure framework
Looking at the bigger picture, the RBNZ warned: "As banks and insurers respond to climate change risks, some risks may ultimately end up with other parties, such as central and local government.
"It is important that these potential market dynamics are understood and managed appropriately."
While all the banks and 90% of the general insurers it recently surveyed saw climate change as a risk to their businesses, respondents provided little evidence that these concerns were influencing their day-to-day business decisions.
The RBNZ said it was continuing to engage with banks' and insurers' management and boards so they consider all material risks when setting the strategic directions of their businesses.
The RBNZ said institutions' exposures to climate risks had to be better disclosed in line with international standards.
"The Reserve Bank places significant emphasis on disclosure as part of its regulatory framework, and is committed to working with industry and wider stakeholders to develop an appropriate climate risk disclosure framework for New Zealand."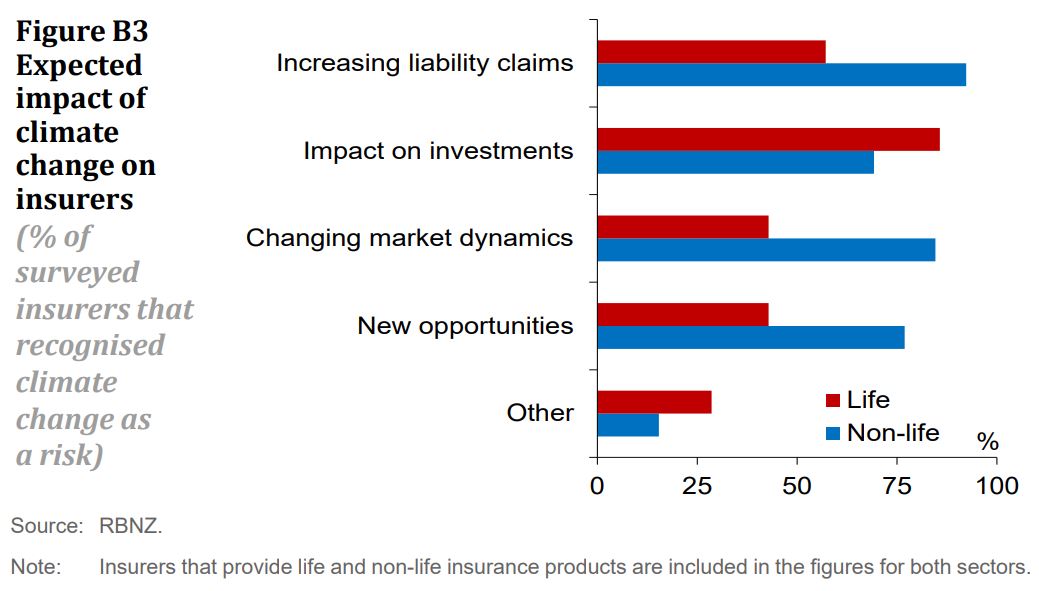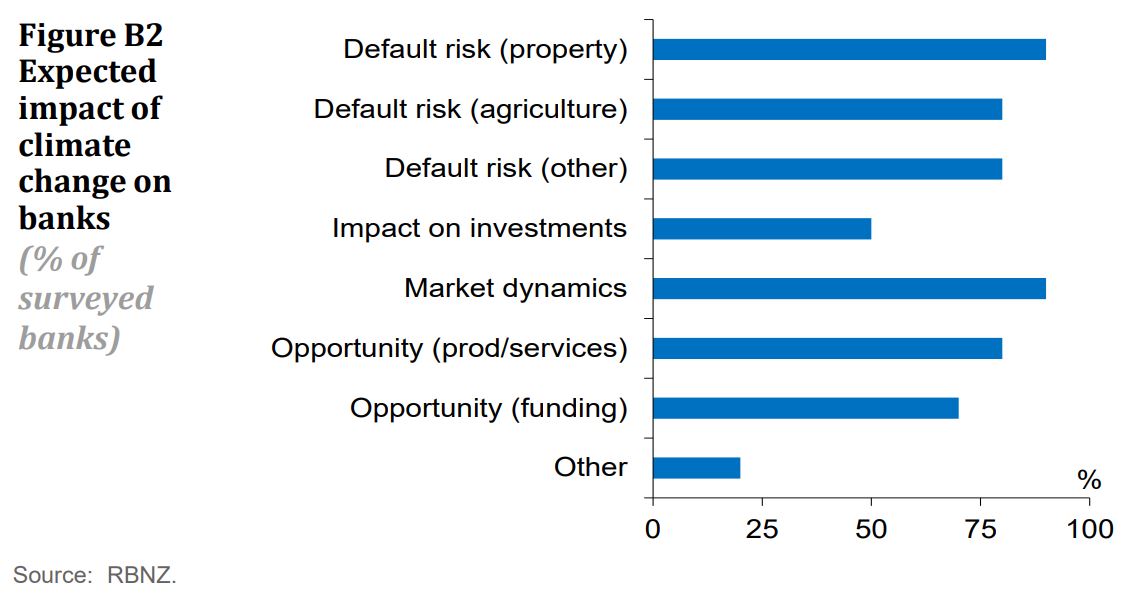 For more on how risk-based pricing is affecting apartments, see this story.
And for the latest on how risk-based pricing has pulled Tower back into profitability, see this story.