Jenée Tibshraeny on why you should spend more time talking to insurers before buying a property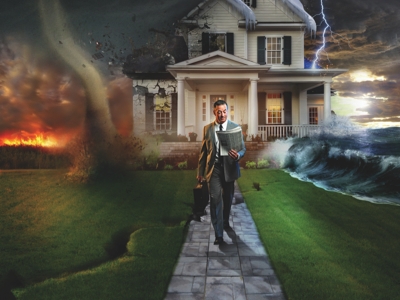 By Jenée Tibshraeny
If I was doing my due diligence on a property I wanted to buy, consulting different insurers would be top of my priority list.
Since the 2010/11 Canterbury earthquakes, we've seen insurers use more comprehensive data to price earthquake risk.
This has seen some property owners' premiums sky-rocket – disgruntled Tower customers making mainstream media headlines.
Looking to the future, I believe insurers will use increasingly sophisticated data to price flood risk in a more granular way too.
I recently spoke to Robert Muir-Wood – the chief research officer of one of the world's leading risk modelling companies, RMS.
RMS has provided the earthquake risk modelling used by the major insurers in New Zealand and according to Muir-Wood is looking at doing more work on flood risk.
While insurers already have tools to measure flood risk, one can only imagine the availability of additional data would prompt them to be more specific about the areas they hike premiums.
We are of course already seeing this, with property owners in parts of Dunedin, Napier and Wellington in particular, struggling to get insurance cover.
But my guess is, even better data will equal even more granular pricing.
There is of course an argument that more flood risk-based pricing is a good thing, in that it would encourage developers to avoid investing in coastal places prone to flooding and make councils more aware of where they're consenting building.
However as KPMG NZ's sustainable value director, Charles Ehrhart, pointed out when I recently spoke to him, risk-based pricing has social repercussions policymakers should keep an eye on.  
In other words, what happens if entire neighbourhoods can't get insurance, so then have to default on their mortgages? Are these poorer communities living in lower lying areas to begin with too?
Both the Commerce and Consumer Affairs Minister Kris Faafoi and the Reserve Bank are aware of these issues.
In its biannual Financial Stability Report, the Bank warned: "While more risk-based pricing may be an efficient response to having more data, if taken to an extreme it could reduce the risk-pooling benefits that insurance provides."
Reserve Bank Governor Adrian Orr also warned in a media conference on the Report that the Bank was looking to ensure insurers were thinking long-term and not just seeing risk-based pricing as a money grab.
Deputy Governor Geoff Bascand added the Bank was going to start talking to both insurers and banks "more purposefully" to make sure climate risk was built into the way they managed risk long-term and at board level. He said their response couldn't just be an immediate price one.
Interestingly, the Reserve Bank in its Report said it wasn't sure whether the insurance pricing we're seeing now is reflective of where the market cycle's at, or a more permanent change of approach from the industry.
"In the case of earthquake risk, the prevalence of risk-based pricing partly reflects some insurers having limited capacity to take on additional earthquake risk," it said.
"Their capacity is influenced by a combination of their (i) level of catastrophe reinsurance, (ii) appetite for earthquake risk, and (iii) earthquake risk exposures from existing policies (particularly in Wellington).
"More generally, higher insurance premiums and more stringent underwriting criteria are typical of a tighter phase of the insurance cycle, and tend to coincide with reduced risk capacity and less competition, particularly for higher-risk insurance business.
"At this stage it is not clear whether recent changes in the earthquake insurance market reflect these cyclical factors, or whether they represent a structural shift towards higher premiums and more restricted cover."
Evaluating risk looking forward, not back
Right, so it's quite possible that I've jumped the gun by assuming that when RMS does more flood risk modelling, we'll see premiums change like they did when new earthquake risk modelling was applied.
I would still be paying much more attention to the risks insurers see before buying a property, as more broadly speaking, the Reserve Bank is "coercing and/or incentivising" more long-term thinking from insurers and banks when it comes to climate change.
In its Report it said: "Lenders protect against the risk of losses on loans by assessing the value of property security, assessing the capacity of borrowers to service their loans, and requiring ongoing insurance coverage in loan contracts.
"To work effectively it is essential that these processes are calibrated to longer-term risks, including climate change.
"This may mean placing less reliance on backward-looking valuation models, strengthening serviceability tests to incorporate the potential future variations in insurance costs, and investing in systems to monitor ongoing insurance coverage and exposure to physical risks.
"The Reserve Bank will engage further with banks and insurers to understand how they are incorporating these and other climate-related risks within their businesses."
Put in other words by Orr: "What we are seeing is financial institutions talk about what they're doing around their own personal carbon footprint, but not necessarily about how they are then putting that into their lending and borrowing thoughts.
"And this is where we have to move rapidly. There's going to be regulatory impost, there's relative consumer price impost, and part of that will come through financial pricing, and it has to hurry up."
So there you have it. The Reserve Bank is pushing financial institutions to factor climate change into their business models.
I am taking this as a signal to factor climate change into my personal financial decisions.