Could Auckland's already slow burning light rail project be delayed further by the 2021 Asia-Pacific Economic Cooperation (APEC) meetings in the City of Sails?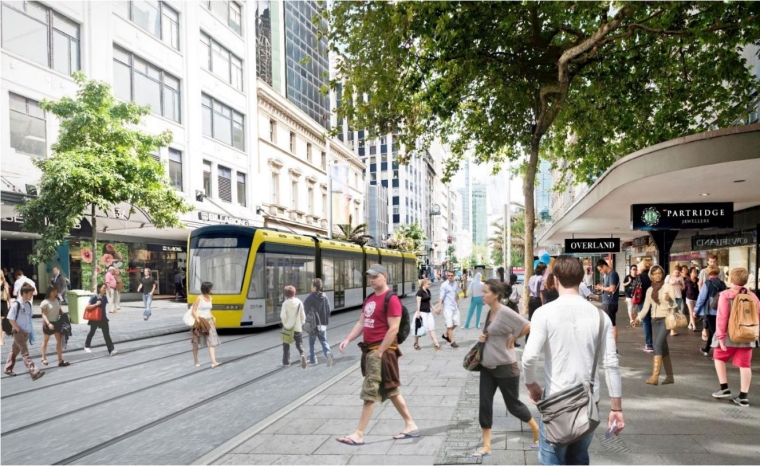 Is the 2021 APEC Summit going to throw a spanner in the works for the Auckland light rail project?
Sources interest.co.nz has spoken to suggest work on the project could now be delayed until 2022 due to the Asia-Pacific Economic Cooperation (APEC) events, through which a year of New Zealand hosting culminates in Auckland in November 2021 with Leaders' Week.
The Ministry of Foreign Affairs and Trade (MFAT) has raised questions about the light rail project and when work on it will start because of the summit, which is being touted as the largest event ever hosted by the New Zealand Government. According to the MFAT website 10,000 people will visit the city during the Leaders' Week from November 8-14, including ministers, world and business leaders and a large media contingent.
"APEC is a large event which poses many logistical challenges," APEC New Zealand deputy secretary Andrea Smith says. "As part of this planning for APEC 2021 events in Auckland, APEC New Zealand has to be aware of all factors that may impact on hosting arrangements. For this reason, MFAT has been seeking to understand what construction projects are planned, or will be underway, in 2021. APEC New Zealand's approach is to take account of, and work around, any existing infrastructure projects in Auckland.
"In this context, MFAT has also asked about the schedule of projects. It would be misconstrued to say the APEC team has voiced concerns about any of the existing or planned infrastructure projects, such as the light rail project. It's more a case of exploring project schedules and their impacts, so we can plan around these."  
But the fact the event is likely to be held in the central city means MFAT's ability to work around it could be limited. This means a start in 2022 might now be more likely. Other events in Auckland scheduled for 2021 include the 36th America's Cup, which will be held in March, and 2021 Women's Rugby World Cup which will run from July 28 to August 14.
Indicative business case
In other developments the New Zealand Transport Agency (NZTA) says it has produced an indicative business case for the first stage of the Auckland light rail project, but it still can't move onto the next stage until Transport Minister Phil Twyford accepts or rejects an offer from the New Zealand Superannuation Fund. 
The agency says the report is for the city centre to airport line only. And while it doesn't answer the all-important questions of exactly how it's going to be funded and how much it's going to cost - it is a sign of progress.
According to the NZTA Head of Light Rail Carl Devlin, the indicative business case has been shared with officials from the Ministry of Transport and Treasury for review and feedback.
"Further work is required to progress the indicative business case to the next stage, including the outcome of the Ministry of Transport/Treasury review, policy advice to the Minister and key decisions from the NZ Transport Agency's Board," Devlin says. "These outcomes will guide our next steps and provide more clarity on the project. During the next phase of work, there will be more clarity around construction start times and staging.
"The Agency will continue working with its project partners, including Auckland Council, Auckland Transport, the Ministry of Transport, Treasury and other government departments to coordinate our work and develop the optimal design."
According to the NZTA, an indicative business case sets out the pros and cons of a project proposal and whether it is affordable and feasible to construct and operate it. The next stage would be a detailed business case which will spell out the costs and funding options in more detail.
Goff wants start 'as soon as practically possible'
But any news is good news for Auckland Mayor Phil Goff. He says despite the fact it's out of his hands he wants to see some progress made on the project.
"Decisions being made on light rail are being taken by central government, but I've indicated to central government that with the growing population and increasing traffic and bus congestion on the roads, I want to see this project started as soon as practically possible."
Under the project proposal first outlined by Twyford in 2017 two light rail lines would be established in Auckland. One leading from downtown Auckland out to the airport at Mangere, while a second line would run from the central city along State Highway 16 to Kumeu/Huapai.
Twyford has estimated the project would cost about $6 billion, making it the biggest transport project in New Zealand history.
NZ Super Fund CEO Matt Whineray told www.interest.co.nz last year that it had put a proposal to the government to fund, design, build and operate the light rail network in partnership with Canada's Caisse de depot et placement du Quebec. Whineray called it a public-public investment (PPI) model, as opposed to a public-private partnership (PPP).
Twyford's office was contacted for this story, but our questions were referred to the NZTA to answer as the project's lead agency. A spokesperson for the minister said there was currently no start date for the light rail project.