New board member Stephen Selwood says the New Zealand Infrastructure Commission, which is being set up by the government, is the key to addressing the country's infrastructure deficit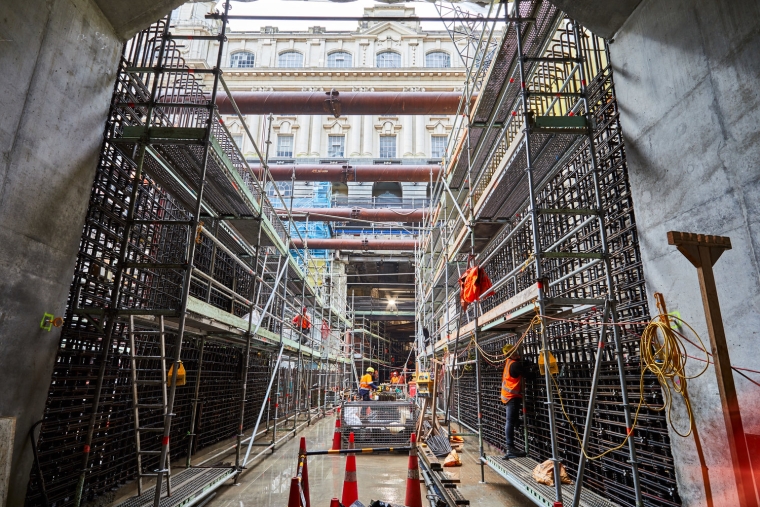 The creation of a New Zealand Infrastructure Commission is vital to address the country's infrastructure crisis, according to newly appointed board member Stephen Selwood.
Infrastructure Minister Shane Jones announced Selwood as one of the board members of the yet to be established Crown entity on Wednesday morning at the Building Nations Symposium in Rotorua. Selwood is stepping down as the CEO of Infrastructure New Zealand to take up the new role.
While Government ministers will still have the final say on public spending, the commission will have an independent board and the autonomy to provide robust, impartial advice on existing and future infrastructure projects. The legislation that will have to be passed to create the Infrastructure Commission is still before Parliament's Finance and Expenditure Select Committee. But Jones says he expects it to be passed by the end of next month.
The board will be chaired by former Reserve Bank Governor Alan Bollard. It also includes Treasury Deputy Secretary Jon Grayson as CEO, Simpson Grierson's David Cochrane, Watercare Services CEO Raveen Jaduram, Sarah Sinclair of MinterEllisonRuddWatts, Selwood and banker Sue Tindal.
Years in the making
For Selwood it has been a long-time coming.
"Infrastructure New Zealand has been campaigning to have a commission for the best part of a decade," he says.
Selwood says it is important to help build political consensus and a long term strategy for the country's infrastructure. He says there has previously been a reluctance, politically, to create an independent body with such a role.
But Selwood says he was pleased to see bi-partisan support for the New Zealand Infrastructure Commission/Te Waihanga Bill when it had its first reading in Parliament in April.
"New Zealand needs to think more strategically about its infrastructure. We are decades behind in terms of where we should be."
Infrastructure deficit
He says you only have to read the news to see we have an infrastructure crisis. From the congestion on the country's roads and problems with housing affordability, to water contamination and the need for new schools and hospitals.
"All of these issues will be the key issues the Infrastructure Commission will be looking at going forward."
And Selwood says the New Zealand Infrastructure Commission's autonomy and independence will be vital to it fulfilling its role.
"It's fundamental," Selwood says. "What we need to do is build consensus about what needs to done. And having that independent view will allow us to work together to find solutions."
Need for action
His thoughts are shared by Jones who says the country's infrastructure deficit is massive, with Treasury estimating the country will need to spend $130 billion dollars over the next 10 years on everything from roading and rail to ports, schools and hospitals. He says not all of the money will come from central government and that does include local government infrastructure as well, but he says it illustrates the scale of the problem. 
Jones says he's keen to see the Infrastructure Commission up and running by the end of the year.
"There is a hefty set of expectations that the Infrastructure Commission will address the planning, procurement and pipeline concerns people have and encourage a more efficient way of developing infrastructure."  
Jones first announced the creation of the New Zealand Infrastructure Commission, Te Waihanga in February this year. He said the commission would help ensure the country makes the best decisions around infrastructure investment to improve the long-term economic performance and social wellbeing of New Zealand.
"The commission will develop a broad consensus on long-term strategy, enable coordination of infrastructure planning and provide advice and best practice support to infrastructure initiatives," Jones said. "We want the commission to be a well-respected public voice that has credibility among the private and public sector and helps integrate across our entire infrastructure system."
"Our transport and urban infrastructure is struggling to keep up with population growth, increased demand and changing needs, including transitioning to a low emissions economy. New Zealand's regional infrastructure is often not at a standard required by communities – this infrastructure deficit is manifesting in housing unaffordability, congestion, poor quality drinking water and lost productivity. That's simply not good enough."
With a global slowdown well underway and concerns about a future recession there have been calls by some economic commentators for the Government to do more to stimulate the economy through fiscal policy and in particular, infrastructure spending.
Finance Minister Grant Robertson announced in May that he would change the Government's net debt target from the existing 20% of GDP to a range of between 15% and 25% by 2021-22. The announcement was seen as a shift from the approach he'd previously adopted with his Budget Responsibility Rules which had a target of reducing debt to 20% of GDP within five years of taking office.
Robertson said the increased debt target would give the Government more options if it wanted to combat the impact of an economic recession, or fund high value investments that will produce future economic dividends. New Zealand's core Crown net debt is low by international standards and the debt restrictions have been criticised for restricting government investment.