Auckland Mayoral candidate outlines plans to scrap the Regional Fuel Tax and introduce new rail lines across the city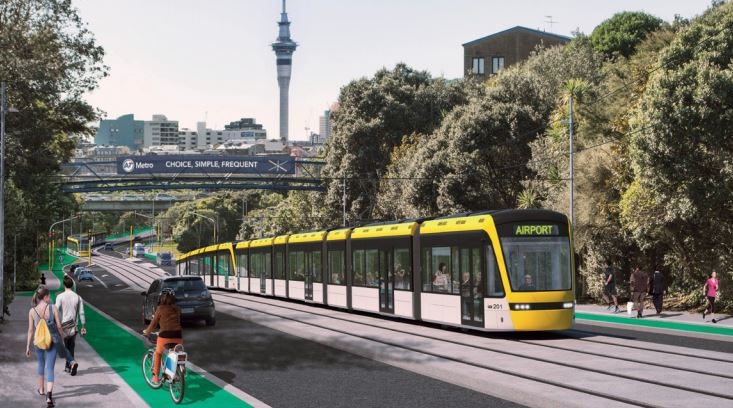 Auckland Mayoral candidate John Tamihere says he plans to scrap the Super City's Regional Fuel Tax and reallocate funding from the Auckland Transport Alignment Project (ATAP) to fund a number of new projects.
The new plans were unveiled as part of Tamihere's transport policy on Wednesday. Under his roading and rail proposal 16 km of new rail lines will be built on Auckland's North Shore along the existing Northern Busway corridor. It will operate tram-trains which will run from Albany to the CBD.
The new rail lines will also run from Kumeu to New Lynn, Mount Albert and Onehunga and through Mangere to the Airport. Another line will run from Botany to Panmure and then link up with the existing rail network and run into the CBD. He claims the rail projects could be completed in nine years and funded from the existing $28 billion ATAP budget.
The tram-trains would be able to operate on the existing rail network as well as on the new lines being built.
Scrap Auckland light rail project
Tamihere says if elected he plans to scrap the Auckland light rail project and says its benefits don't justify the projected cost and existing bus services can already cater for areas such as Dominion Road and Mount Roskill.
Priority roading projects under Tamihere's transport policy proposal include Mill Road, Penlink, Puhoi to Wellsford, the Kumeu bypass, a revamped East-West Link and the Port Access.
"It will take multi modal approach that includes track, road and more park and rides," Tamihere says.
But whether or not all of the projects can be funded out of ATAP, Tamihere says central Government will need to come to the table.
"When I get the mandate from Aucklanders in October, I will head to Wellington to start a new conversation. I will not go to Wellington to get my instructions, like the present guy. My instructions will come from the people of Auckland."
He says the Auckland Council can't continue hit motorists in the back pocket if they don't have access to public transport due to where they live.
"The petrol tax is only applied to Auckland and Aucklanders pay more than their fair share."
Convincing Wellington
But Tamihere admits it will be a hard sell convincing the Government to fund his plans.
"Central Government will have to pitch in more than it wants to. Some of the ATAP funding will need to be brought forward. But the elephant in the room will always be central government," he says.
Tamihere says the Government can't continue to keep Auckland in a head lock.
He admits he doesn't have detailed costings for all the projects he's outlined.
But Tamihere says he's keen to introduce congestion charging and use public-private partnerships to help fund them. However, details on both ideas aren't included in his latest policy documents.
He says central to his policy proposals is putting pressure on the Government which will be seeking a second term in office in 2020.
"In election year we will be asking Government to fund Auckland equitably."
Tamihere's transport policy also includes details on his plan to replace the superstructure of the Auckland Harbour Bridge to create a new two tier design that will include rail lines, new lanes for cars and a walkway and cycleway. He says there's agreement that Auckland needs a second harbour crossing and the Auckland Harbour Bridge has already reached capacity. But he says the city can't wait until 2030 for a solution.
"Someone has to make a move on this now."
Lobby group NZ Transport 2050 Inc. was formed last year and has since mounted a public campaign alongside the Public Transport User's Association to stop the light rail project. This has included everything from newspaper ads and social media and public meetings. The group is welcoming Tamihere's call to use tram-trains, instead of creating a separate light rail network.
"We do believe that tram-trains are a very clever way Auckland could get the benefit of trams at a lower cost, with less duplication and where it makes sense, but use the existing rail infrastructure such as the CRL to carry these units," chairman Paul Miller says. "Tram-trains are becoming common in Europe to solve exactly the types of issues Auckland is wanting to solve. It would be good to see Kiwirail advise publicly on the merits of both uses and how this would complement their rail infrastructure and existing systems."
ATAP budget
In April last year Transport Minister Phil Twyford and Auckland Mayor Phil Goff unveiled the revised Auckland ATAP which will see $28 billion invested in the city's transport system over the next decade.
Projects currently with committed funding under ATAP include the City Rail Link, the Puhoi-Warkworth motorway, additional electric trains, Manukau-Papakura motorway widening, Northern Corridor Improvements (NCI) and the Northern Busway extension to Albany. 
While new projects include the Auckland light rail project, Panmure to Botany Eastern Busway, Airport-Puhinui state highway upgrade, a revised East-West Link, electrifying the rail network to Pukekohe, the Penlink toll road, Albany-Silverdale bus improvements and enhanced walking and cycle ways.