NZ First Leader Winston Peters distances himself from the foundation allegedly used to funnel donations to his party, saying it sits in the 'administrative' side of the party, not the 'political wing' he takes care of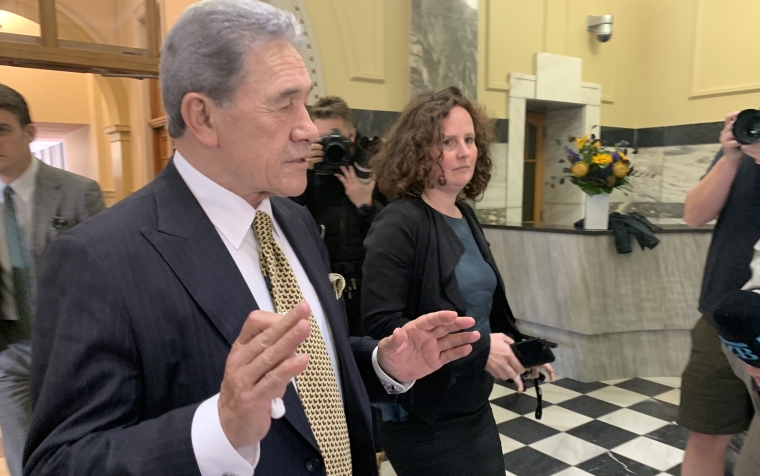 Deputy Prime Minister and New Zealand First Leader, Winston Peters, is distancing himself from a foundation allegedly used to secretly funnel donations from wealthy investors and primary industry leaders to his party.
Stuff on Tuesday reported it had seen records for the New Zealand First Foundation that suggest breaches of the Electoral Act.
It claimed almost half a million dollars in donations had been "hidden" in the "slush fund" controlled by Peters' lawyer and NZ First's Judicial Officer, Brian Henry, and NZ First's founding president and political lobbyist, Doug Woolerton.
When asked about the foundation on Tuesday afternoon, Peters said: "I look after the political wing of the NZ First Party. That's an administrative matter. You can ask somebody else."
Peters was otherwise evasive, saying he looked forward to discussing the matter with the Electoral Commission - "a rational body".
"I put out my press statement on the law and that's where things sit," he said.
Peters' written statement said the allegations concerned a "party matter" and he was confident that NZ First had "operated within electoral laws, now and for the last 27 years".
"Declarable donations were declared to the Electoral Commission," he said.
"Our system of democracy is based on the secrecy of the ballot and privacy of party memberships and donations within specified limits."
Prime Minister Jacinda Ardern reportedly responded to the allegations saying it was not for her to be the "arbiter" of electoral law.
"It's a bit premature for me to make any statements or judgements other than of course there is an expectation on all parties, and all party leaders, that we operate within the law," she said.
"The ultimate arbiter of that is not me as Prime Minister but of course the Electoral Commission and those who have oversight of our electoral legislation.
"We have an independent agency who is able to do that. It's my expectation that we all abide by the law. But too premature for me to get into any hypotheticals here."
National Party Leader Simon Bridges said that if the allegations were proven to be true, this would be "the most significant electoral law breaches we've ever seen in New Zealand".
He said they implied a "long-term, systematic thwarting of the law" that "doesn't make it more likely" National would work with NZ First following the 2020 election.
Bridges put the onus on Ardern, calling for her to do more than leave the matter with the "toothless" Electoral Commission. Bridges was vague as to exactly what she should do, but mentioned seeking legal advice and using the capabilities of the governmental departments she has access to.
National Deputy Leader Paula Bennett said National was "incredibly comfortable" with the Serious Fraud Office investigation, sparked by former National Party MP Jami-Lee Ross last year, over claims the party tried to hide a donation from a Chinese businessman.