Winston Peters' lawyer, Brian Henry, threatens to sue Simon Bridges and Nick Smith if they repeat comments about alleged NZ First electoral fraud; Says a loan made by NZ First Foundation to the party was repaid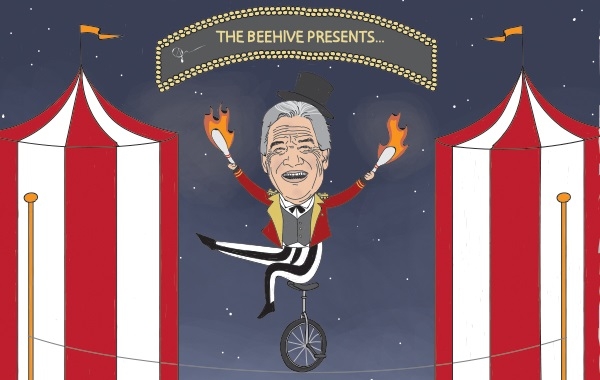 Winston Peters' lawyer, Brian Henry, is threatening to sue National's Simon Bridges and Nick Smith for defamation over comments they made in relation to alleged NZ First electoral fraud.
Henry, in an email sent to the pair on Thursday, said they made "serious allegations" in Parliament on Wednesday that "there has been a New Zealand First electoral/loan scam".
"These allegations are no doubt based on the RNZ Guyon Espiner publications, these publications are not only false but malicious," Henry said in the email.
"I invite you to repeat what you said in the house in public or apologise.
"Please note if you oblige with this request I will sue you for defamation for general damages together with special damages which from the consequences of your and Mr Espiner's actions could be as high as $30 million."
The email has been made public as Smith asked for it to be tabled in Parliament.
Henry went on to say: "There was one loan from the [New Zealand First] Foundation of $73,000 on commercial terms to the New Zealand First party to cover a shortfall after the election 2017.
"This loan was repaid in full over two years. All loan activities are both audited and were disclosed to the Electoral Commission. They are lawful."
Henry said he attached a settlement statement, but this hasn't been publicly released.
Stuff on Tuesday reported that it had obtained documentation showing a mysterious entity - the New Zealand First Foundation - was being used to funnel money to the party. The foundation was supposedly used to avoid disclosing donors' identities. 
Peters has denied any wrongdoing, saying the foundation is part of the administrative wing of the party, not the political wing, which he takes care of.
However Stuff on Thursday reported NZ First list MP, Clayton Mitchell, acted as one of the "bagmen" for the foundation - somewhat contradicting Peters' argument about the separation of functions. 
National has been trying to pin the matter on the Prime Minister on the basis it brings her government and its spending decisions into disrepute. 
Jacinda Ardern has distanced herself, saying it's a New Zealand First matter, being investigated by the independent Electoral Commission.
National's finance spokesperson, Paul Goldsmith, on Thursday asked Finance Minister Grant Robertson whether he'd considered putting major spending decisions involving NZ First ministers on hold until the donations allegations were resolved.
Robertson responded, "no", before hitting back, saying: "I'm not going to take advice from the National Party about transparency of political donations."
Bridges wouldn't rule out working with NZ First after the 2020 election, but said the donations scandal made it less likely. 
Peters, represented by Henry, was in court just last week suing National MPs, Paula Bennett and Anne Tolley, for allegedly breaching his privacy further to details around overpayments of his superannuation being leaked to the media.
He conceded the pair wasn't responsible for the leak, leaving the Ministry for Social Development in the firing line. A judgement is expected next year.
Peters departs for Japan on Thursday and won't be back in the country until Sunday. He tweeted this on Thursday afternoon: 
For the first time ever NZ will attend the G20 Foreign Ministers' meeting, held this year in Japan. So we're off to try and sort out the world. When we get back we're going to sort out the media.

— Winston Peters (@winstonpeters) November 21, 2019
Here's a video of question time on Wednesday: