NZ to stay at Level 2 for at least another week, with Cabinet to review this on June 8; Winston Peters says if police allowed protests on Monday, we should be at Level 1 now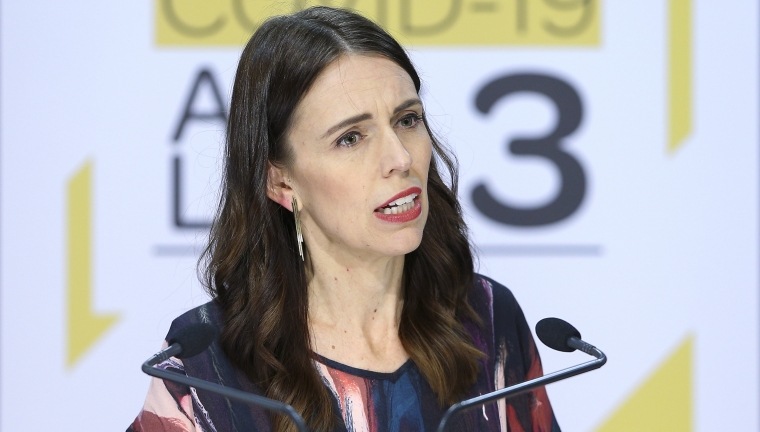 Prime Minister Jacinda Ardern says Cabinet will consider a move to Alert Level 1 when it meets next Monday. This could mean the country moves to Level 1 in the days following June 8.
Ardern will on Wednesday detail what Level 1 will look like. At this stage, it looks like business as usual with hygiene measures and closed borders. 
The PM told the AM Show the thousands of people flouting mass gathering rules by partaking in the Black Lives Matter protests on Monday had no bearing on the decision to bring forward the review of alert levels. Last week she said Cabinet would consider the move before June 22.
Ardern said Level 2 had been more successful than expected on the health front. 
The Ministry of Health is only aware of one active case of COVID-19 in the country. There have been no new cases since May 22, when a case connected to the St Margaret's cluster was confirmed.
Quizzed on whether protestors should've been reprimanded, Ardern said that was an "operational" matter for police. She said she didn't condone the flouting of the gathering rules.
Labour is coming under increasing pressure from its coalition partner, New Zealand First, to move to Level 1.
Leader, Winston Peters, on Monday tweeted:
Protesters in Auckland showing that our team of 5 million are being let down by a small group who think they know better than everyone else. If the authorities allow this to occur then we should be at level 1 tomorrow.

— Winston Peters (@winstonpeters) June 1, 2020
National leader Todd Muller then endorsed Peters, retweeting Peters' comment and reiterating his own call for the Government to "be clear about what conditions need to be met for the move to Level 1".
Our economic recovery is awaiting Cabinet getting its act together at its meeting tomorrow. NZ needs clear and coherent direction. I ask them to make their minds up - tens of thousands of jobs are on the line. https://t.co/7cRsuli1hW

— Todd Muller MP (@toddmullerBoP) June 1, 2020
Peters went on to tell Morning Report that the protest organisers should've been arrested for breaking mass gathering restrictions. 
"You cannot have rules where some people decide that they don't wish to comply and there are no consequences," he said.
ACT leader David Seymour has spoken out the most strongly on the issue of protestors making a mockery of the ban of gatherings of more than 100 people.
"If Winston Peters feels so strongly about moving to Level 1, and Labour doesn't agree, he should walk out of Cabinet. Of course, he won't," Seymour said. 
"What we have is a Government of chaos, it will enforce rules until a couple of thousand people blatantly break them, then admit the rules were illogical all along.
"We must move to Level 1 today, not next week, or on 22 June. The costs being imposed on businesses that may be open, but cannot actually make money, is too great."
The Green Party is the only party to proactively stand by the protestors, supporting their cause, but not commenting on the health consequences of them gathering.
"The disease of state-based discrimination is not constrained to American borders," Green Party justice spokesperson Golriz Ghahraman said. 
"We must acknowledge that here in New Zealand, at every single step of the justice system, Māori face increased discrimination."
The Green Party said tensions escalated in areas where armed police officers were recently trialled.
"The police are now evaluating this trial and recommendations will soon be taken to the public for consultation. I urge the community to speak out strongly against further implementation of this trial when that opportunity arrives, while we push to demilitarise our police force from within government," Ghahraman said. 
Ardern was "totally opposed" to the "general arming of police", but said the trial was an operational matter for police. 
The Ministry of Health at 1pm on Tuesday released this statement:
"We're aware of several large gatherings in New Zealand yesterday to recognise the tragic death of George Floyd in the USA," director-general of health Ashley Bloomfield said.

"Anyone who attended these gatherings or who is planning to be at other upcoming events and feels they may be at risk by coming into close contact with people they don't know, should take a cautious approach and seek advice. 

"People can get that advice from Healthline, from their GP or after-hours clinic.

"Whatever the Alert Level in New Zealand, it's clear COVID-19 will continue to be a global threat for some time and it's important we remain vigilant - both as individuals and as a country.

"This means continuing to observe physical distancing to keep yourself and others safe, seeking appropriate heath advice, and most importantly staying at home if you're unwell.

"There's currently no evidence of community transmission in New Zealand so at this time, quarantine for 14 days after attending one of these outdoor events is not required. 

"It's really important that people remain alert to symptoms and seek advice if they're at all concerned."

A reminder around the current Alert Level 2 rules on gatherings, which those organising and attending gatherings need to continue to take account of:

*  There should be no gatherings of more than 100 people

* At those gatherings people need to be physically distanced