Todd Muller resigns as National Party Leader, saying the role has taken a toll on him personally and this has become 'untenable from a health perspective'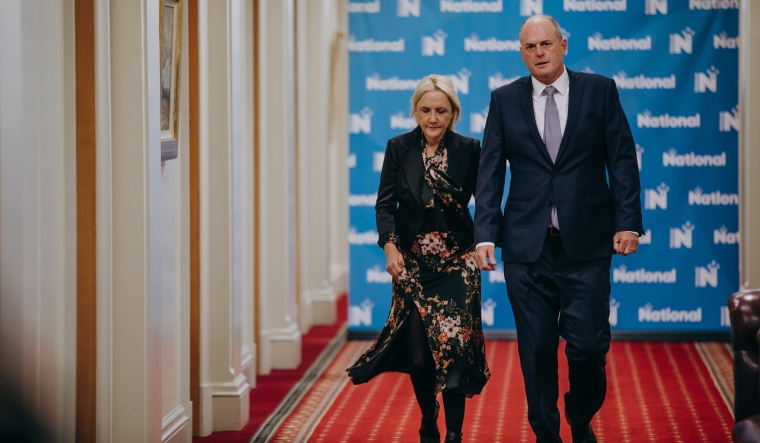 Todd Muller has stepped down as National Party Leader, saying the role has taken a toll on he and his family, and this has become "untenable from a health perspective".
The news was broken to the National caucus via a teleconference this morning. Muller wasn't on the call. He didn't do any media interviews over the weekend either.
There will be an emergency caucus meeting in Wellington tonight, at which MPs will vote on a new leader. 
Muller said he wasn't the best person to lead the party, which needs its leader to be "comfortable in the role".
His resignation, which comes less than two months after he overthrew Simon Bridges, is effective immediately. He will continue serving as a National MP for the Bay of Plenty.
The party's senior whip Barbara Kuriger said, "Our thoughts are very much with Todd and his family at this difficult time as is our compassion and love for Todd." 
She said the party wouldn't comment until after the caucus meeting this evening. 
Muller was criticised for lying last week, when he told the media personal details of Covid-19 patients were only given to National MP Hamish Walker, by former National president Michelle Boag, when in fact he knew they were also given to the party's health spokesperson, Michael Woodhouse.
Muller tried to cauterise the problem, by pushing Walker, who leaked the information to media, to resign. However, for days he denied others in the party may have had the information too, and didn't take the matter to the Privacy Commission nor Ministry of Health.
National was due to make a major infrastructure policy announcement this afternoon.
Nikki Kaye is now acting leader.
National MP Judith Collins reportedly hasn't ruled out running as leader. Meanwhile Bridges tweeted:
My thoughts are with Todd Muller & his family. Opposition Leader is a very tough role & I wish Todd and his family the best for the future.

— Simon Bridges (@simonjbridges) July 14, 2020
According to the latest major poll - a 1 News-Colmar Brunton Poll conducted between June 20 and 24 - Muller had effectively taken back some support for National, lost to Labour under Bridges' leadership in recent months.
Support for National was up 9 percentage points from mid-May, to 38%. Meanwhile Muller received 13% in the preferred prime minister ranks.
Some polls done pre-Covid-19, indicated National would've had enough seats to govern with ACT.
The election is only two months away.
Here's a statement from Muller:
I have taken time over the weekend to reflect on my experience over the last several weeks as Leader of the Opposition.

It has become clear to me that I am not the best person to be Leader of the Opposition and Leader of the New Zealand National Party at this critical time for New Zealand.

It is more important than ever that the New Zealand National Party has a leader who is comfortable in the role.

The role has taken a heavy toll on me personally, and on my family, and this has become untenable from a health perspective.

For that reason I will be stepping down as Leader effective immediately.

I intend to take some time out of the spotlight to spend with family and restore my energy before reconnecting with my community.

I look forward to continuing to serve as a loyal member of the National Party team and Member of Parliament for Bay of Plenty.

I will not be making any further comment.

Please respect the privacy of my family and me.
Prime Minister Jacinda Ardern said in a statement:
I have just heard the news about the resignation of Mr Muller as leader of the National Party. No matter what side of parliament you're sitting, politics is a difficult place. I have passed on my best wishes to Mr Muller and his family.
NZ First Leader Winston Peters released a more barbed statement: 
One's sympathy goes out to Todd Muller and his family. Todd is a good man, unlike most of his colleagues he does have commercial experience, and he will bounce back.

Leading a divided and incompetent caucus would have tested even the best leader. 'The National caucus now has the unenviable job of selecting its fourth leader since the Coalition Government took office.

The National caucus, like too many parties in parliament, lacks business experience, life experience and political experience. Heaven only knows who will be the next cab off the ranks selected to lead such a dispirited and incompetent lot.

Todd never had a chance given the fault lines of ambition, personality, and ideology that run deep through the National Party caucus.

National has demonstrated to voters as clearly as it is able that it cannot govern itself.

During a time of crisis, when stability and real experience is what the country needs from its politicians and their parties, National's instability and hubris takes it out of the running for the coming General Election.

Voters will now focus on which parties have demonstrated stability and exhibited the experience required to help guide New Zealand through its present challenges.