Paul Goldsmith on why using borrowed money to invest in the Super Fund is a bad idea, even if halting contributions would reduce the size of the fund by $20 billion over 10 years
The New Zealand Superannuation Fund is projected to be $20 billion smaller by 2031 should National implement its policy to suspend contributions for 10 years.
If contributions were to continue, the closing balance of the Fund is projected to increase from $45 billion to $109 billion by 2030/2031.
If they were to be halted from 2021/22, the closing balance would be $89 billion. If they were stopped straight after the election, the closing balance would be $87 billion.
These figures are derived from a detailed Treasury model that uses forecasts and projections from the Pre-election Fiscal and Economic Update. It projects an annual average rate of return of 7.9% over the 10 years. The Super Fund's average annual return is 9.97% since inception.
On the flipside, by halting contributions for a decade, National would free up $14.9 billion, which could be used elsewhere.
Speaking to interest.co.nz, National's finance spokesperson Paul Goldsmith said: "We're not against the Super Fund…
"We just take the view that at a time when we're borrowing colossally, it's better to be spending that money on New Zealand and on improving the infrastructure of New Zealand rather than putting it on global stock markets for use in 20 or 30 years' time…
"In seven or eight years' time we may be in a position to start up again, but at the moment… we'll halt those payments."
The Super Fund was created by the Labour-led Government in 2011 to smooth the cost of superannuation between today's taxpayers and future generations.
The Super Fund invests in a global portfolio of investments. The Government will start withdrawing money from it in about 15 years' time.
Put to Goldsmith that even if returns were lower than 7.9% per annum, they would still likely be higher than the interest the Government is paying on the borrowed money it's using to make contributions, he said that what we do know is that we "definitely" have to repay the borrowed money. What we don't know is what the return on the Super Fund investment will be.
"If it was a slam dunk, then we may as well borrow a half a trillion dollars and give it to the Super Fund. It's not a slam dunk," he said.
Goldsmith also pointed out John Key and Bill English halted contributions between 2009 and 2017 in response to the Global Financial Crisis.
Asked why bother having a long-term investment vehicle, if the government doesn't take a long-term investment approach by making contributions through economic highs and lows, Goldsmith said: "Governments are not the same as individuals so we have a different approach towards funding and saving.
"And we do recognise that we have very high levels of debt over the next few years. So the question is, do we want to keep adding to that debt at even higher levels?
"The overall amount of debt does matter."
This is how the cost of NZ Super is expected to increase as a portion of gross domestic product (GDP), according to Treasury: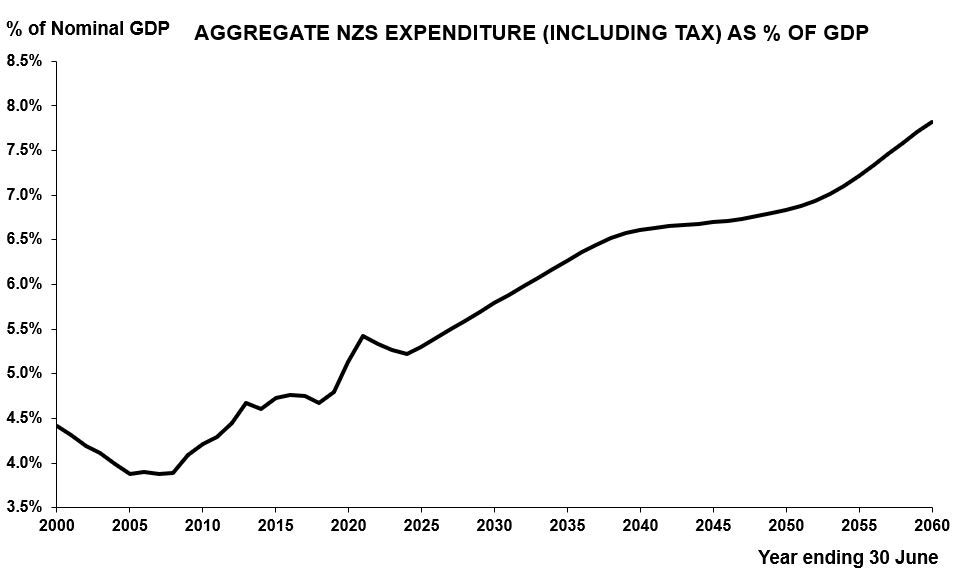 See the video interview for more on the Super Fund, as well as comments from Goldsmith on National's JobStart programme and income tax cuts.
On the issue of the wage subsidy, Goldsmith said National would try to tighten the scheme, should it need to be used again, and would only look to recoup payments from undeserving companies as a "last resort".