LIVE: US Election results as they come in. America on tenterhooks. Biden now appears close to victory - but the Trump campaign is signalling all sorts of legal challenges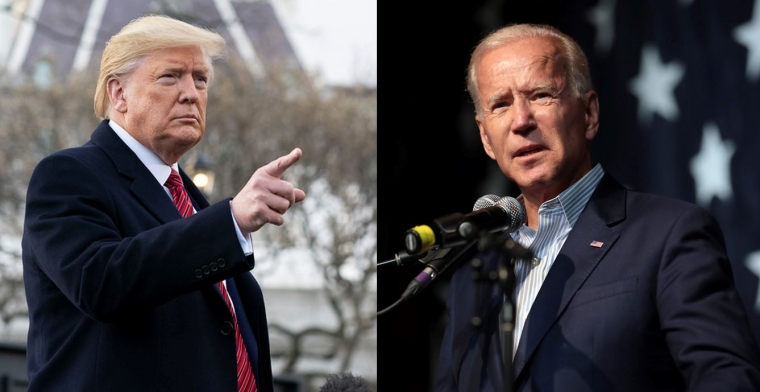 By Jenée Tibshraeny, Gareth Vaughan & David Hargreaves
Americans have voted on whether Republican Donald Trump or Democrat Joe Biden should take the presidency and lead them through the Covid-19 crisis.
The interest.co.nz team is keeping tabs on the results as they come in, updating this blog.
More than 101 million votes were cast before polls opened on election day, putting the election on track to garnering the highest turnout in more than a century.
States to watch include Pennsylvania, Wisconsin, Florida, Georgia, North Carolina, Arizona and Nevada.
Every state is assigned a certain number of electoral votes based on their population, with a total of 538 votes assigned. So, whichever candidate has a majority of 270 votes wins the presidency.
Polls suggested Biden was the favourite.
---
Saturday, 7:50am
Biden now leads in Nevada (+20,000), Georgia (+1500) and Pennsylvania (+13,000), and if those leads hold, it will be enough to claim the win. Biden's lead in Arizona holds (+43,000) despite a small comeback for Trump. Trump is left claiming vote counting should stop where he trails, and should continue where he leads, a tone-deaf position.
Biden now leads the popular vote by almost +4 mln (and double the Clinton lead four years ago).
Friday, 3:48pm
It's really tight in Georgia...
Georgia update 9:45 PM EST
President Trump 49.77%
Former VP Biden 49.00%
37,322 votes separate the candidates with a little more than 100,000 votes left to be counted. Fulton says it has 29,000 left to county and will do so by 3AM

— Brendan Keefe (@BrendanKeefe) November 5, 2020
2:35pm
Prime Minister Jacinda Ardern, in a speech delivered at a BusinessNZ event at lunchtime, made these comments about the US election:
Yesterday, like many of you, I watched the results of the US election roll in, and I couldn't help but reflect on our own elections in recent years.

No matter where you sit on the political spectrum, I'd like to think we can agree that a strong democracy requires a few pre conditions.

Citizens that believe in their system, and participate in it. Political parties that believe and support the system too.  And, perhaps this last point is a little more debateable, but I've increasingly come to believe that we have to find ways that strong views can be held, and expressed, but without the accompanying partisanship that stops us from working to build consensus where it really matters.

We are living in an increasingly divided world. There are many people out there who could no doubt provide a range of evidence based theories as to why that is the case.  From where I sit it feels as though we have a borderless world for things like trade and the exchange of people and skills, and yet, rather than this leading to people being exposed to new and different ideas and ways of thinking, the advent of technology and the creation of online platforms has led us instead to find and build our tribes to entrench our existing views. Places where we can lock in our opinions, where we can further reinforce them, rather than allow ourselves to be questioned and have our perspectives tested.

The emergence of a global pandemic over the course of the past year has undoubtedly exacerbated these issues.  There is no question that there are certain facts about a pandemic that are just that – facts.

Where the debate exists is the space between those facts, and the strategy a country and its leaders choose to deploy in the face of them.
12:15pm
Joining Fox News, the Associated Press has called Michigan for Biden, taking him within six votes of the 270 Electoral College votes required for victory.
BREAKING: Joe Biden wins Michigan. #APracecall at 6:00 p.m. EST. #Election2020 https://t.co/lGfinjTqT4

— AP Politics (@AP_Politics) November 4, 2020
Meanwhile, Trump is not showing signs of going quietly, should he lose in the Electoral College.
Our lawyers have asked for "meaningful access", but what good does that do? The damage has already been done to the integrity of our system, and to the Presidential Election itself. This is what should be discussed!

— Donald J. Trump (@realDonaldTrump) November 4, 2020
The Washington Post reports the United States has recorded more than 100,000 new coronavirus infections in a single day for the first time.
The President's Twitter feed currently has more warnings than a pack of cigarettes. pic.twitter.com/z0j88OM7zV

— Ryan Lizza (@RyanLizza) November 5, 2020
Midday
Biden's transition website is live. It's called buildbackbetter.com.
The American people will determine who will serve as the next President of the United States. Votes are still being counted in several states around the country. The crises facing the country are severe — from a pandemic to an economic recession, climate change to racial injustice — and the transition team will continue preparing at full speed so that the Biden‑Harris Administration can hit the ground running on Day One.
10:55am
A number of media outlets - though not yet AP - have called Michigan for Biden.
With the 16 votes from there this would currently give Biden 253 electoral college votes to 214 for Trump. Remember, 270 is the magic number to win.
10:30am
Joe Biden has been speaking.
He says it is "clear" he will get the 270 electoral votes needed to win the presidency.
"I'm not here to declare that we won, but I am here to report that when the count is finished, we will be the winner."
Meanwhile the Trump campaign has falsely claimed victory in Pennysylvania despite there being over a million votes still to count.
Including Wisconsin as a win for Biden, the current state of play is Biden 237 electoral votes to 214 for Trump.
The presidency, itself, is not a partisan institution. It's the one office in the nation that represents everyone and it demands a duty of care for all Americans, and that is precisely what I will do.

— Joe Biden (@JoeBiden) November 4, 2020
8:25am
So, where are we?
As it stands Biden appears to have a path to exactly 270 electoral college votes, which is the number needed for a win.
Officially as of now Biden has 227 votes and Trump 213.
The AP has declared Biden the winner in Wisconsin, which carries 10 votes. 
He's ahead (narrowly) in Michigan (16 votes), Arizona (11) and Nevada (6). Of these, Nevada looks vulnerable, with the lead only about 8000 with still 14% of the vote to be counted.
Meanwhile all sorts of noise is coming out of the Trump camp, with his re-election campaign saying it had filed a lawsuit to halt the counting of ballots in the Michigan.
This is not going to be over quickly.
Friday, 7:15am
In his morning note BNZ senior markets strategist Jason Wong says financial markets have taken the close US election results and associated uncertainty in their stride, with US equities surging ahead and currency markets unperturbed. Wong says the Treasury market has cheered the lack of a blue wave with associated spend and borrow implications, seeing the 10-year rate down 12 basis points for the day to 0.78%.
"The full US election results are still unknown and it might take a few more days to tally the results, or longer if recounts are involved to get a final outcome. Biden leads Trump 238-213 in the bid to get 270 electoral college votes, with five battleground states – MI, PA, WI, GA and NC – still up for grabs, although Biden now leads the count in some of those and the bias of postal votes also favours him. Biden is odds-on about 80% to take the prize, according to betting sites, with a much easier path to victory than Trump from here.  The Senate race is currently tied 47-47, with a couple of toss-ups and a special run-off in Georgia on 5 January, so that race remains too close to call," Wong says.
"Despite the lack of a result and Trump's threat to roll in the lawyers to dispute the outcome, markets are seeing the result in a positive light. As we noted yesterday, gridlock isn't necessarily a bad thing and from an economic perspective is better for the medium-term outlook. Any forthcoming stimulus is likely to be more targeted in nature, and a much-reduced quantum means less borrowing and less need for monetary financing of that debt – positive for US Treasuries and less negative for the USD. On the topic of fiscal stimulus, the Senate's McConnell said 'we need to do a stimulus bill before the end of the year,' a positive sign as the Senate majority leader was a key proponent of stalling the process before the election."
"For the equity market, while a near-term fiscal sugar rush no longer seems imminent, there is also less chance of a roll back of Trump's tax cuts and less regulatory risk overhanging the market. The S&P500 is currently up some 3½%, led by Health Care, Communication Services, IT and and Consumer Discretionary sectors. Big Tech stocks have outperformed and the Nasdaq index is up closer to 4½%," says Wong.
"US Treasuries have been on a wild ride, up to a fresh high of 0.94% as the first election results started rolling in and the market fearing a 'blue wave,' but as it became clearer that the race was much closer for the Presidency and the Senate, yields began to tumble and they fell further overnight, currently down 12bps for the day to 0.78%. The much flatter yield curve has seen Financial stocks significantly underperform, barely higher against the strong rally elsewhere."
"In currency markets, relative to this time yesterday, the USD is generally weaker, but movements have been small, excluding the Scandis, all within 0.3%. The NZD is flat at 0.6700 after traversing a wide 0.6614-0.6744 range during the early counting of results.  If we take the NZ market close as a reference point, there is more noticeable evident weakness in the USD. The NZD is generally weaker on the crosses. The AUD pushed up through 0.72 during early counting, fell to 0.7050 and has recovered to nearly 0.72 again. NZD/AUD has pushed down to 0.9315, with plenty more downside left in the tank to reverse its recent strong and unjustified rally," Wong says.
Thursday, 6:30am
Election Day is turning into election week, as ABC News puts it, with vote counting continuing across the US, as preliminary results show tight races in several key battleground states. Candidates need 270 Electoral College votes to secure the presidency. ABC News projects Trump currently has 213, and Biden 225.
Fox News reports the race now appears to hinge on Nevada, North Carolina, Georgia, Wisconsin, Michigan and Pennsylvania. Meanwhile Al Jazeera notes both Trump and Biden apparently expect to win. They have Biden at 238 Electoral College votes and Trump on 213.
The Hill reports that bipartisan lawmakers have condemned Trump for declaring victory prematurely.
9:04pm
That's us for today. We will be back with coverage in the morning. Goodnight! 
9:02pm
The swing states are comfortably in favour of Trump at the moment, as per this New York Times infographic.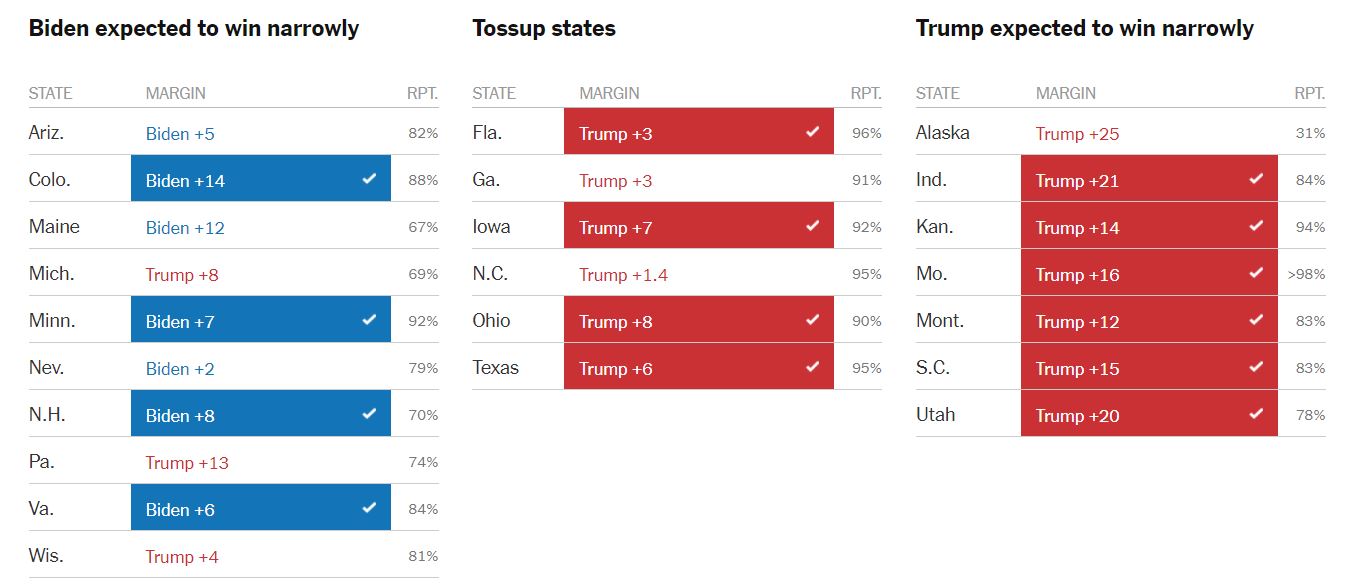 Biden remains ahead according to the presidential results, but Trump is hot on his heels. The New York Times has Biden at 225 and Trump at 213 votes. 270 votes are needed to win. 
8:40pm
Trump's speech is difficult to make sense of. He falsely claimed he won a number of states and said: "We'll be going to the US Supreme Court. We want all voting to stop." Presumably he meant he wanted vote counting to stop. 
8:30pm
Trump is claiming "success", telling those gathered at the White House the results thus far are "beautiful".  
"We were getting ready to win this election. Frankly, we did win this election," he said.
8:22pm
Trump is about to speak:
7:09pm
A dig at Winston Peters by National's foreign affairs spokesperson, Simon Bridges:
Ambassador Peters should make a nice fit with the next President.

— Simon Bridges (@simonjbridges) November 4, 2020
6:57pm
The latest from the New York Times. It looks like Trump has Florida in the bag:

6:53pm
Twitter has swiftly deleted this tweet by Trump. Note the spelling error and potential suggestion of nefariousness in the election process:

6:48pm
And Trump is right in there too:
I will be making a statement tonight. A big WIN!

— Donald J. Trump (@realDonaldTrump) November 4, 2020
6:46pm
Biden is optimistic: "We believe we're on track to win this election...
"Keep the faith guys. We're going to win this."
He stressed the race wasn't over until all the votes were counted and said we could know the result as early as tomorrow morning (US time).
6:40pm
I take back what I said earlier... Biden is going to speak:
Tune in as I speak to the nation live from Wilmington, Delaware. https://t.co/ye8knRucoz

— Joe Biden (@JoeBiden) November 4, 2020
6:37pm
From Bloomberg:
States we might not know tonight:

∙ Pennsylvania
∙ Michigan
∙ Wisconsin
∙ Georgia

That's 62 electoral votes in total. 62 is a big number in a race for 270.

Here's the latest #Election2020 https://t.co/DP4Re9orIw pic.twitter.com/wsxrMtMXO4

— Bloomberg (@business) November 4, 2020
6:10pm
It's looking increasingly likely Trump will hold on to Ohio. He's at 53%, Biden's at 45%. 89% of the votes have been counted. CNN projects the state is Trump's.  
6:08pm
Biden isn't committing to speaking to the public this evening.
6:02pm
The Cboe Volatility Index, or VIX, is lower today than it was earlier in the week, but is still relatively high. The index represents the market's expectation of 30-day forward-looking volatility. Here's a chart showing a fall in the index over the past five days: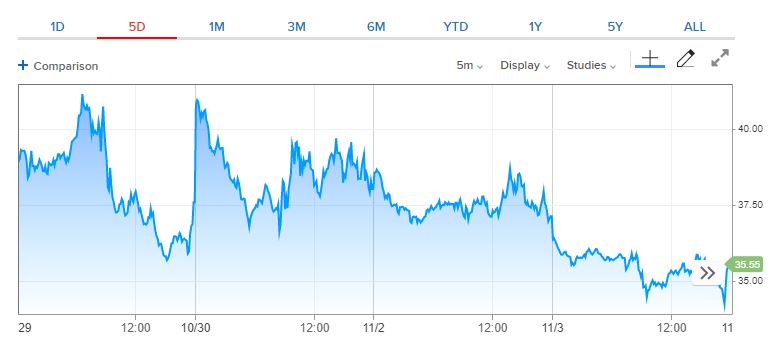 And here's a chart that contextualises the situation over the year: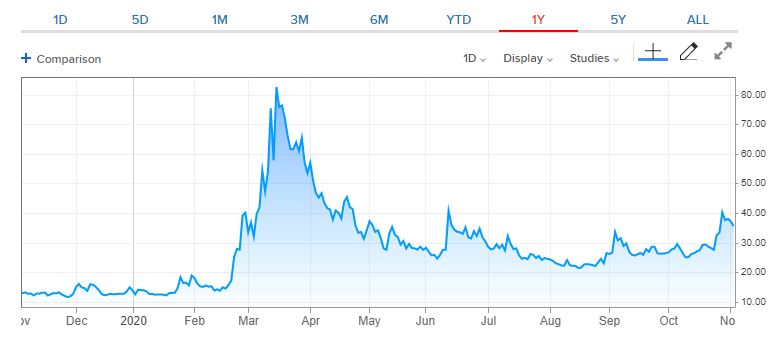 5:33pm
Fox News reckons Biden has flipped Arizona. Biden is at 54% versus Trump at 45%. 75% of the vote has been counted.
5:28pm
A lot of red in this New York Times graphic:

5:26pm
Bloomberg reporter, Saleha Mohsin:
Wisconsin says there's no way they are announcing a winner tonight

Michigan needs until Friday

Pennsylvania isn't coming out anytime soon, either

Per officials in those states

— Saleha Mohsin (@SalehaMohsin) November 4, 2020
5:07pm
Trump has taken to Twitter: 
WE ARE LOOKING REALLY GOOD ALL OVER THE COUNTRY. THANK YOU!

— Donald J. Trump (@realDonaldTrump) November 3, 2020
5:02pm
Trump looking to secure battleground states of Florida, North Carolina, Ohio and Georgina, while Biden is leading the charge in Arizona.
4:45pm
According to ABC News, with 33% of expected vote reporting, Trump is ahead in Pennsylvania with 55% to Biden's 44%.
In the all important electoral college, a candidate needs 270 electoral votes to win the 2020 presidential election.
4:30pm
The Democrats will retain control of the House of Representatives, US TV networks say. This was expected. A key question is whether the Democrats can wrestle control of the Senate off the Republicans.
Worth noting that Republican Marjorie Taylor Greene, a QAnon supporter, won a House seat in Georgia. And rising Democrat star Alexandria Ocasio-Cortez crushed her Republican opponent in New York, who raised US$10 million in his attempt to unseat her.
4:15pm
It's still too soon to call it, but it's looking as if Trump may be re-elected. Pennsylvania and Arizona are being touted as the key states for Biden.
PredictIt now has Trump as the winner as well.https://t.co/xafPzhrpPH pic.twitter.com/tofe90e7Hn

— Tracy Alloway (@tracyalloway) November 4, 2020
4:10pm
NBC's exit poll page has detailed breakdowns by gender, ethnicity, age and level of education on how the voting is playing out. Exit polls are surveys of voters taken as they exit their polling place.
Whatever the ultimate outcome of the election, it appears the polls are quite a bit off the mark again, as in 2016.
Regardless of who wins the US election now, the #US is going to be less different over the next four years than many people thought yesterday. 2016 needs to be accepted; it wasn't some sort of anomaly.

— Richard Yetsenga (@ricyet) November 4, 2020
3:56pm
Craigs Investment Partners Head of Private Wealth Research, Craig Lister, has tweeted a market update:
Markets turning more cautious. Futures lower, Treasury yields down... markets seeing a closer election outcome than expected, and a lower likelihood of a clear result tonight... more uncertainty, less agreement over fiscal support without the blue sweep that was expected.

— Mark Lister (@MarkListerNZ) November 4, 2020
3:45pm
CNN commentators sounding downbeat on Biden. 
3:27pm
Trump and Biden are neck-and-neck in Texas on 49% each, with 72% of the votes counted. The New York times says polls suggest Trump will take the state, but Biden could cause an upset.
3:13pm
Trump is ahead in Florida, 51% to 48%. 93% of the votes have been counted here. Polls showed a tight race in this state.
2:42pm
Biden is trying to pinch North Carolina off Trump. Biden is ahead, 53% to 46%, with 67% of the votes counted. A number of these votes were early and early votes tend to be more Democrat. The state had voted Republican in nine out of the past 10 elections.
2:20pm
Biden ahead in the swing-state of Ohio - 56% versus 43%. 41% of votes counted here.
2:15pm
Still too close to call in Florida but Trump seems to have an advantage. About a third of votes have now been counted in Texas, and Biden is still leading even though he not expected to win there. Still, it is a stronger showing than expected.
2:00pm
US ABC News is projecting Trump will win Georgia, but only 10% of that vote is counted so far. Polls have now closed in the Florida Panhandle region, one that will deliver a strong vote for Trump. In Texas, they have counted 10% of their vote and Biden is ahead, but most of that vote will be from cosmopolitan cities.
1:55pm
Tied now in Florida, with 81% of vote counted.
1:40pm
Biden is only just ahead of Trump in Georgia - 50% to 49% with only 5% of the votes counted.
1:30pm
With half the vote counted in Florida, Trump has a small lead. He won Florida in 2016.
1:15pm
The first important states to watch are Florida and Georgia. Both have had a head start in counting early votes, and both count quickly (because they do machine-counting).The Trump parts of the state (the Panhandle) will come in late, so unless Biden gets a very big lead early, it may be hard to hold. Georgia could be interesting.