UK think-tank delves into whether quantitative easing, such as the RBNZ's COVID-era large scale asset purchase programme, worsens wealth and income inequality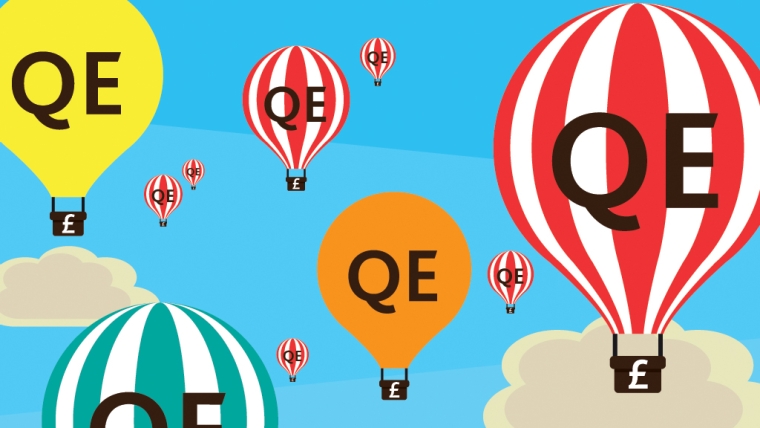 By Gareth Vaughan
My article on Wednesday, on a UK assessment of quantitative easing (QE), was based on a Bank of England paper citing a range of other papers and reports on QE. Given the ongoing debate in New Zealand on whether QE is exacerbating wealth and income inequality, one of these other papers is worth a closer look.
This paper is entitled; Quantitative (displ)easing? Does QE work and how should it be used next time? It comes from the London-based Resolution Foundation, which describes itself as an independent think-tank focused on improving the living standards of those on low-to-middle incomes. 
The paper notes that a common criticism of the Bank of England's QE, first launched in 2009, is that the lion's share of the benefits have gone to the already wealthy. (The paper was published before COVID related QE launched in 2020). 
This inequality concern, highlighted by rising house and share market prices, has also emerged in New Zealand since the Reserve Bank of New Zealand (RBNZ) embarked on QE last March. In response to this Governor Adrian Orr said in December  the RBNZ will probe the impact of loose monetary policy on inequality.
The Resolution Foundation paper, authored by Joseph E. Gagnon, Jack Leslie, Fahmida Rahman and James Smith, says this concern is not without substance. This it argues, is especially as QE is found to work to a large extent by boosting asset prices, suggesting it disproportionately helps wealthy asset holders.
"But this is only a partial view of the impact of QE and it does not take into account the wider effects on the economy. A more complete analysis of the impact of QE shows a more nuanced picture: by design, QE increases wealth (via rising asset prices) which has the largest effect on the already wealthy." 
"But counterbalancing macroeconomic effects (via changes to inflation, employment and wages) increases income more evenly across the distribution. Before turning to new analysis which quantifies the distributional impact of QE, it is important to clarify the channels through which QE impacts the welfare of UK households," the paper says.
Below are the detailed wealth and income effects outlined in the paper.
Wealth effects:

• Changes in financial wealth. Purchases of government bonds pushes up bond prices and through the portfolio rebalancing mechanism, increases the price of other financial assets. This increases the wealth of those holding these financial assets.

• Changes in property wealth. Financial asset price rises will spill over into increasing property prices and thus property wealth for those owning a house.

• Inflation effect. QE raises the level of inflation which, in real terms, reduces the value of loans and the value of assets held in nominal amounts (e.g. current accounts). This effectively redistributes net wealth from savers towards borrowers.

Income effects:

• Employment effect. QE supports economic activity – reducing the output gap – and therefore raises the employment level, increasing wellbeing for workers who would not have been employed in the absence of QE.

• Wage effect. Improved macroeconomic conditions lead to a tighter labour market, pushing up on wage growth.
QE shouldn't have long-term effects on asset prices or economic activity apart from helping smooth economic fluctuations and thus reducing the drag on potential economic output, the paper argues.
Figure 3 from the Resolution Foundation paper below shows the estimated impact of QE, from the first three channels detailed above, on average net wealth for each net wealth decile. According to this, about 40% of the aggregate boost to wealth from changes in financial asset prices, property prices, and inflation went to families in the highest wealth decile, while only 12% of the benefit went to the bottom half.
"This reflects the already highly skewed wealth distribution in the UK (around 50% of total wealth is held by the highest wealth decile): a rise in asset prices directly benefits those already holding those assets. In other words, the changes in asset prices scale the existing value of wealth, meaning that the proportional impact is more constant than the absolute effect."
"But the types of asset held by families in each wealth decile do affect the aggregate impact somewhat: those holding proportionally more financial assets are advantaged more by QE than those with larger property wealth, based on the Bank of England's estimates of the changes in financial and property asset prices," the paper says.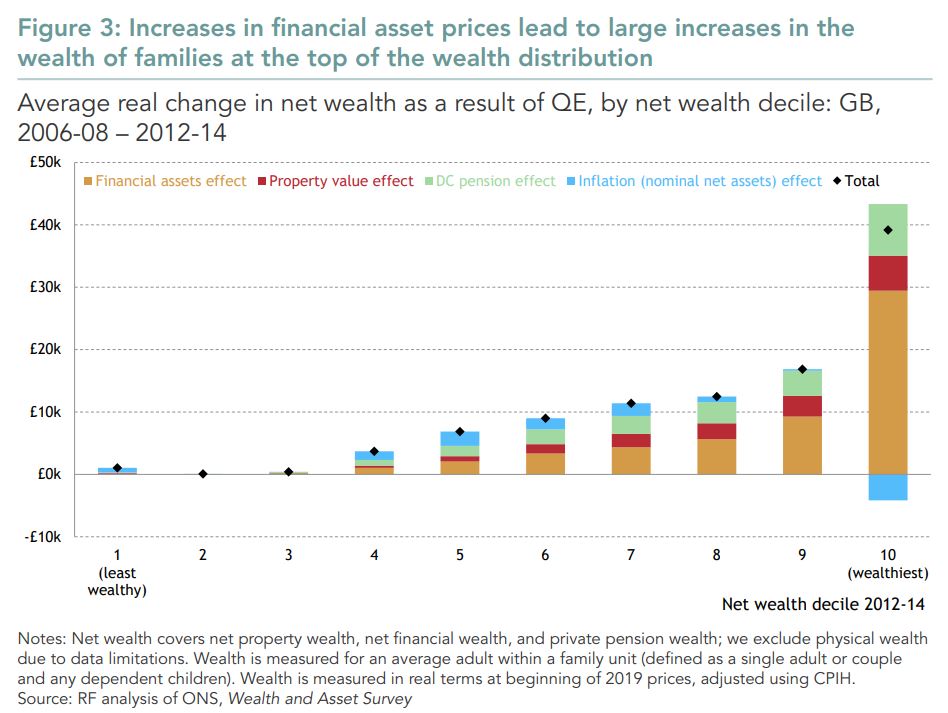 The paper goes on to say that the wealth effects should unwind when QE is withdrawn.
"Policy makers originally envisaged QE to be a short-term measure and therefore judged that the 'real world' impact of these temporary changes in wealth would be small. However QE stimulus has been used for a much longer period than originally envisaged [in the UK], meaning wealth changes will not only feel more permanent but in some cases very directly feed into lasting effects on the real economic position of households."
This, it argues, will happen in three main ways.
"First, it is more expensive to buy assets (e.g. housing) which will prevent some people from purchasing them over time. Second, when QE is unwound and asset prices move back to their underlying value, those who purchased assets at the higher price will lose out. And third, pre-existing owners of assets are able to sell them at the higher price and realise a higher level of consumption," the paper says.
It also points out that the asset price impact of QE isn't the ultimate objective of the policy. However, it's often is the only issue considered when discussing QE's distributional effects.
"QE's macroeconomic effects on output, inflation and the labour market are often overlooked. The increase in asset prices and falls in real interest rates from QE should boost economic growth and reduce any output gap. This will result in lower unemployment and therefore higher wage growth via a tighter labour market. Together these effects will boost average labour income."
Figure 4 below highlights the effect of QE on average annual incomes, split by net income decile.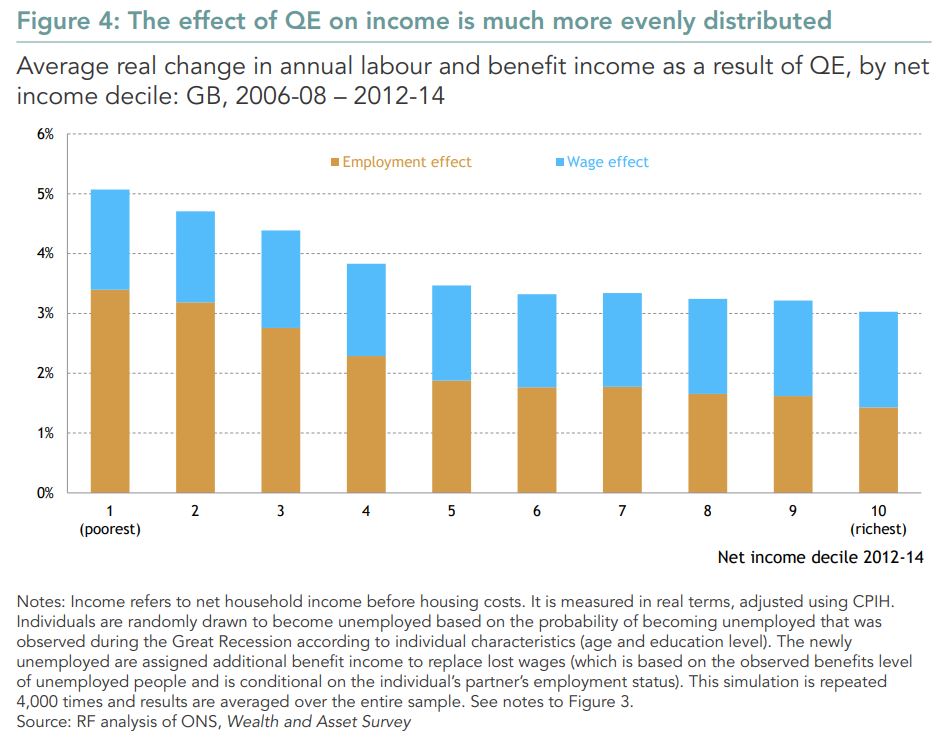 Here the paper notes the benefits are much more evenly distributed via income than the wealth effects were and, as a proportion of income, help the bottom half the most.
"This is driven by the fact that QE is estimated to have increased employment more at the bottom of the income distribution than the top. The aggregate result of this is that the macroeconomic effect will reduce, rather than increase, income inequality. This is in contrast to the asset price effect, which appears to increase absolute wealth gaps (and be broadly neutral in relation to relative wealth inequality). The income effect is also progressive when split by wealth decile, meaning that families not benefiting from higher asset prices are partially compensated by the income effect," the paper says.
"Having this rounded picture of the distributional impact of QE in mind is crucial to policy makers both evaluating the policy, but also considering what wider policies might best sit alongside any future use of QE. More controversy over the looseness of monetary conditions should also not be a surprise after such a long period."
"In many ways, the deeper issue is that QE is conflated in the public mind with a secular decline in interest rates of all kinds – one that preceded the [global] financial crisis and appears to be continuing," the paper says. 
"The challenge is that with policy rates still close to all-time lows in many countries ... QE will almost certainly be asked to play a key role in supporting the economy in future. So having a well-articulated plan for using it is essential, and a key part of that plan must be ensuring that QE can be used in a transparent way that eases the pressure on central banks to refrain from using it."
*This article was first published in our email for paying subscribers early on Thursday morning. See here for more details and how to subscribe.