British evaluation of central bank quantitative easing says it's now a core part of monetary policy, meaning public trust in and understanding of QE is important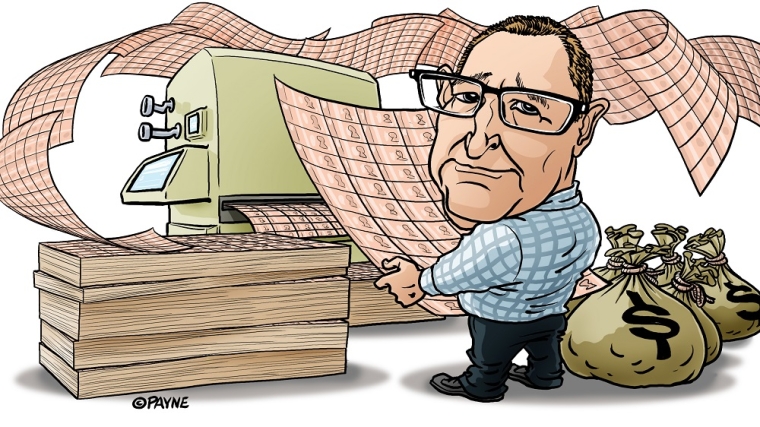 By Gareth Vaughan
Quantitative Easing (QE), the so-called unconventional monetary policy response to the COVID-19 crisis from the Reserve Bank of New Zealand (RBNZ) and other central banks, is likely to be with us for years to come, according to a review of the Bank of England's QE approach.
The review comes from the Independent Evaluation Office (IEO), an independent unit that sits within the Bank of England (BOE) to assess its performance.
Like the RBNZ, the BOE embarked on a QE programme in response to the COVID-19 pandemic during 2020. But unlike the RBNZ, the BOE first launched QE 11 years earlier in response to the Global Financial Crisis. The IEO report notes that, with QE having been rolled out in a range of countries around the world over the past decade or so, and stepped up again in response to COVID-19, it's no longer merely an unconventional crisis response tool. Especially against a backdrop of persistently low inflation and low interest rates.
"Overall, QE has transitioned from being a transient, unconventional crisis response, to a persistent part of the monetary policy toolkit. With structural factors putting continued downward pressure on equilibrium interest rates globally, Bank Rate [the BOE equivalent of the Official Cash Rate] is more likely to come up against its effective lower bound in the event of economic shocks. QE is therefore likely to continue to play a key role in the monetary policy toolkit for years to come," the IEO says.
"The objective of QE is to provide monetary stimulus, helping the MPC [BOE's Monetary Policy Committee] to meet its inflation target. If the MPC projects inflation to fall below its 2% target, it can use QE to boost demand in the economy, and hence inflation. At a high level, QE involves buying assets from the private sector – financed by the creation of central bank reserves. That is intended to lower longer-term interest rates and, in turn, encourage spending on goods and services, boost economic activity and employment and put upward pressure on prices."
The IEO evaluates BOE QE between 2009 and 2016.
"In 2009, the MPC began a programme of QE, through the Bank's Asset Purchase Facility, intended as a temporary measure to support the economy in the aftermath of the crisis. But a decade on from its introduction in the UK, QE has become bigger, broader and more persistent than expected. That is why in 2019 the Bank's Court commissioned this evaluation of the Bank's asset purchase programme. And, although not a key focus of this report, the further expansion of QE in 2020 as the MPC responded at pace and scale to the COVID-19 crisis, has only made this review more timely."
'There is understandably not a settled collective view on exactly how QE works'
The IEO notes that more than a decade on open debates about how QE works continue, alongside discussion about its broader inter-linkages and its potential limitations. These debates are not surprising, reflecting limited knowledge about a relatively new tool, the IEO says.
The report highlights a lack of published material on the BOE's collective view on QE.
"...We heard that there was not much agreed material to draw on when writing about QE in official publications such as the MPC minutes. In part, this may reflect the fact that there is understandably not a settled collective view on exactly how QE works."
Amid mounting concerns that QE may exacerbate wealth and income inequality by pushing up house and share market prices, Governor Adrian Orr in December said the RBNZ will probe the impact of loose monetary policy on inequality. Since the onset of the COVID-19 crisis the RBNZ has cut the Official Cash Rate to a record low of 0.25% and is targeting up to $100 billion of government and local government bond buying in the secondary market by June 2022 via a QE programme. At the time of writing this QE, known as the RBNZ's large scale asset purchase programme, had reached $44.2 billion.
On the issue of QE impacting wealth or income inequality, the IEO report doesn't draw a firm conclusion. It does note, however, that the public is likely to find the impact of QE in pound-terms on the income or wealth of different groups to be a more intuitive distributional benchmark than the percentage impact.
"In pound-terms, the rich appear to benefit more from QE. But the percentage impact suggests a fairly even impact across the income distribution. Publications that focused on standard measures of inequality, which emphasises the percentage impact, were criticised by some that we spoke to. But the Bank typically presented its analysis in both terms," the IEO says.
"Some market practitioners also thought the Bank should do more to understand the financial stability risks from QE, including via its impact on banks, pension funds and asset valuations. One practitioner noted that this was a potential blind spot for most central banks."
The report goes on to say that much of the academic literature on QE focuses on its impact on financial conditions, including interest rates, corporate credit spreads, bank funding costs and other asset prices.
"There is a broad consensus that QE programmes successfully lowered government bond yields and eased financial conditions across jurisdictions, albeit to varying degrees. A number of papers assess these impacts by applying an 'event study' approach, looking at the immediate reaction of government bond yields and wider asset prices to announcements about QE. In the UK, QE1 purchases of £200 billion, which were around 14% of nominal GDP at the time, led to an estimated fall in 5–25 year gilt yields of around 100 basis points overall," the IEO says.
Supporting jobs & wages
The IEO also points to a Petersen Institute for International Economics survey of 24 QE studies across jurisdictions, which suggests that for QE purchases worth 10% of domestic Gross Domestic Product (GDP), the median reductions in the 10-year government bond yields in the UK, US and euro area were between 45 and 55 basis points. At $100 billion, RBNZ QE would reach about 31% of New Zealand's GDP.
"In the UK, Bank of England analysis suggests that the initial £200 billion of QE during 2009–10 may have increased GDP by 1.5%–2% and inflation by 0.75%–1.5%. Later work...support this finding of a significant impact of QE on both activity and inflation."
Additionally the IEO notes a Becker Friedman Institute survey of 54 QE studies across jurisdictions finding that when averaging across the studies, QE purchases worth 10% of GDP are estimated to increase the level of output by 2.4% and prices by 1.9% at their peaks.
The IEO says a BOE staff working paper from 2018, described as its most comprehensive and impactful work on this topic, suggests the overall effect of monetary policy and QE on standard measures of income and wealth inequality has been small, because while QE supports asset prices, it also supports jobs and wages.
"While international evidence on the impact of unconventional monetary policies on inequality is mixed, the paper's conclusions are in line with the prevailing consensus that looser monetary policy reduces inequality by supporting employment," the IEO says.
PR advice
The IEO also has some thoughts on central banks improving their public relations around QE. With QE now a core part of the monetary policy toolkit, the IEO argues the public's trust in and understanding of the tool is important for a central bank's mission.
"External stakeholders also recognise that communicating about QE is challenging. It is a complex tool. QE relies on indirect transmission channels via financial markets and has a less direct impact on retail financial products such as mortgages than Bank Rate".
"The potential distributional effects of QE are the key area of contention. Bank work suggests that the overall effect of monetary policy and QE on standard measures of income and wealth inequality has been small. But by reducing long-term interest rates, QE – alongside the more general low rate environment – is seen by many to hurt savers," the IEO says.
"Meanwhile to the extent that QE raises the prices of assets, ownership of which is fairly concentrated, many worry that it increases inequality. Consistent with this, text analysis shows that the share of UK press articles about QE that discuss it in the immediate context of distributional words (eg 'savers', 'the rich', 'inequality') has increased markedly since 2011. The share hit around a third of QE articles after a speech by Theresa May in 2016 criticised the distributional impacts of QE."
The IEO advises that rather than explaining QE in terms of 'injecting' or 'printing' money, central banks could frame QE as a continuation of conventional monetary policy that pushes down long-term interest rates to support the economy.
"This is a more intuitive description of the QE transmission mechanism ... and provides a simple story of how QE works, using concepts more familiar to the public. Framing QE as a change in an interest rate rather than the creation of a quantity of money may also reduce the perception that QE is a transfer of wealth to the rich or to banks," the IEO suggests.
The report goes on to say that this could include a greater focus on the macroeconomic impacts on economic activity, inflation and especially jobs.
"Ideally, this would be grounded in real world examples. In early communications, the Bank's desire to show that QE was having an impact led to a focus on asset prices – a key initial part of the transmission mechanism. This fuelled the perception that QE chiefly helps those holding financial assets."
The IEO says its evaluation was largely done between December 2019 and October 2020, having been commissioned to cover QE from its inception to 2016 – the year of the last round of purchases at that time.
"While the evaluation was in train, the MPC voted to expand purchases further in response to the severe downturn associated with the COVID pandemic. The IEO does not comment on live policy decisions. But we have drawn on the experiences of the most recent round of purchases, particularly where there has been clear learning from previous episodes or where issues that we had previously identified were brought into sharper relief."
*This article was first published in our email for paying subscribers early on Wednesday morning. See here for more details and how to subscribe.