RBNZ Governor Adrian Orr says the impact of monetary policy decisions on wealth & income equality is an important topic for considering economic wellbeing, but it's not clear if lower interest rates increase or decrease income & wealth inequality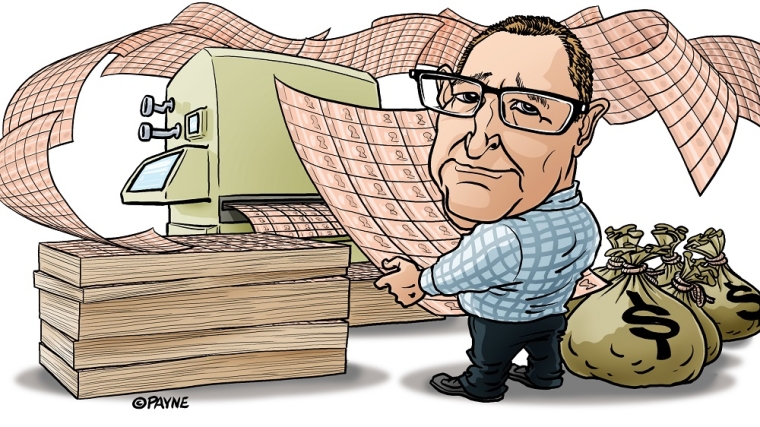 Governor Adrian Orr says the Reserve Bank (RBNZ) will probe the impact of loose monetary policy on wealth and income inequality.
Orr made the comment on Wednesday evening in a wide ranging speech delivered via video conference to Australia National University in Canberra.
"Empirical studies globally looking at the overall net effects of looser monetary policy on wealth and income inequality have produced mixed results. While the necessary data is limited for New Zealand, we intend to push forward on this work in our research agenda...Issues arising from wealth and income inequality need to be understood and, if necessary, managed with the appropriate interventions," Orr said.
He noted that the impact of monetary policy decisions on wealth and income equality is "an important topic for considering overall economic wellbeing."
"As Janet Yellen recently noted, despite the fact that the tools of monetary policy are generally not well-suited to achieve distributional objectives, it is nevertheless important that policymakers understand and monitor the effects of macroeconomic developments on different groups within society."
"Here at the [Reserve] Bank we have undertaken an assessment of the international literature on the distributional impacts of monetary policy on wealth and income. Our work highlights that it is unclear whether looser monetary conditions (i.e., lower real interest rates) increase or decrease income and wealth inequality, on net. In theory, lower interest rates are capable of both, and empirical studies on this issue are inconclusive," Orr said.
Orr's comments come after Finance Minister Grant Robertson last week wrote to Orr proposing to require the RBNZ to "avoid unnecessary instability" in house prices, as it works to meet its inflation and employment targets. This comes with the RBNZ's moves to stimulate the economy and achieve its inflation and employment targets in the face of Covid-19 being widely seen as contributing to soaring house prices, and asset price inflation more broadly.
Additionally Orr said the RBNZ's dual monetary policy mandate of price stability and maximum sustainable employment, has ensured it remains cognisant of the impacts of its activities, and that its dual mandate is proving "welfare enhancing."
"Furthermore, Bank of England research shows that easier monetary policy after the Global Financial Crisis in 2009 had significant welfare benefits, making the majority of households better off," Orr said.
On unemployment Orr said "preliminary research" indicates employment downturns last a lot longer than economic output downturns. Thus even if economic activity picks up over 2021, "unemployment will remain elevated for quite some time."
He argued the RBNZ's easing of monetary conditions by lowering the Official Cash Rate to a record low of 0.25% and embarking on up to $100 billion of government and local government bond buying, has played a significant role in retaining jobs.
"When setting monetary conditions, the Monetary Policy Committee was kept aware of the Government's fiscal policies' purposes and desired impacts. We were thus able to calibrate our response appropriately. Coordination worked well," said Orr. 
"The most recent New Zealand data shows annual consumer price inflation currently at 1.4% (compared to our 1-3% target range) and the unemployment rate is at 5.3% (above our estimate consistent with maximum sustainable employment). We estimate that in the absence of our recent monetary policy actions, unemployment would be higher still (nearer 6.0%), inflation expectations would have continued to decline, and the New Zealand dollar trade-weighted exchange rate would have risen by around 7%. In other words, monetary policy has been effective to date in supporting both inflation and employment as intended – at least at the aggregate level."
Separately Orr said RBNZ research suggests the Government's wage subsidy scheme improved job retention by about 2.5% of the total labour force. However, he warned that the full impact of closed borders is yet to be felt.
"The implications of closed international borders have meant that service export industries, such as tourism, will operate well below capacity for a prolonged period. This is despite what we are witnessing in New Zealand at present, with Kiwis enjoying 'staycations' as a substitute for international travel; relaxing in our own backyard."
"Demand for New Zealand's education and tourism services is being significantly suppressed by fewer international arrivals. Prior to the COVID-19 outbreak, international tourism and education accounted for around 6% of nominal GDP. Receipts from these and other services fell 40% in the June quarter 2020, and are only being partially offset by increased local spending. This spending weakness will affect incomes in the wider economy for years to come. An early taste of this will occur in early 2021, when the seasonal influx of international tourists fails to show up at our doorstep," said Orr.
He concluded by saying it's important to have clarity and collaboration on government fiscal, RBNZ monetary and financial policy when considering equity and distributional aspects within an economy.
"Monetary policy decisions appropriately target aggregate measures – inflation and maximum sustainable employment – while being attuned to equity considerations of our policy actions. However, we do not have the tools to manage any desired equity implications of our actions. There are additional decision-makers and tools for such tasks. That said, these are complex and ambiguous issues, and at the Reserve Bank a lot of work is ongoing to understand the transmission mechanisms for, and the wider implications of, monetary policy, particularly in relation to the new suite of tools."